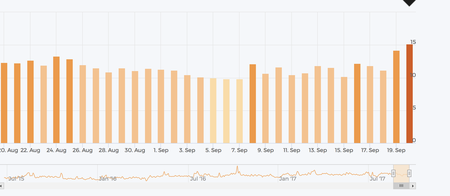 Google Grump - the AccuRanker Google ranker has soared to "FURIOUS" today with a reading of 15.1 - this comes after a few days of the Algorithm tool reporting increased activity on Google keyword rankings.

There was talk over the weekend of a Google Algorithm update that has impacted Google rankings might have taken place late Friday or Saturday.

Barry Schwartz reported seeing an unusual number of complaints on both the WebmasterWorld Thread and on Black Hat World. As Barry said - we've seen this before - and the chatter did die down.

However, does the leap in the activity of Google rankings this morning now put the weekend's activity in a new light?

As Gary from Google recently said .. the tools tend to get the weather right most of the time …. so is this activity part of a bigger update taking place …?

Watch this space - Google Grump

Make sure you don't miss a Google Algorithm Update by subscribing to Google Grump where you can set your preferences to customize your alerts.