September was a seriously busy month in terms of chatter around Google Algorithm shifts, or as Barry Schwartz put it, September ...  
" .. was filled with many many Google algorithm shifts, ranking changes, tools going nuts and chatter at all times high"
... and October is already looking like it may be set to continue.
Following on from elevated activity since mid - September, Google ranker Google Grump has been showing as FURIOUS globally for the last 4 days -with a spike of 19.21 on Saturday the 8th.
When filtered by Mobile the activity stretches back 6 days to the 4th with Google ranking fluctuations causing the readings to leap from 18.83 to 29.94.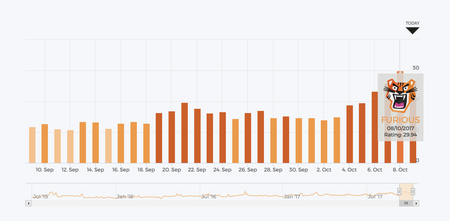 The results for the Google rankings are significantly lower when filtered by Desktop - 10.81 through to 13.00.
So far chatter on Webmaster World is quiet - but watch this space - we are the first Google ranking tool to update daily with activity from the past 24 hours so subscribe to our update, set your preferences and make sure you're the first to receive the news.