Lightning Fast Keyword Rank Checker
- Check your live keyword rankings instantly
Get your rankings now - Don't wait days or weeks!
Why wait days or even weeks to get your keyword rankings? With AccuRanker, you can check the positions of your keywords on-demand at no extra cost. There are no restrictions, so you can save time and get data whenever you need it.
AccuRanker is the world's fastest keyword rank checker
Our tool is the fastest keyword rank checker on the market. We automatically update your keyword rankings every 24 hours.
In addition, we allow you to refresh your rankings on-demand in just a few seconds. You can refresh keywords one by one or by choosing a selection of keywords you want to update before simply clicking the 'Refresh'-button. This means access to up-to-date data and the ability to track your performance in real-time. You can diagnose issues as and when they happen and be notified about any changes that are happening.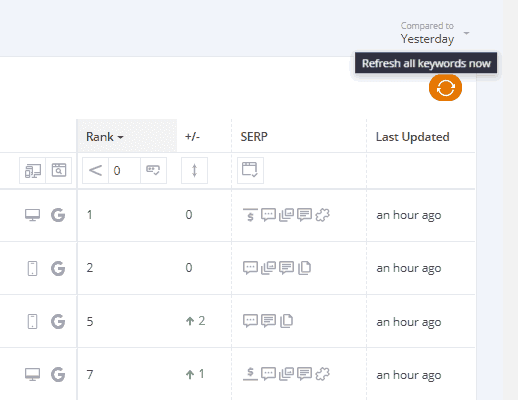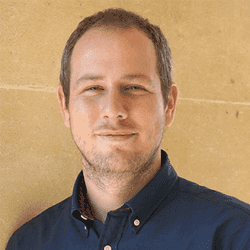 Be like Paddy and start using the best keyword rank checker tool on the market.
Start your 14-day free trial today - No credit card is needed!
Get accurate data and rankings
With access to TOP 100 on Google and Bing, the tool can check keywords accurately. We check keywords in every country and language combination that Google has to offer – if it's on Google Maps, we can track it. That means you can make better decisions based on exact data by knowing how well you're ranking and which keywords you need to focus on.
Check an unlimited number of keywords
With our extensive infrastructure and capacity, you can check an unlimited number of keywords. Trial accounts automatically include 100 keywords, but you can easily upgrade an account and add more keywords to your plan. Whether you need to check a few thousand, a few hundred thousand, or even millions of keywords, it's possible with AccuRanker. As a bonus, the price per keyword decreases when you buy more.
Click here to see AccuRanker's pricing for the number of keywords you want to check.
For each keyword, you can check:
Where it ranks in the TOP 100 on Google and Bing
The positions on both desktop and mobile
The change in positions since the last refresh
Which URL is the keyword is ranking for
The average monthly search volume
Estimated number of monthly visitors
The traffic potential
If it is a local result
If it is a featured snippet
If it has extra ranks
And many other features…
The 'Keywords'-tab will give you a convenient overview of each keyword you want to check.
Measure and report success with historical keyword data
Check historical rankings
See how each specific keyword has performed since the day you added it. This means you can view the entire ranking history and the given landing pages for those ranks. It's essential to monitor how your keyword positions have changed over time to see if your activities correlate with the changes in your rankings. By following how well you have performed in a given period, you better understand how each action affects rankings.
Check landing page history
See if the specific landing page ranking for a keyword has changed over time. You can detect if it has continuously been the correct landing page ranking for a keyword and if a search engine sends traffic to the wrong landing page. This allows you to identify keyword cannibalization issues (i.e., when multiple pages rank for the same keyword). You can also spot which features appear on the SERP, how they have changed over time, and how well you performed. You can see if your landing page has matched the features on the SERP.
Check competitor's ranking history
You can compare your keyword ranking history with the ten competitors you select yourself. Also, it's possible to see all competitors that have been in the top 10 for any keyword you are tracking. So not only can you check if your rankings have improved or worsened over time, but you can also check how your competitors' rankings have progressed.

Get enterprise features at a low cost
With AccuRanker, you get an affordable keyword rank checker with enterprise features which also grants you access to data through our easy-to-use REST API.
### Filter your keyword data in hundreds of different ways You can filter keyword data in hundreds of different ways to organize, target, and get an in-depth analysis of your data. For example, you might want to check keywords that appear in the Top 10 positions on Google across mobile devices and have a search volume of more than 200. No problem! Just apply the correct combination of filters to get these insights. You can filter for keywords, rank, search volume, search engine, location, device type, SERP features, URL, etc. Each filter can be used multiple times as you tweak different settings. It's also possible to save regular filter settings as a segment that you can return to any time. Finally, share insights with your team so they can make smart, data-driven decisions.
Filters help you get exactly what you are looking for.
### Enhance your keyword rank reporting with our API


If you're a data-driven SEO professional (and who isn't?), using analyzed data to report on multiple different factors of search, then the right APIs can simplify the process. Our REST API makes it easier for you to export and display data from your account, whichever way you want. The API is designed to allow digital agencies, SEO specialists, and brands to use the data we process and integrate it with their applications or business flows. The API can process all the data you currently have in your account: keywords, ranks, Share of Voice, etc. You can share data on a dashboard internally with colleagues employed by your organization.
Keyword rank checker - FAQ
What is a keyword rank?
The keyword rank is the position a website holds in search engines for a particular keyword in relation to other websites. If you are a website owner, marketer, or SEO professional, you want to make your site visible in search engines and attract traffic to it. You want your site to appear on the search results pages when people look for what you offer. You prefer to be on the first results page since very few users click past the first page and results.
Let's say you have an e-commerce store where you sell suits. Then you want users to be able to find your online store when they use search terms like "suits", "men suits", "men suit", etc.
If your webshop shows up at position #5 on Google's result page for "men's suit", you are currently ranking number 5 on Google for the keyword "mens suit" in your country.
As you can see, the online retailer NEXT is ranking #1 on Google in the UK for the keyword "mens suit".
Each result page has ten organic results. So if you're at #4 on page 2, you are ranking number 14. Since most traffic goes to the ten results on the first page, you want to rank in the top 10. Ideally, you want your site to be listed in position number 1 because that, by far, gets the most traffic.
Your aim is to conquer and hold some of the top positions in the search engines for your keywords. The first step is to find out where you are currently ranking and which competitors you are up against. You could then go through every SERP (Search Engine Results Pages) manually and check where you are ranking compared to other sites. This, however, would be a tedious task and incredibly time-consuming. Our tool does all this work for you, saving time and giving you an edge on the competition.
The above screenshot shows the online retailer NEXT ranking #1 for the UK's keyword "mens suit" on both desktop and mobile.
What is a keyword rank checker?
A keyword rank checker measures your search engine rankings for targeted keywords and analyses changes in that ranking over time. This gives insights into how you rank compared to your competitors and allows you to see a gradual improvement in the rankings.
AccuRanker is a standalone keyword rank checking tool tailored toward one thing: Tracking organic keyword rankings in search engines.
The tool is a web-based application, so checking your keyword ranks are easy:
No need to download or install any program
No private proxies or any reason to involve the IT department
Keep an eye on your rankings anytime and anywhere
Thousands of other customers can vouch for our product – Our tool is trusted by 20,000 agencies and SEO professionals worldwide.
How do I check my keyword ranks?
In order to check your rank in the search engines, you need a keyword rank checker like AccuRanker.
Using the tool is very straightforward. The interface is easy to learn, and the dashboard is the cleanest and most intuitive dashboard of all rank trackers on the market. You don't need to be an SEO expert or have loads of technical experience to use it.
Below are five steps to get started with AccuRanker:
STEP #1: Sign up
Use the signup button on this page to create an account.
New customers can get a free 14-day trial account with no credit card needed!
STEP #2: Confirm account
Once you've signed up, go to your email account and find the confirmation mail from AccuRanker.
Click the link to confirm your account and fill out the company and contact information.
STEP #3: Log in
Log in to the tool here: https://app.accuranker.com using the email address and the password provided in the confirmation process.
STEP #4: Setup domain
Setup your domain:
Click "Add domain" and enter the URL of your website's domain. This is the website you want to track.
Select default country and language.
Enter the domain you want to check your keywords for – without https:// or www.
STEP #5: Add keywords
Add keywords:
Click "Add keywords" and enter the keywords you want to check.
Choose their settings:
Location (country, state, city, postal code, or an exact street address), search engine (Google, Bing), and device type (desktop, mobile).
Enter one keyword per line (no commas).
Once you're done, click on "Add keyword".
This adds the keyword to your account and means we will start checking the Search Engine Results Pages (SERPs) for rankings.
In a few seconds, it will return the results, and you're ready to see all your keyword positions like this:
This is how you will see your keyword rankings in AccuRanker.
Don't hesitate - Get your keyword rankings today!
Sign up for the best keyword rank checker on the market here: