Reasons Why Every Blog Should Have a Trending News Section
Last updated on Saturday, September 16, 2023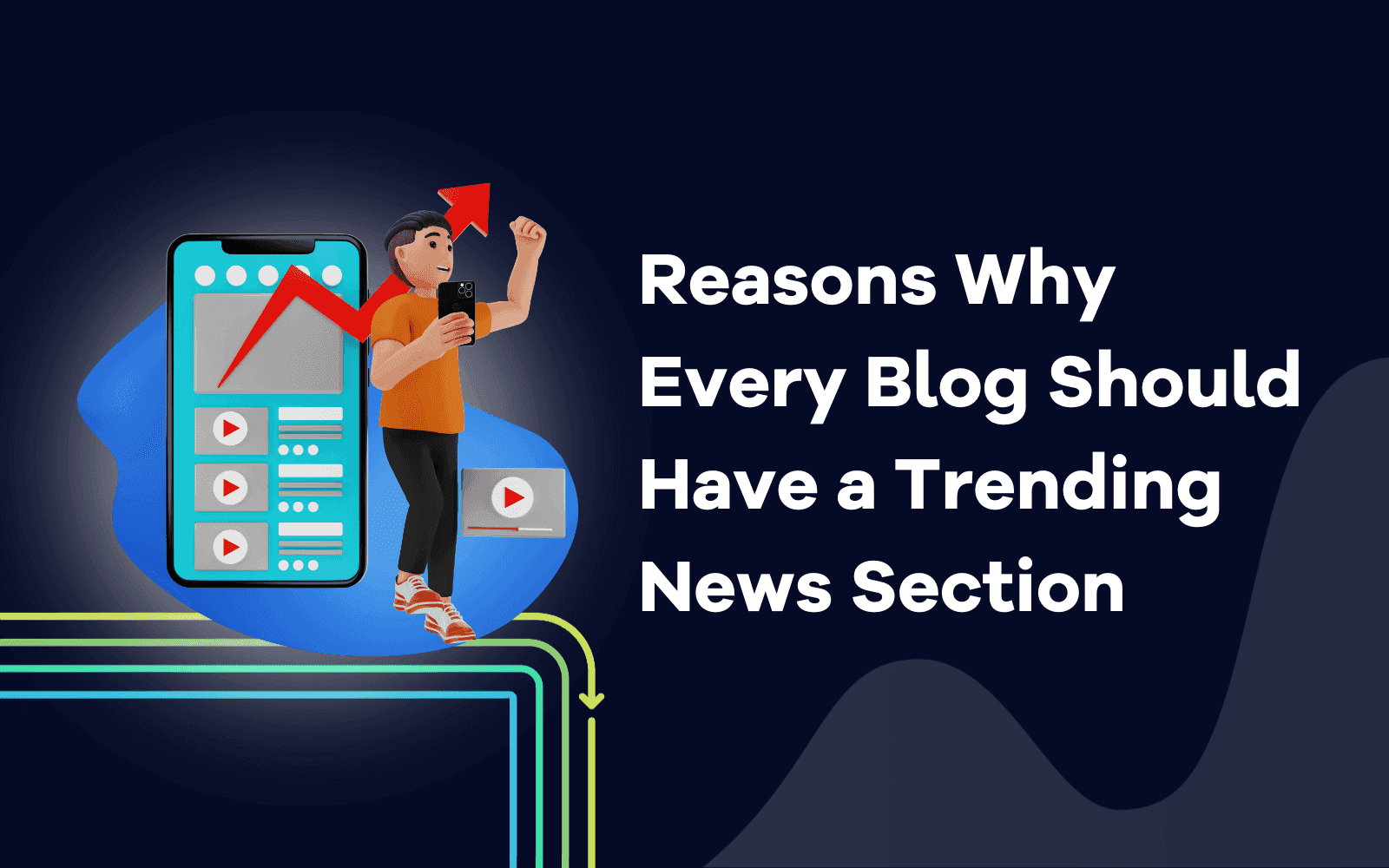 Contrary to what was feared, blogging is growing despite the rise of ChatGPT. This is likely because ChatGPT and even Bard by Google have not been able to replace our inherent need to Google everything. As per data, there has been a 93% increase in blogs using promotional techniques to drive traffic to their posts, including paid ads.
But that doesn't mean we writers and content creators sit back and do nothing. Getting more eyes to your content and blogs has become a tad bit harder, but there are still some time-tested ways to drive traffic and increase brand awareness.
One method that remains underutilized and could yield significant benefits is adding a trending news section to your blog.
Therefore, in this blog, I'll tell you why you should have a trending news section.
Summary of the four points
Adding news that aligns with your blog niche/product can help drive traffic

A news snippet with a good image and a catchy title can instantly go viral on Social Media, benefitting the blog

Diversifying your content-sharing strategies can have a positive impact on your blog

A news section brings a new angle to your blog, making it stand out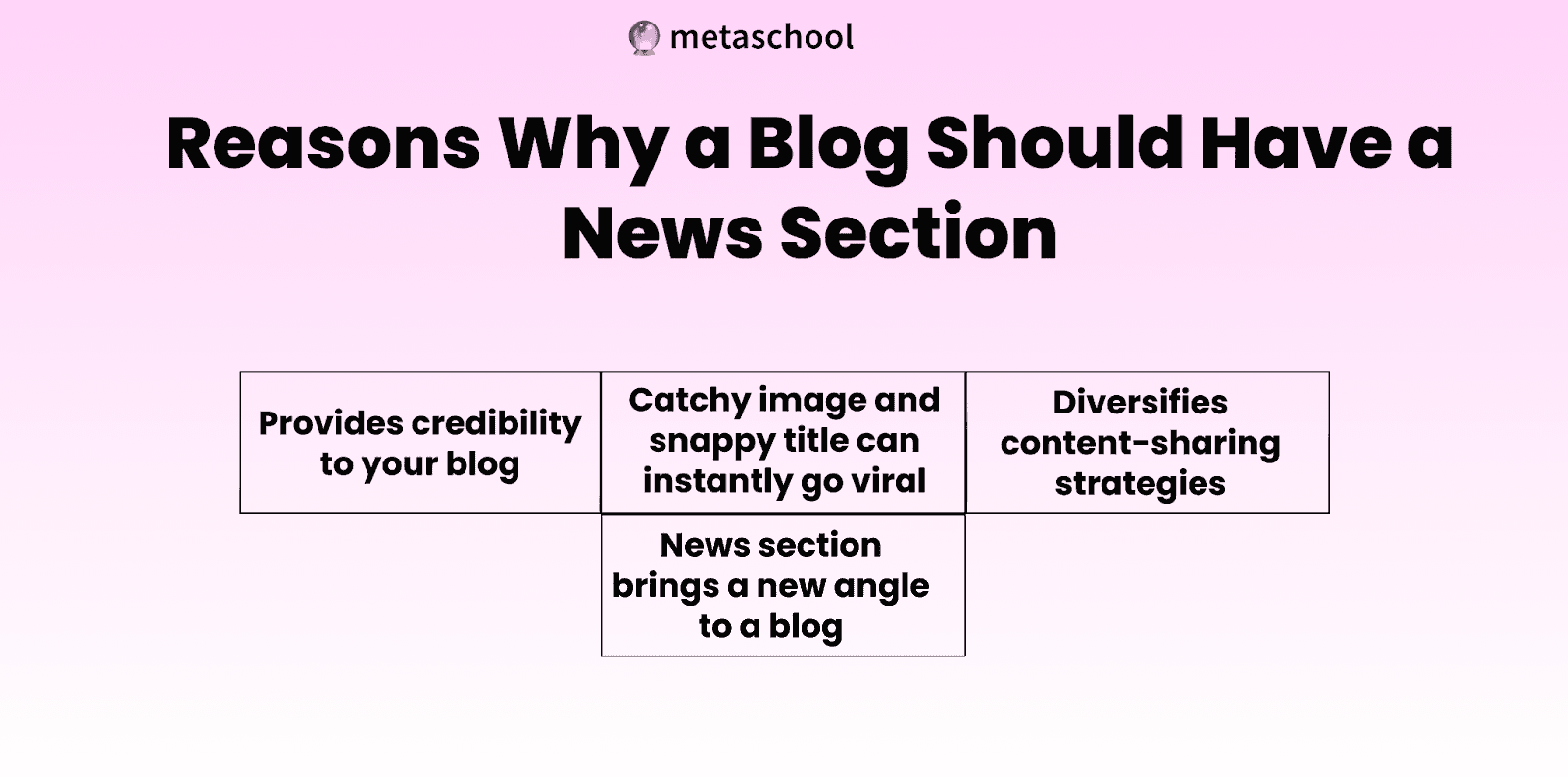 Image courtesy: Metaschool
Reason # 1 - Mention news aligning with your product to help drive traffic
If you have an affiliate blog or an online business selling sofa sets, you can't write lengthy how-to guides, listicles, or best-ofs daily. However, quality and quantity are both necessary for a website to gain traction on Google.
Given that the product you are selling is sofa sets, a news piece on IKEA producing sofas from biodegradable material can spread like wildfire. Now, you may ask that if a news piece is about environmentally friendly sofa sets, you might attract an audience that does not necessarily want to buy sofas or couches, let alone be interested in them. Well, that is true to an extent, but there are different ways of approaching news snippets.
While writing a piece of relevant news, you should always choose an angle that is more focused on what you are trying to do with your blog. For instance, if the original news is: IKEA announces its much-anticipated biodegradable sofas, you can change it to: People are after these biodegradable and cost-effective IKEA sofas. Find out why.
If you compare both, you will see a huge difference between both titles. One is more focused on creating FOMO, and the other is more of a general statement about the release of biodegradable sofas.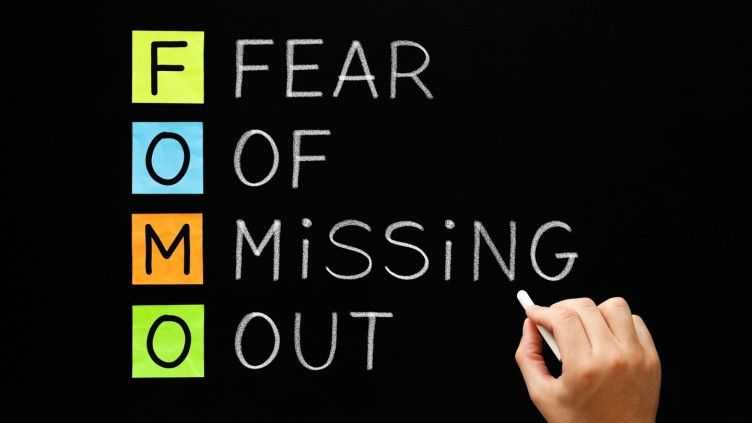 Source: LinkedIn
You can also sprinkle CTAs within the news snippet and position yourself as more of an omnipresent brand than just a regular online sofa shop or affiliate blog through these news pieces.
You can always use Accuranker's SERP Analysis tool to get more technical and SEO-related insight on a particular news snippet you will cover.
Reason # 2 - A news snippet with a good image and a catchy title can instantly go viral on social media
As per research, only 28% of people actually completely read what is in the article before sharing it forward. Here, the onus is on the writer, like you and me, to grab a reader's attention within microseconds.
Although videos are back in the social media realm, a targeted audience genuinely interested in a product will choose to read a well-presented article.
Now, what exactly do I mean by a well-presented article? People on social media bet on two Cs - curiosity and controversy. While controversy can be out of the question for many people, for different reasons, curiosity is the element that will take your business far.
This is where the presentation of an article matters a lot. When you make something look incomplete, people automatically want to see and learn more. This is where news images and titles do wonders.
Here is an example of a catchy headline/title from Metaschool. The title is leaving the reader on a cliffhanger, subtly forcing them to click and read how this individual became the Tech Lead at Solana without having a CS background.

Source: Metaschool
Additionally, you may use Accuranker's Live SERP Checker to compare the numbers of a normal news snippet to the one with a catchy photo, exciting headline and good content.
Reason # 3 - Diversify your content-sharing strategy for a positive impact on your blog
This is yet another important point. When sharing news snippets, you won't be writing on everything and anything.
In fact, you would be cherry-picking those pieces of news that resonate with your brand image the most. This means that you will be posting more content, both low-effort, and high-effort, striking a balance between both.
Google crawlers will also get to learn more about your brand and increase its visibility and awareness. Additionally, the Google crawling frequency will also increase tremendously. This means that your site's appearance will increase for more search terms.
Moreover, showing up in Google News will further increase your viewership and drive more visits, leading to a surge in the overall clickthrough rate (CTR).
Reason # 4 - An opportunity to bring newness and make your blog stand out
When blogs are posting news snippets, they're usually talking about the same thing with different words. Your USP would be that you would dig deeper into the news, bringing different perspectives.
For example, suppose the news is about IKEA's new sofas. In that case, you might as well get into how the sofas are created, the price difference, and why IKEA took such a step, giving your readers more information, going that extra mile, and becoming an authority.
News snippets will also change how you write content, and you will be upskilling yourself as a content creator by honing different ways of presenting a piece of information.
In conclusion,
A news section can be a valuable addition to any blog or business. By providing up-to-date news on relevant topics to your audience, you can attract new readers, engage existing readers, build credibility, increase traffic, and drive sales.
However, choosing the right topics is important, writing clear and concise headlines, using images and videos, and promoting your news articles. This way, you will also be building yourself as a credible and trustworthy source that can be relied on.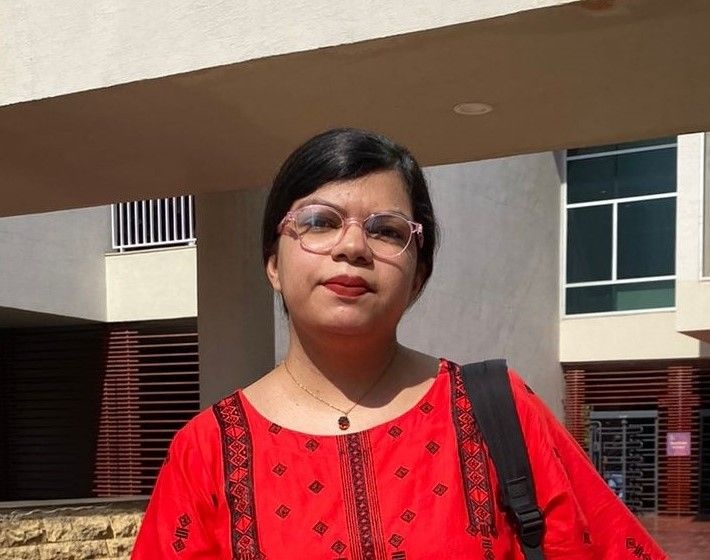 Article by:
Sara Illahi Panhwer
Sara Illahi Panhwer is an Associate Content Creator at Metaschool, a web3 ed-tech startup based in Singapore. Her interests lie in education accessibility, ed-tech solutions, and the integration of blockchain technology into the field of education.