Mobile rank tracking made easy
Track your mobile keyword rankings with the fastest rank tracker in the world
Tracking mobile rankings is important in the world of search.
Site owners and webmasters need to monitor how their sites perform on mobile, while SEO professionals and agencies need to track and report on how their changes translate into rankings on mobile.
These tasks require a mobile rank tracker that works with precision and accuracy as its main focus, while also being easy to use. AccuRanker provides exactly that.
We've made tracking your mobile rankings easier and faster than ever.
Try it yourself today!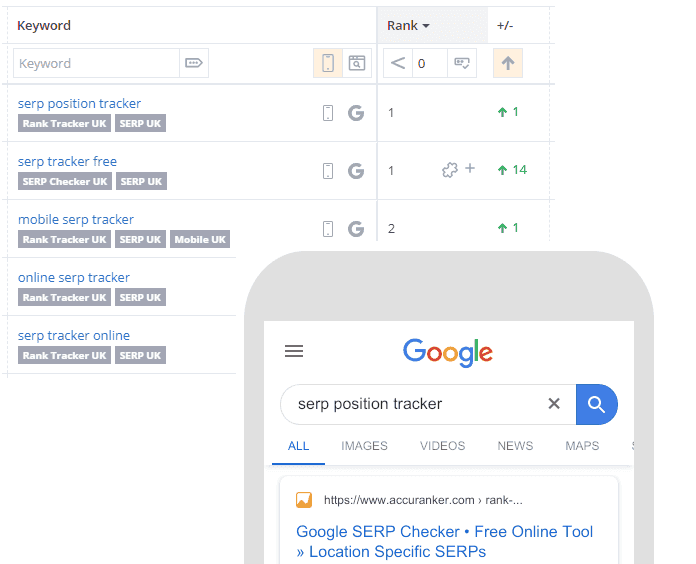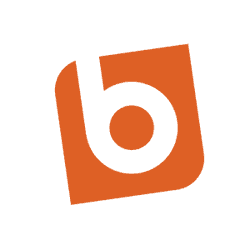 Get Your Mobile Rankings Now!
Sign up for a free trial - No credit card needed
Why you need to track rankings on mobile
If you care about SEO and how your website performs in search engines, knowing where you rank on mobile is essential.
Here's why:
Google uses mobile-first indexing
Google, the world's largest search engine, is using mobile-first indexing. Google crawls the web using a smartphone bot.
This means that Google will crawl the mobile version of your website to index it for search.
Google determines the organic rankings of your website for both mobile and desktop based on the mobile version of your site. This means your mobile rank will impact your overall organic rankings, and if you rank well on mobile for certain keywords, you will also rank well on desktop for these queries. On the other hand, if your website lacks mobile optimisation your desktop ranks will be affected. The mobile version of your website is a determining factor in your overall search success!
### The online future is largely mobile Furthermore, the statistics tell their own story. Most internet web traffic is now mobile. In the battle of mobile versus desktop, mobile has already won. There are far more mobile devices than desktops in the world, and the total amount of internet browsing done via mobile devices is larger than desktop browsing. So users are more likely to access search engine result pages (SERPs) using their phones than via a computer – although this might vary by industry. This means that mobile can't be ignored.
Rankings on mobile and desktop may vary
You should be aware that mobile and desktop results can vary, especially on Google. Google personalises search results on mobile devices by using GPS satellites to triangulate the searcher's position. Mobile ranks are also 'local ranks', as they have additional search personalisation readjusted for mobile users. This means Google won't show pages in mobile search results that aren't optimised for smartphones. In AccuRanker you can compare your mobile and desktop rankings with competitors too.
Important questions to ask yourself
Analyse the top 100 rankings for both mobile and desktop search. Which of your URLs appear in both, and which don't? The keywords where you have a disparity in ranking positions are the ones that need special attention.
If you have significantly higher rankings on desktop, you should take a look at the mobile version of your website. Is there a problem with the load time on mobile? Are you offering poor user experience compared to desktop? Maybe you have higher rankings on mobile, but lower conversions than on desktop. Perhaps users are bouncing more frequently on your mobile site. Why is that? You need to consider the reasons for these differences.
The solution: Tracking mobile and desktop rankings separately
The differences in mobile and desktop rankings may depend on your industry or niche. There aren't any one-size-fits-all answers, so you must take a tailored approach to your analysis. But to see how your website's position in search engines impacts your business, you need to know your rankings for each channel separately. You won't know how to adapt strategies if you're not tracking each ranking. To understand your website's mobile ranks accurately, you need to use a mobile rank tracker and choose a location for the rank. AccuRanker is the perfect tool for this.

Why you need AccuRanker as your mobile rank tracking tool
With AccuRanker, you can track, monitor and analyse keyword rankings on mobile. Below you can read about the features that make our software a powerful rank tracking tool, and how it can help you and your company with search engine optimisation while improving organic reach. mobile rank tracking, Mobile Rank Tracking
Tracking on both mobile and desktop
You can get rankings for both mobile and desktop then compare them side-by-side. Tracking keywords on mobile and desktop is absolutely essential for reporting accuracy and supporting separate SEO strategies for each device. But more importantly, it helps you understand why rankings differ, and how you can use that information to refine your SEO strategies. mobile rank tracking, Mobile Rank Tracking
Global and local rankings
You can set both global and local targeting for the keywords you are tracking. As rankings differ from place to place, the tool allows you to enter an exact location for each keyword. You can then set the location for any state, city, zip code and address level. Tracking rankings on mobile for a geographic search location is especially important for companies and businesses that are trying to boost their visibility in local search results. mobile rank tracking, Mobile Rank Tracking
Tracking SERP features
You can easily identify and monitor SERP features (such as Featured Snippets, Local Packs or Paid Ads), that are displayed on the SERP for the keywords you are tracking. Tracking SERP features is increasingly important as these features are taking up more space at the expense of regular organic results, especially on mobile. Our tool also shows if you are currently ranking for any SERP features, explaining whether your SEO efforts in this area are paying off. mobile rank tracking, Mobile Rank Tracking
Track competitor rankings
You can check how your competitors are ranking on mobile and measure your SEO performance against theirs. See their overall visibility and ranking distribution for the keywords you are tracking. What's more, you can monitor your competitors' ranking results for each specific keyword, see the change over time and compare them to yours. Keeping an eye on competitors, and benchmarking your own performance against theirs, lets you see where you can improve in the search results. mobile rank tracking, Mobile Rank Tracking
Daily updates
AccuRanker gives daily updates on your mobile rankings as the tool automatically updates your keyword rankings every 24 hours. In addition, you can check your keyword positions on demand and at no extra cost. Simply mark the keywords one by one, or choose a selection of keywords you want to update, and click the 'Refresh' button. There are no restrictions, so you can save time and get data whenever you need it. Daily updates and on-demand data give you greater accuracy, fewer surprises, less risk, and a better grasp of your overall SEO strategy.

How to start tracking mobile keyword rankings
If you want to monitor your mobile performance with our tool, start by creating a free trial account.
Getting started is easy.
First, sign up for a free trial here – no credit card details are needed.
Then, follow these three steps to get your mobile keyword rankings:
1) Enter the website address you want to track (URL)
Click 'Add domain' and enter the URL of your website's domain. This is the website you want to track.
Select the default country and language.
Enter the domain and select the country and language for the keywords you want to track.
2) Add the keywords you want to track
Click 'Add keywords' and enter the keywords you want to track.
Choose their settings:
Select location (country, state, city, postal code or an exact street address), search engine (Google, Bing) and device type (desktop, mobile).
Enter the keywords you want to track and check the box for mobile under 'Search Settings'.
3) Check your rankings in the Keywords-tab
Once you've added domains and keywords your rankings will display in the Keyword-tab. This means you are now tracking mobile rankings.
If you are tracking rankings on both desktop and mobile, select the mobile icon to see your mobile rankings.
Don't hesitate - Get your mobile rankings now!
Sign up for a free trial here – No credit card needed