Google Algorithm Updates: Why and How to Track Them
Last updated on Friday, October 28, 2022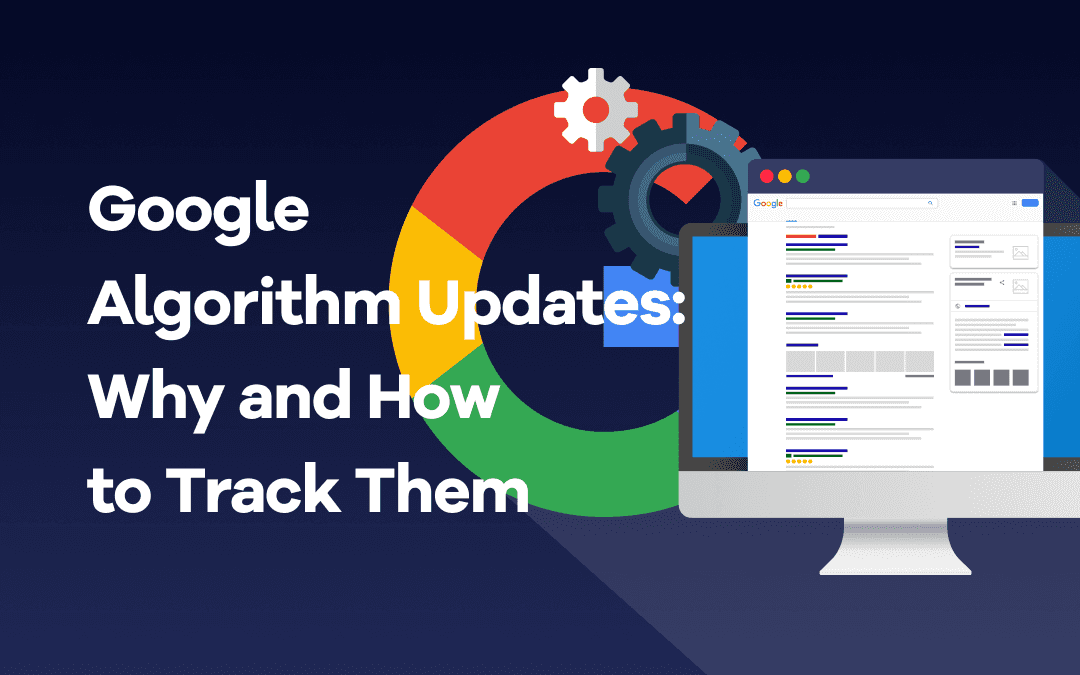 It is official, Google algorithm updates take place thousands of times a year.
The unpredictable waters of Google Search can be difficult to navigate. That is why it is crucial to keep track of any changes so you can adjust your SEO strategy timely and as needed.
In this article, we will walk you through the basics of Google algorithm updates. You will learn why and how to monitor changes, and what to do after an update rolls out.
How the Google Search Algorithm Works
Before you start tracking changes, you need to know how Google's algorithm primarily works. According to the platform, Google Search works in three stages:
Crawling: Google's automated "crawlers" constantly discover new URLs and download the text, images, and videos on those pages.
Indexing: Google tries to understand what a new page is about by analyzing and processing its content and structure. This information is stored in a large database, the Google index.
Serving results: When a user searches for a keyword or query, Google matches it with relevant pages in its index and returns the results with the best matches. This "relevancy" is determined by a variety of factors.
What are Google Algorithm Updates?
While the process of Search remains the same, Google frequently updates its algorithm to improve the quality of search results around the world.
Most of these updates are small and irrelevant to website owners. But others are much more significant and can potentially hurt (or boost) your site's rankings.
Here are some examples of recent updates confirmed by Google:
Helpful content update (August 25, 2022): This update will favor genuinely helpful, people-first content over low-value content written primarily for search engines.
Product reviews update (July 27, 2022): This update will enhance Google's ability to identify and rank high-quality, in-depth product reviews in the English language.
Core update (May 2022): This update will improve the overall search process. While Google has not mentioned any specifics, they announced this update to confirm the reason behind any noticeable drops or changes in rankings.
How often does Google update its algorithm?
In 2021, Google launched 4,366 updates in total, each carefully reviewed by data scientists and engineers before going live.
The platform rolls out one or more small updates daily. Most of these changes are unnoticeable but help Google improve its performance.
Several times a year, Google also releases major or "core" updates. These updates are officially announced days or weeks before they are rolled out.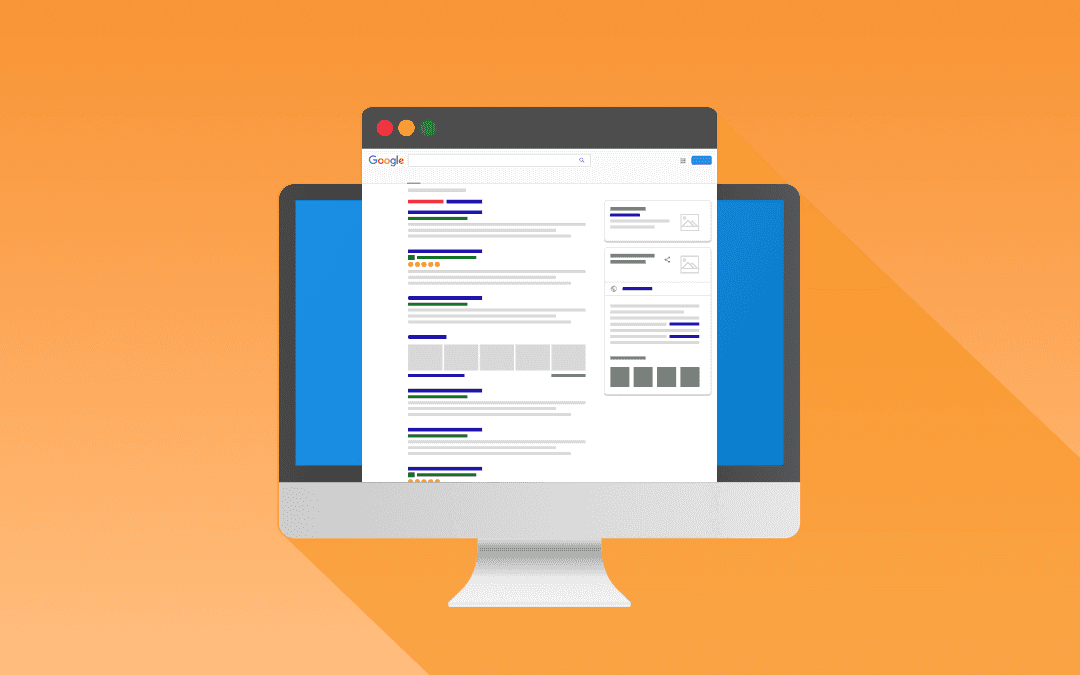 Why You Should Track Google Algorithm Updates
Website owners and SEO managers need to track algorithm changes for various reasons.
Firstly, these updates can impact your rankings, visibility, and traffic. This can affect your conversions and overall revenue. A slight dip in rankings for important keywords can often translate into thousands of dollars in loss.
Secondly, there may be updates that require you to pivot your content or SEO strategy. If you do not, you will end up wasting tons of valuable time, money, and other resources.
How to Monitor Google Algorithm Changes
Staying on top of Google's algorithm updates can help you adjust your strategy and prevent any significant loss in rankings, traffic, and revenue before it is too late.
Here is how to track updates and changes as they happen:
Stay updated with the news
Google often announces major updates to help website owners, content managers, and SEO specialists take appropriate actions timely.
Read the news and keep yourself updated with the latest developments to update your strategy if necessary. Subscribe to credible SEO blogs, newsletters, and resources that help you stay informed.
You can also set up Google Alerts for keywords like "Google algorithm update" to catch any news as soon as it pops up.
Track your rankings
Keep an eye on your rankings to spot any fluctuations or drops quickly. Use a SERP rank tracker like AccuRanker to stay updated with how your site is ranking for important keywords.
If you notice a significant change in rankings without making any content updates to the pages in question, there might be an algorithm update in the works. Double-check the news and Twitter conversations to be sure.
Use Google Grump (free SEO tool)
Wondering if it is Google or just you? A quick hack for finding out the real culprit behind fluctuating rankings is to use a free SEO tool like Google Grump.
This handy little tool helps you track Google's "mood", literally. The grumpier it is, the higher the level of activity and fluctuations in ranking.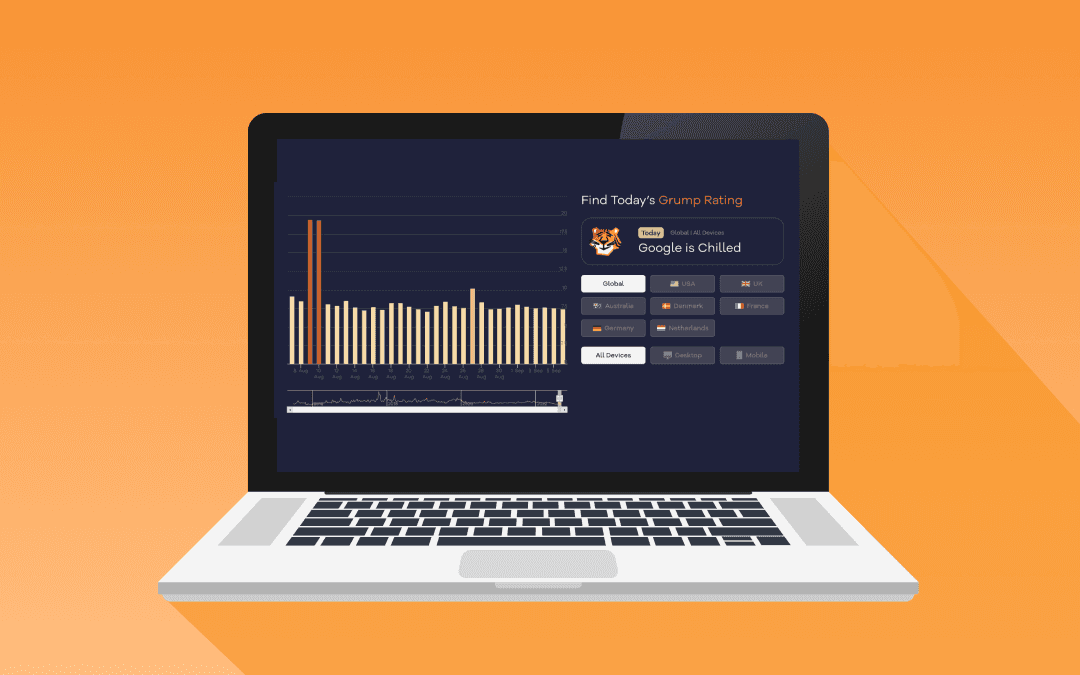 There are four moods that indicate Google's level of activity around the world or in geographic regions.
Chilled (0-10): Little to no activity. Google seems calm and rankings are not fluctuating.
Cautious (10-12): Slight activity. If rankings continue to fluctuate over the next few days, it might signal a change in Google's algorithm.
Grumpy (12-15): Above-average activity. Rankings are changing more than usual, and an update is likely in the works if this persists.
Furious (15+): High activity. Rankings are fluctuating intensely, and an algorithm update is likely taking place.
Google Grump's algorithm analyzes 30,000 randomly selected keywords and calculates the average ranking fluctuation across the top 100 results per keyword. This results in a score that falls under one of the four moods.
The tool lets you view Google's mood swings all the way back to 2016. You can also track changes by device to see if there is a mobile-only or desktop-only update being rolled out.
Follow Twitter conversations
Finally, get on Twitter and keep an eye out for relevant hashtags and tweets around this topic. Follow accounts that actively post updates when any major changes occur.
For example, Google's official news account, Google Search Central, tweets about upcoming and recent updates:
Today we released the September 2022 product reviews update for English-language product reviews. We'll update our ranking release history page when the rollout is complete: https://t.co/sQ5COfdNcb
Twitter is also a great place to learn about whether an update has significantly impacted other businesses like yours. People often conduct polls and discuss effects after a recent update.
What to Do After an Algorithm Update
Tracking algorithm changes is great, but it is useless if you do not do anything productive with that information. Here are a few actionable ways to benefit from a major update:
Educate yourself
Major update rolling out? Google Grump all red and furious? Do not panic!
Pause and learn what the update is about, who it will affect, and how significant it is before you react. If you are not fully aware of the update's specifics, you will not know what to look out for and how to fix any issues.
Learning about an update that is still in the roll-out phase will also prepare you for any ranking fluctuations that may occur during the next few weeks. So, when it happens, you will know why and might even be able to cushion the blow.
Analyze the impact on your rankings
Once you know all about the update, find out what it means for your site.
It is possible you check all the boxes and even see a slight boost in rankings. In that case, relax and keep doing what you are doing (or throw a party!)
And if your rankings happen to drop, take it as a sign to improve your strategy. Figure out what you are doing wrong by looking at the pages that were affected.
Then, compare those pages with competitor sites that did not suffer as badly. Take note of any discrepancies before moving on to the next step.
Revisit your SEO strategy
If an update has impacted your rankings in any way, it is time to make some changes.
Even if your site has been positively affected by an update, find out what you did right and do more of it. Similarly, adjust your strategy and experiment with new tactics if your current ones are doing more harm than good.
Keep track of any changes you make and see if there is an uptick in rankings every few days or weeks after implementation.
Follow SEO best practices
It is great to pivot your strategy after an update, but prevention is equally important to avoid getting hit in the future.
Remember, the goal of these updates is to improve the overall searcher experience. Avoid spammy SEO tactics and always prioritize quality content to ensure your rankings do not suffer too much after a major update rolls out.
Here you can read some evergreen SEO best practices from Google to keep in mind when creating content for your site.
Keep Your SEO Strategy Updated with AccuRanker
Understanding how the Google algorithm works and staying on top of updates can help you save your site from losing valuable traffic and conversions.
Regularly check the latest SEO news, track your rankings, and monitor conversations on Twitter to stay updated with Google's algorithm changes.
Then, take appropriate steps to fix any issues with your strategy or replicate efforts that are obviously bringing you satisfactory results.
Use AccuRanker to track keyword ranking changes as they happen. Confirm any suspicions by using our free tool, Google Grump. And do not forget to check the news to stay up to date with Google's official announcements.
Start increasing your organic traffic today with AccuRanker.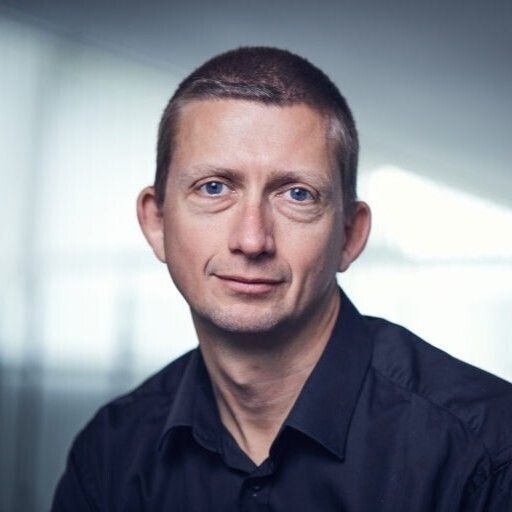 Chief Marketing Officer at AccuRanker
As the Chief Marketing Officer at AccuRanker, Bo is responsible for all aspects of AccuRanker's marketing - including outlining and implementing the company's worldwide marketing strategy and branding. A marketing senior with more than 20 years of software marketing experience, Bo has both firsthand and strategic experience with all major marketing tactics and technologies.