The Ultimate
SERP Rank Tracker Platform

for

Enterprises & SEO Agencies
START INCREASING ORGANIC TRAFFIC TODAY!
14 days free trial - no credit card needed
Join the

32,000

companies already using
AccuRanker

today


Why Enterprise SEO and SEO Agencies choose AccuRanker?
"Speed" means a lot to Enterprise SEO and SEO Agencies. That's why when speed becomes an important factor, AccuRanker will not let you down. Being the fastest SERP Checker and Tracker on the market, you have come to the right place. AccuRanker is not only fast, but also very intuitive, making it easy, even for beginners to navigate throughout AccuRanker.
Pricing is always a touchy subject. Therefore we've made it very simple and straightforward. Except for the difference in the number of trackable keywords per plan, all features are available to use in all AccuRanker plans made suitable for Enterprise SEO and SEO Agency.
See pricing
.
AccuRanker believes that data should be easily accessed. All the data and calculated metrics are available within the AccuRanker REST API without any limitations - making it easy for developers and people with technical skills to create their own custom applications or reporting which is very important to Enterprise SEO and SEO Agencies.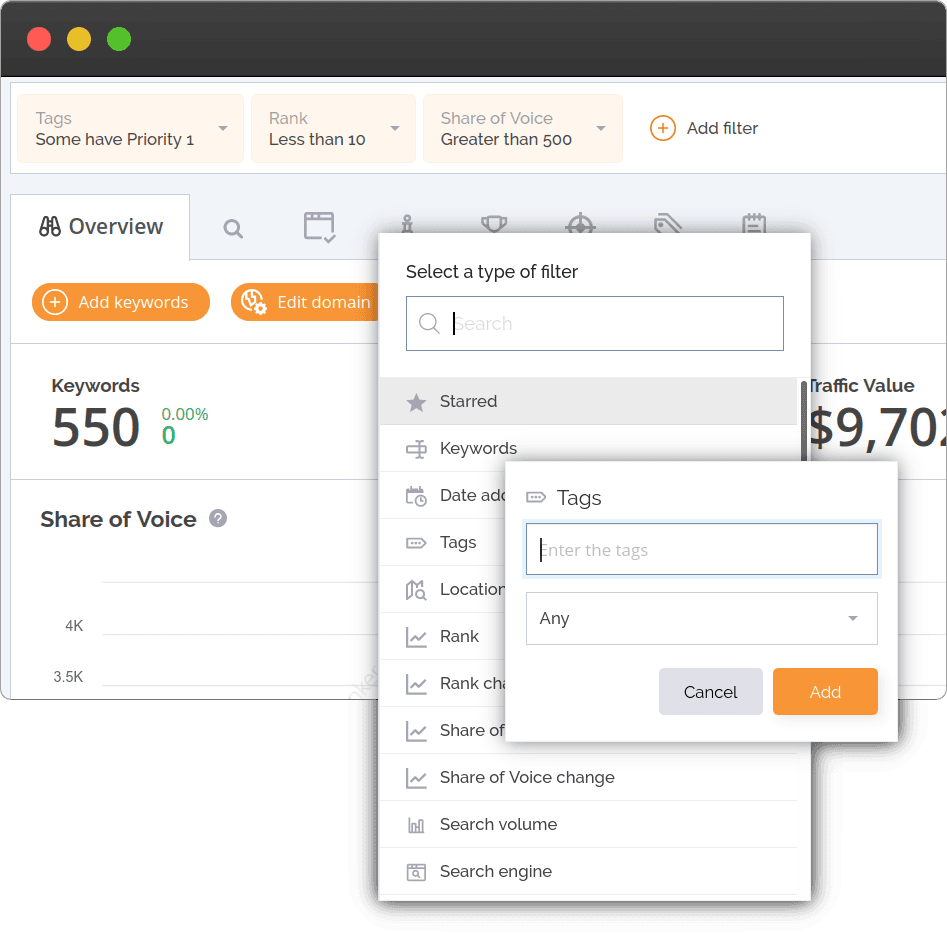 Segmentation & data cubing
Working with a large amount of data doesn't have to suck.
AccuRanker's proprietary technology allows you to filter and segment your data with a high amount of different options on your own data set. Easy handling of large data is a must for Enterprise SEO and SEO Agencies.
Mulitiple filtering options
Save segments
Instead of adding the same filtering options when working with your data, you can save these as segments, making it very intutive for both you and your colleagues to get back to a specific data set.
API filters
The segments that you save, can also be applied to your API calls, which will save Enterprise SEO and SEO Agencies developers a lot of time on advanced logic on the fetched data. Create your logic in your filters, and apply them in your API calls - easy!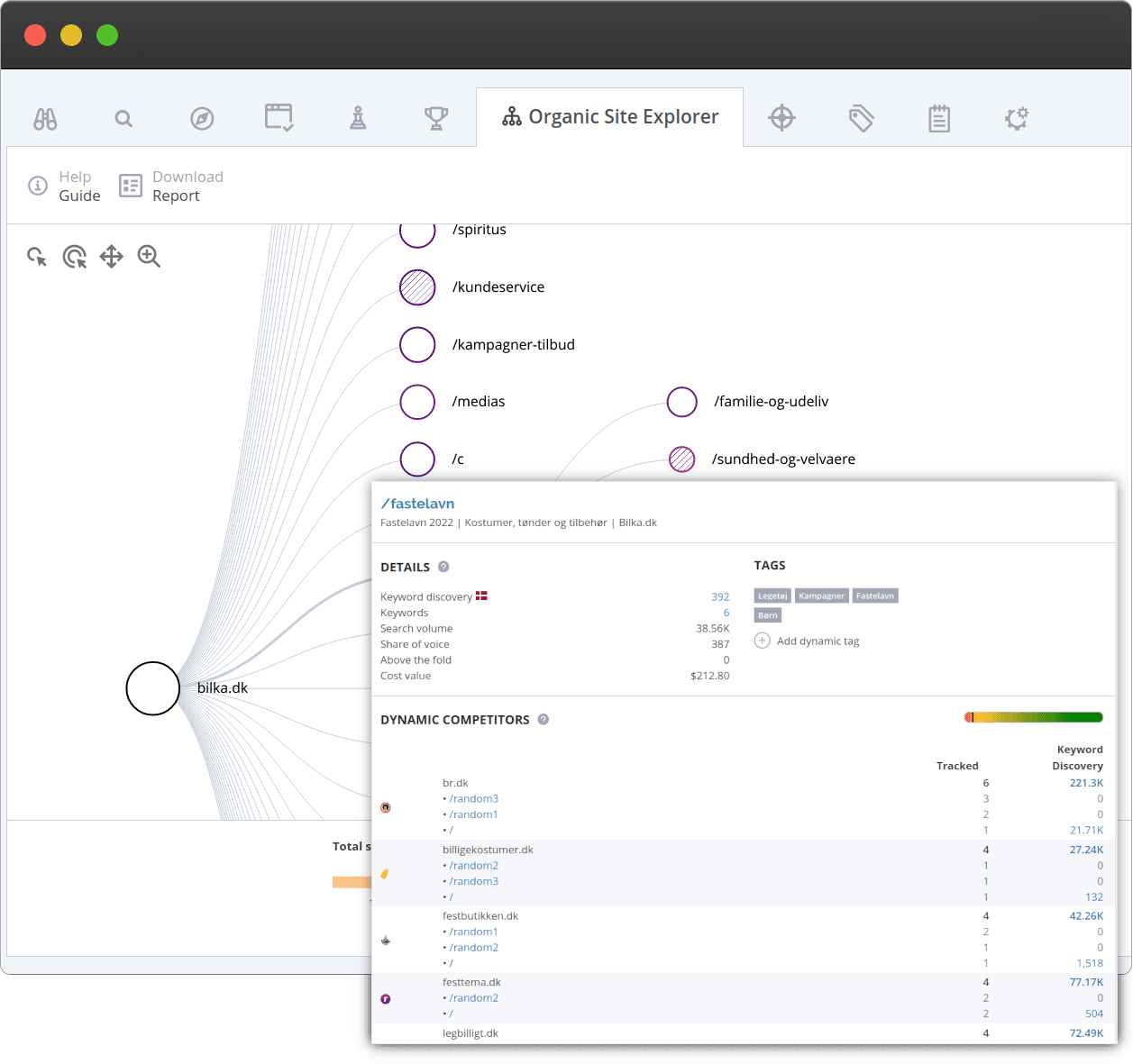 Organic Site Explorer
Get a visual overview of how keywords are indexed for your site which is very important to Enterprise SEO and SEO Agency work.

Competitor analysis
Which competitors are you competing with? AccuRanker is answering this Enterprise SEO and SEO Agency dilemma.
Keyword research
See what both you and your competitors are indexed for on every page or category level. AccuRanker is spy eye for Enterprise SEO and SEO Agencies work.
Easy sizing
How large is each of your pages and subpages based on the count of keywords or search volume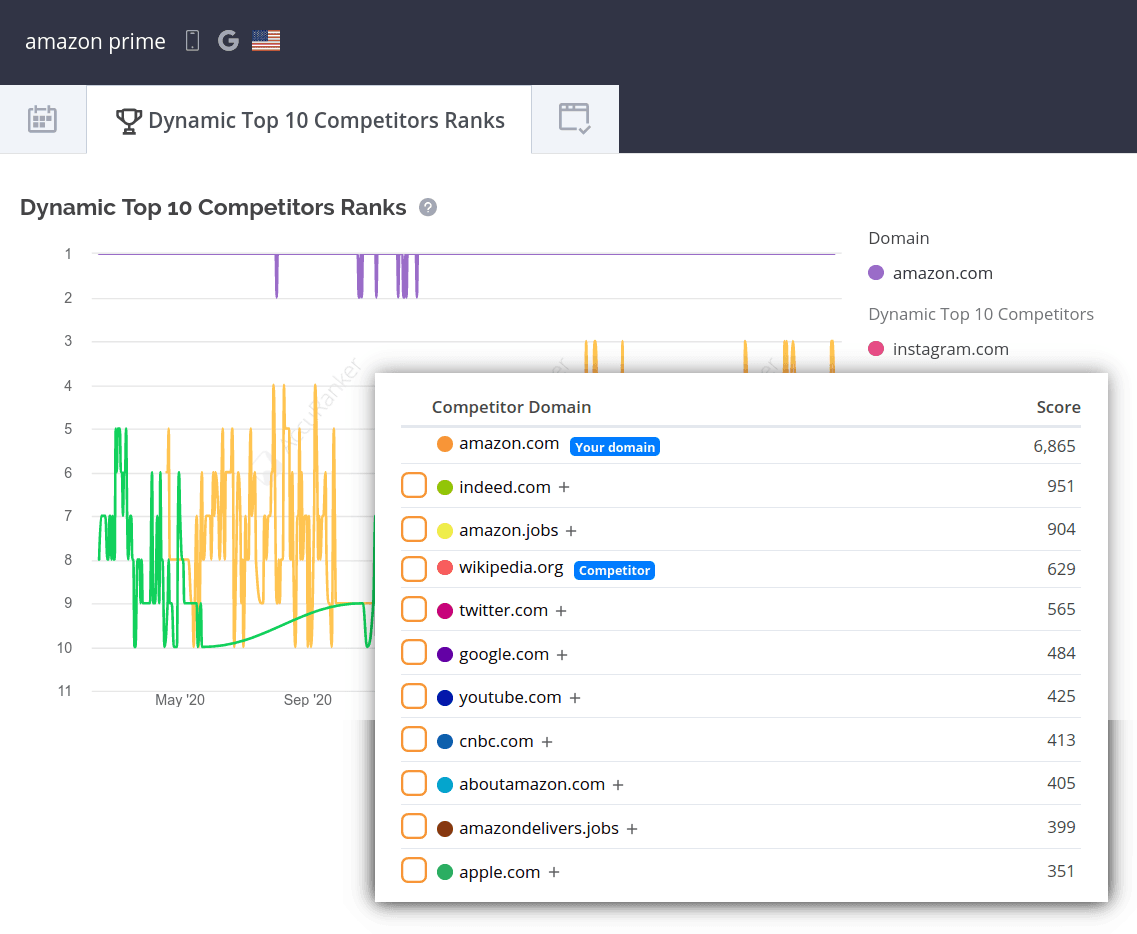 Dynamic competitors
Segment and filter your data to enable the 'organize your data' view. Share insights with your team so they can make smart, data-driven decisions.
Wide range of metrics available
Filter data in hundreds of ways
Share of Voice shows market performance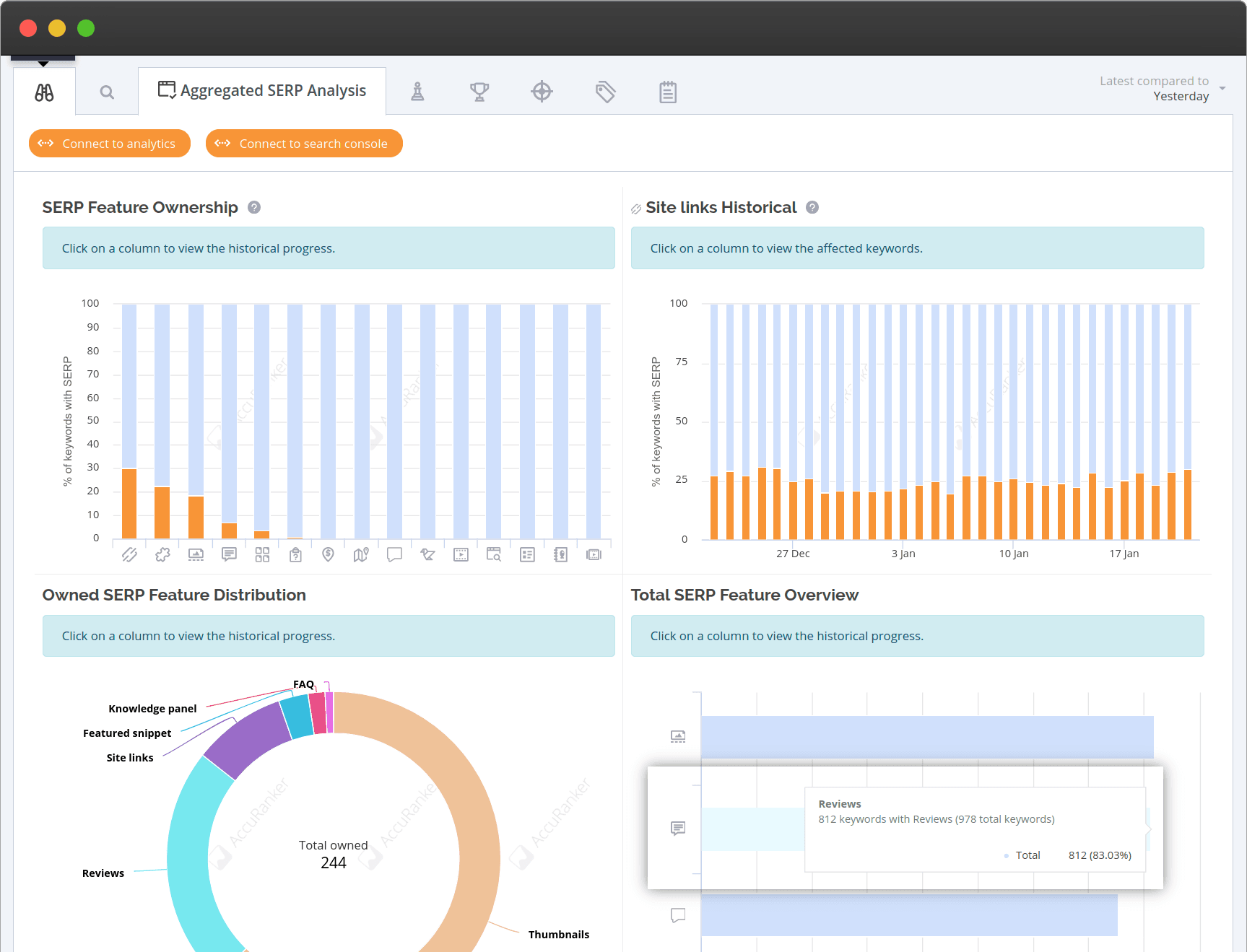 Aggregated SERP analysis
Optimizing your site for SEO today is not an easy task especially when you apply SEO on Enterprises or Digital Marketing Agencies. There are so many different elements on a SERP that you can optimize your content for.
With AccuRanker you can see exactly which features are available and which features you already is ranking for.
SERP Feature Ownership
See what featured elements do you already own.
Historical insights
Easy see the historically progress for specific featured elements.
Total SERP feature overview
Get a full insight on all the elements that is available on the SERP for a segment of keywords. This makes every Enterprise SEO's work easy.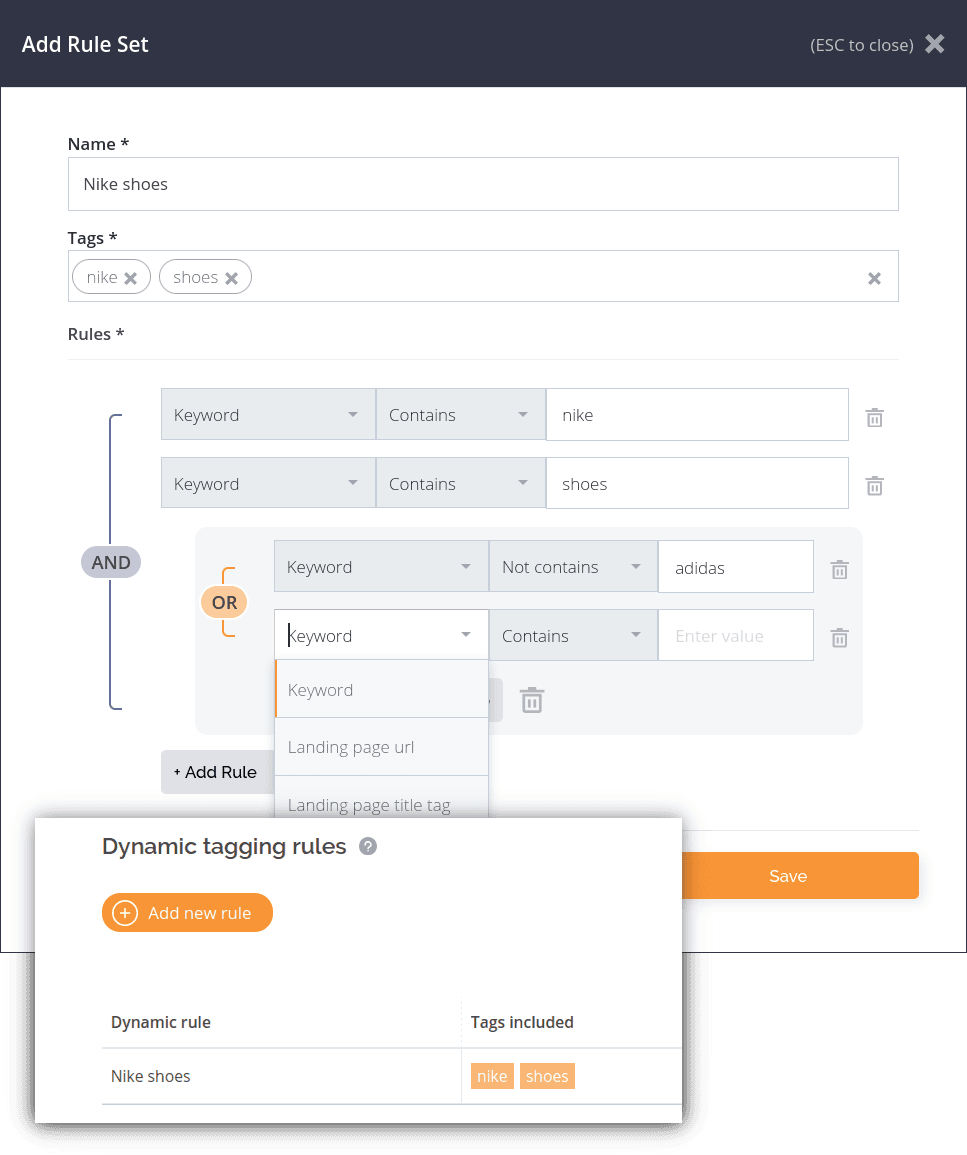 Dynamic tagging
Create advanced filters for tagging your keyword data dynamically.
Chose multiple inputs to identify the targeted keywords. This is job for SEO Specialist which work in Enterprises and Digital Marketing Agencies. It even allows you to combine multiple rules AND OR rules into a single rule.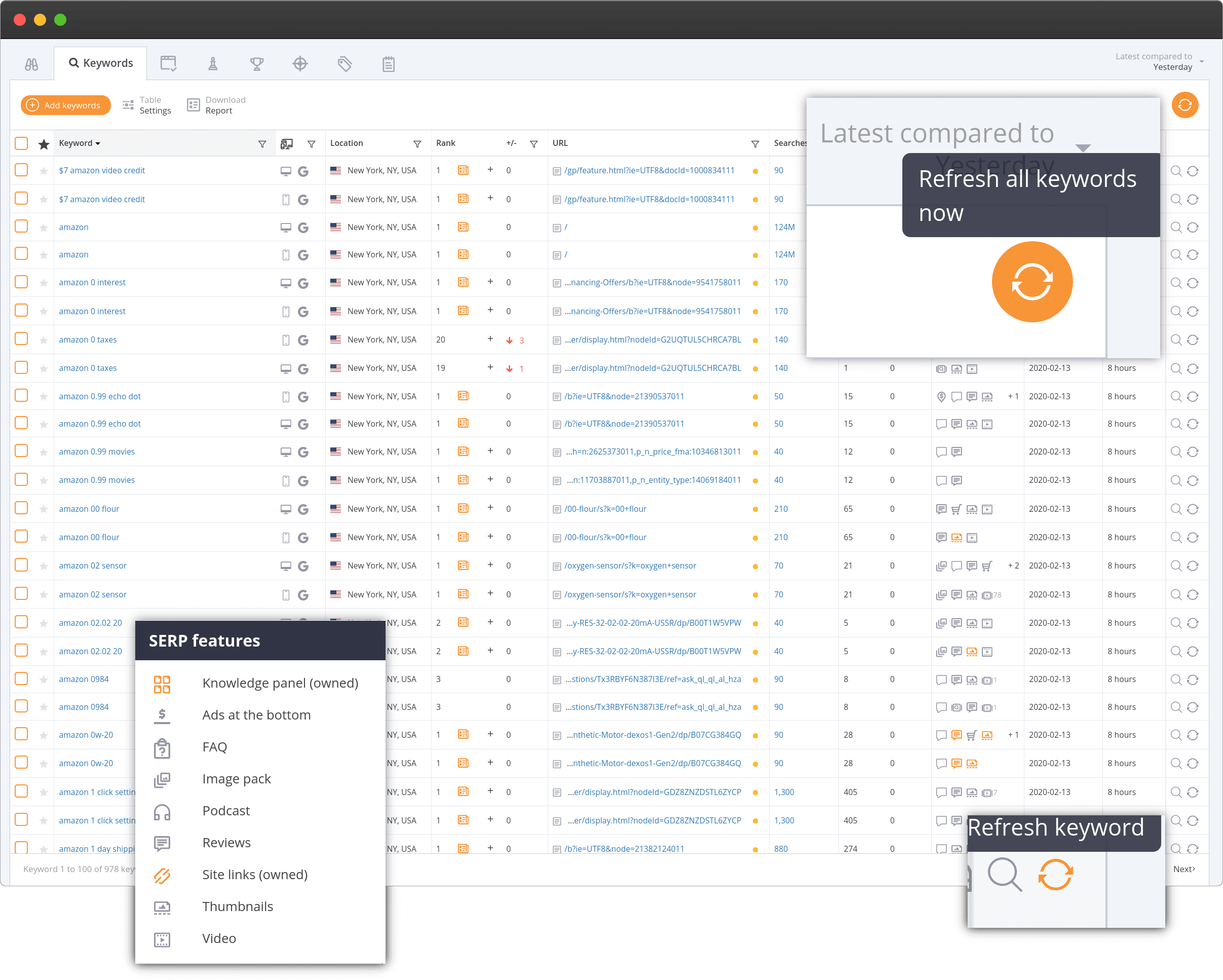 Keyword management on fire
Build your organic visibility by targeting various SERP (Search Engine Results Page) features on Google. Gain a better understanding of which SERP features drive traffic to your site and then evaluate your next move. This way is known as holy grail approach of Enterprise SEO.
Daily & on-demand keyword update
All of your keywords will be updated every 24 hours. If you need to get the latest, you are able to do on-demand update, updating an entire domain within a few minutes.
Desktop & mobile
For certain sites, especially ecommerce sites, mobile traffic is responsible for up to more than 80% of the total traffic, and this number is only growing every single day. With AccuRanker, you can track both desktop and mobile rankings.
Search locally
AccuRanker allows you to enter any location around the world, to see how your keywords is ranking within a street, zip, city, county. This is maybe the most important advantage of AccuRanker over the other keyword tracking tools. Very few competitors to AccuRanker can check and track keyword rankings within a street, zip and city.
Search engines
AccuRanker covers the global search engines around the globe. Google Youtube Bing Yandex Baidu
Dynamic competitors
Who is actual taking your valuable traffic? With the help of data cubing, you will be able to see how the competitor landscape changes for each product and category for your website. Take those positions back, and leave your competitors left in the dust. Main formula of the Enterprise SEO and Digital Marketing Agencies.
Dynamic CTR
The days when a #1 position would give you 33% of all clicks on the SERP page are long gone. With AccuRanker's proprietary AI model, we are now able to give precise estimates of the CTR for each of your keywords. When knowing the CTR, you can get a 90% estimate of how much traffic you and your competitors will be receiving all the way down to a single landing page! This makes the Dynamic CTR feature vital to Enterprises and SEO Agencies.
Share of voice
Share of Voice (SoV) is an indicator of how your most important keywords are performing. All keywords that rank between positions 1 to 20 are used for the calculation. The average CTR for the position is multiplied by the search volume of each keyword, allowing you to see if high traffic keywords are losing or gaining ranks.
Traffic value
How much is your organic traffic worth, if you should have bought it from ads? Easily track your progress in dollars and cents.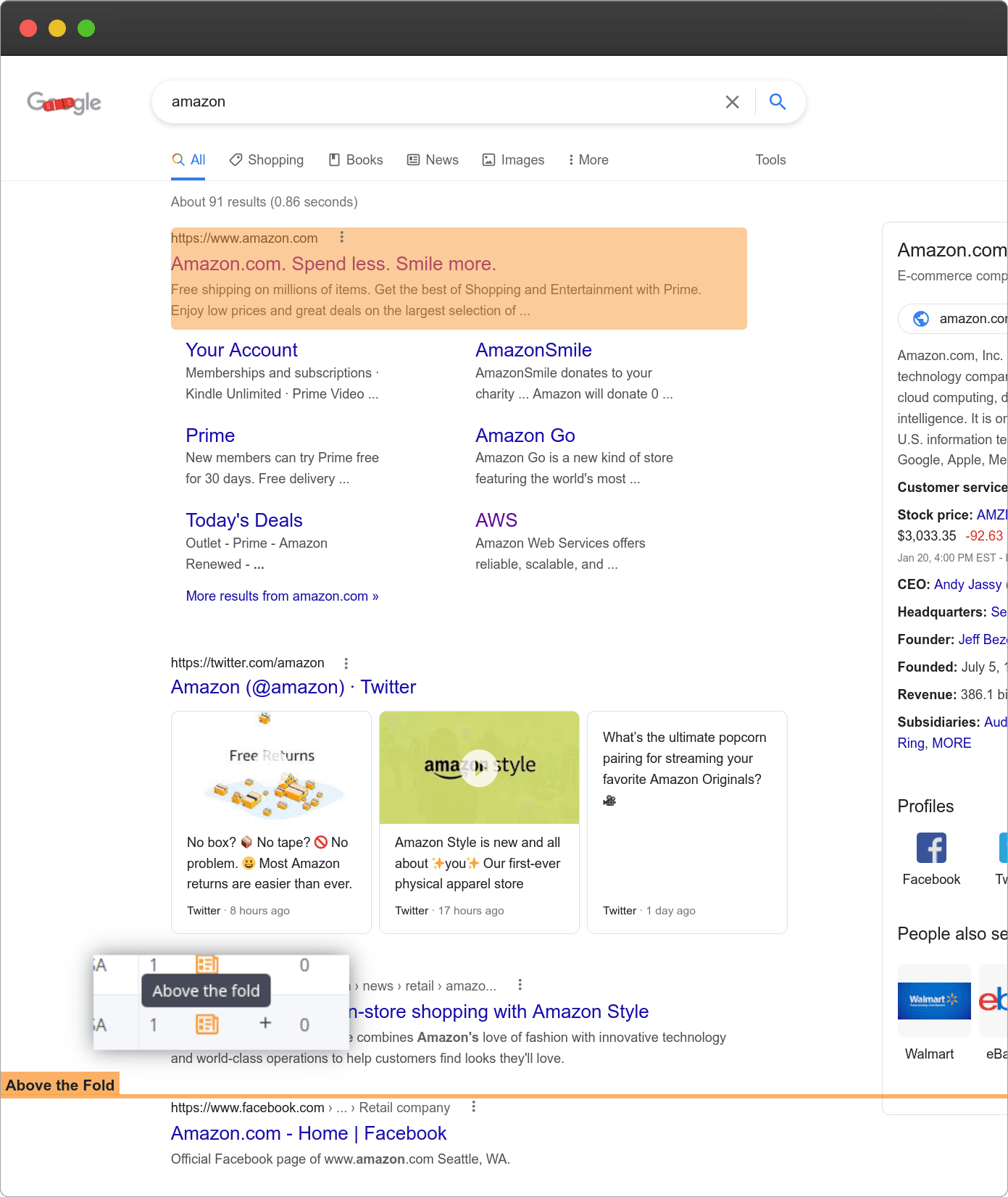 Pixel tracking
The Search Engine Result Page is dynamic, meaning that it changes all depending on the searches and the intent of the searches.
With AccuRanker you not only get the rankings # but also all the X, Y coordinates on each element found on the SERP.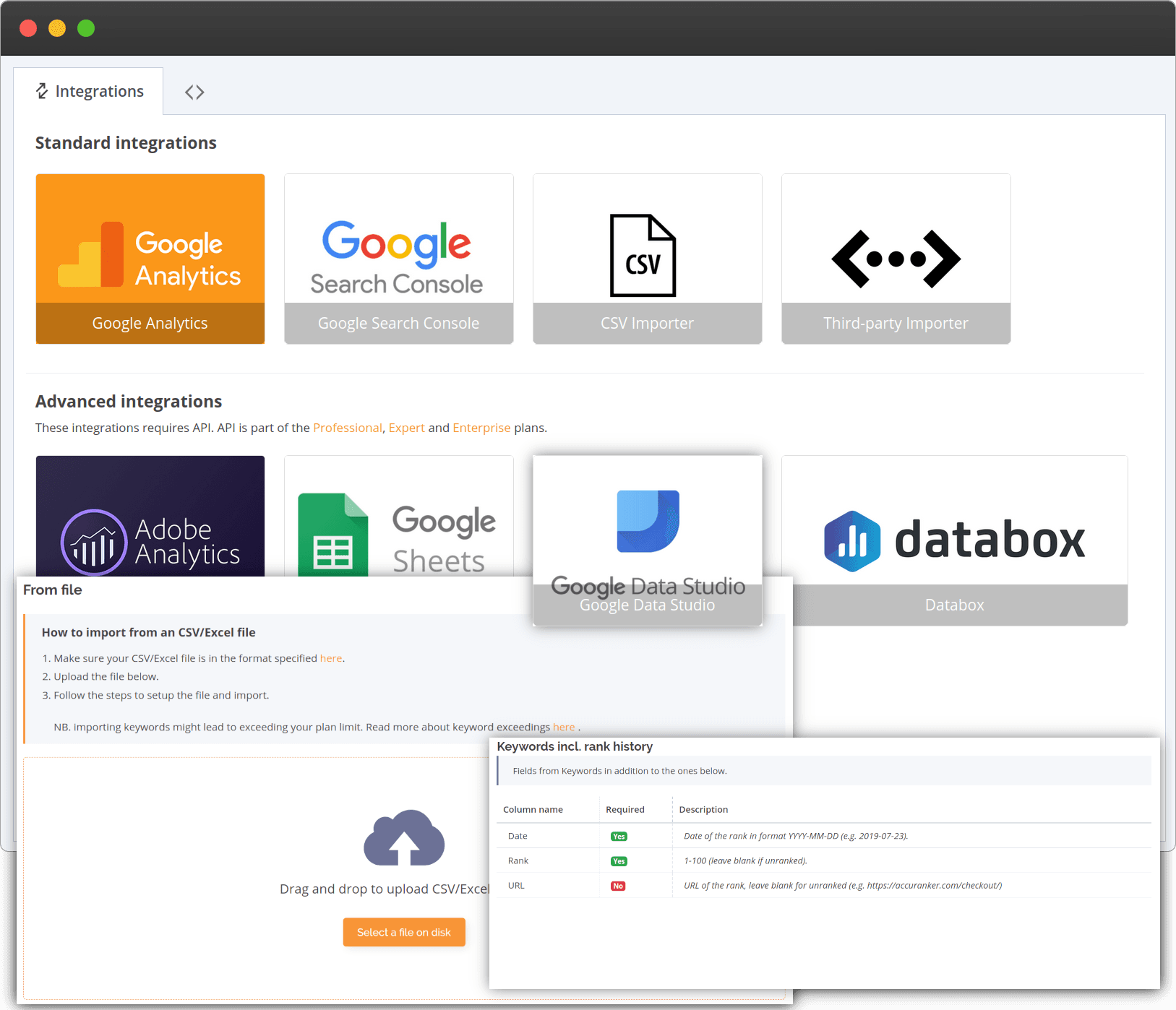 Integrations
AccuRanker offers various integrations, making it easy to connect and share data among other platforms
Historically data migration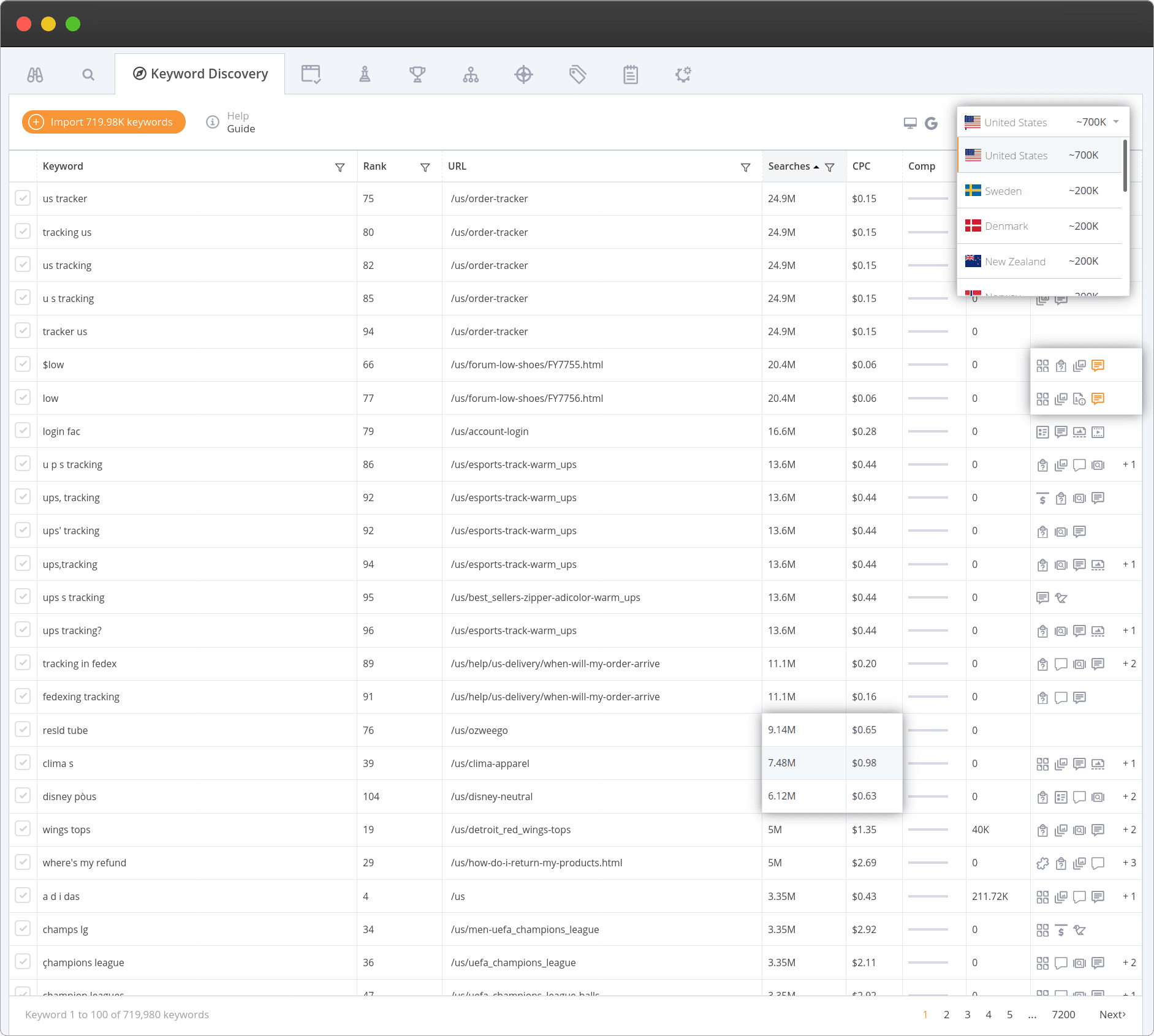 24B Keyword research database
Do you want to know what you and your competitors are ranking for?
AccuRanker allows you to filter, slice & dice the keywords that both you and your competitor's site is indexed for. This makes AccuRanker way above the competition about the data of keywords. This makes AccuRanker Ultimate Enterprise SEO and SEO Agency keyword rank tracking tool.
Exclusive keyword set for nordic countries
Get a free demo by one of our eCommerce specialists