10 Innovative B2B Content Marketing Examples That Stand Out
Last updated on Thursday, September 14, 2023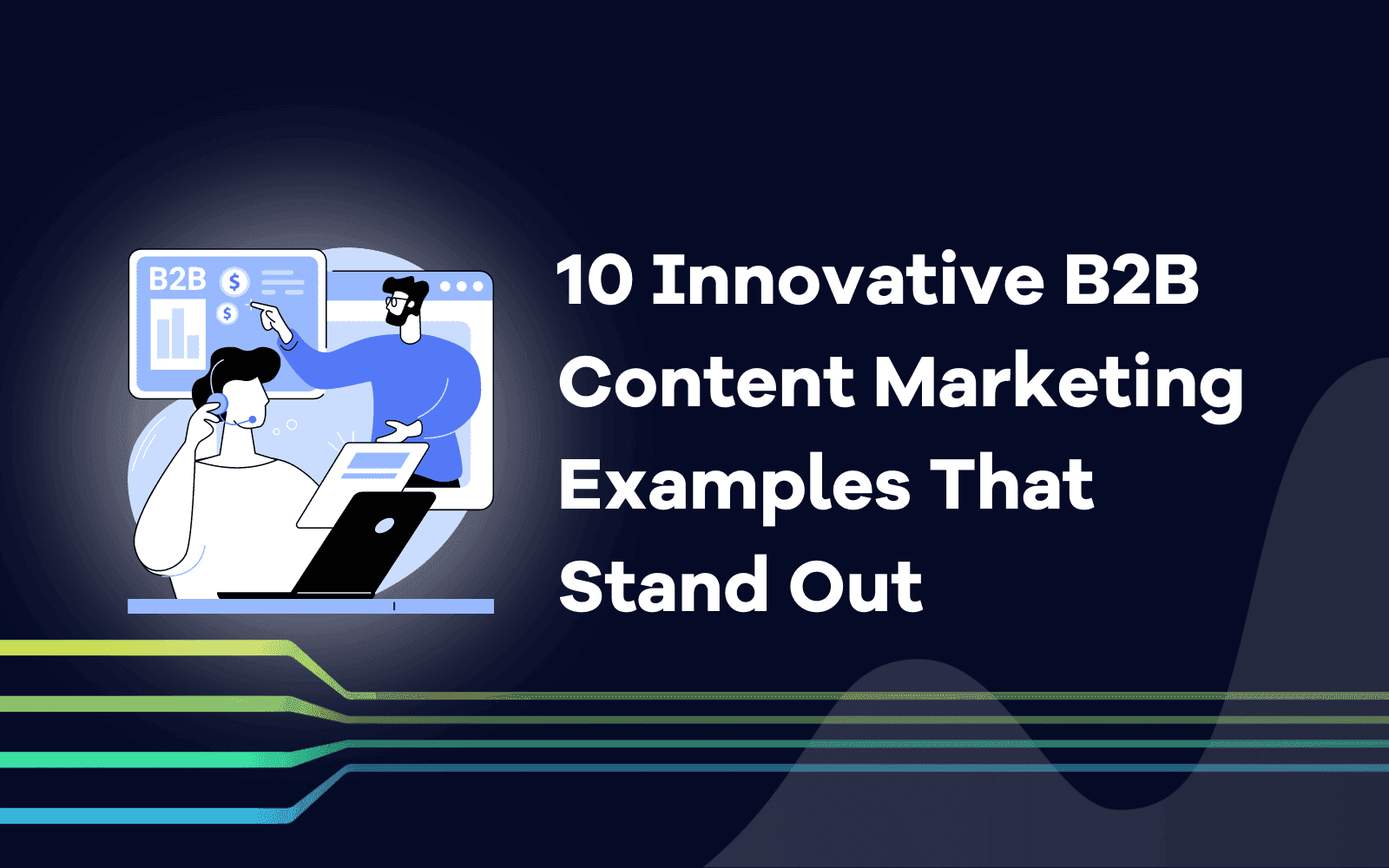 Content marketing is still one of the best ways to attract new business for any company. But with the amount of online competition, entrepreneurs need to be more creative with their content to stand out.
In short, You need to innovate.
But how?
In today's post, you'll find 10 examples of B2B companies that manage to grow their business through compelling and useful content. We're going to look at the types of posts they publish as well as some of the incentives they use to get users coming back to their sites.
Going through these tactics should immediately clarify why these examples are special.
You should use these real-world examples as inspiration when you go on to develop your content marketing strategies.
With that said, let's go dive right into it.
Example 1: AccuRanker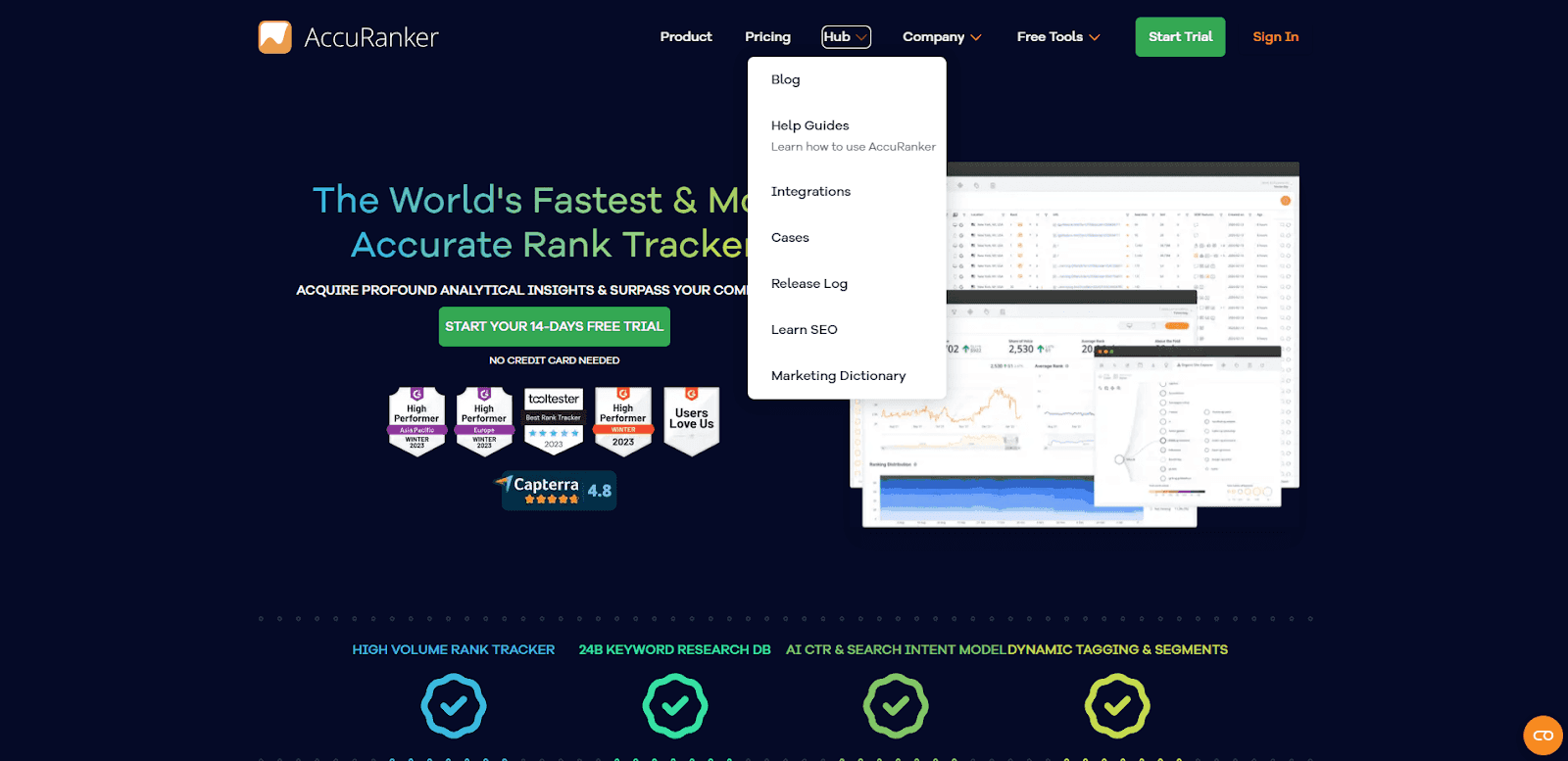 AccuRanker is an SEO service that enables its users to track their performance on search engines.
There are several noteworthy features that you can find when you visit its site. The company finds multiple ways to not only teach its visitors about SEO but also provide free tools to help them achieve their goals such as SERP Analysis.
The Hub section contains all of its blog posts with topics like how to choose the right keywords. This is different from the Help Guides which are there to educate users about the product.
You'll also find a section that shows case studies that detail how AccuRanker got its clients to realize their full potential. The Release Log lists recent updates to the product which fosters transparency and accountability.
The free tools mentioned earlier give users a sample of what AccuRanker can do for them. Not only that, but they also provide the company with an opportunity to capture leads and convert them into paying customers.
Example 2: Drift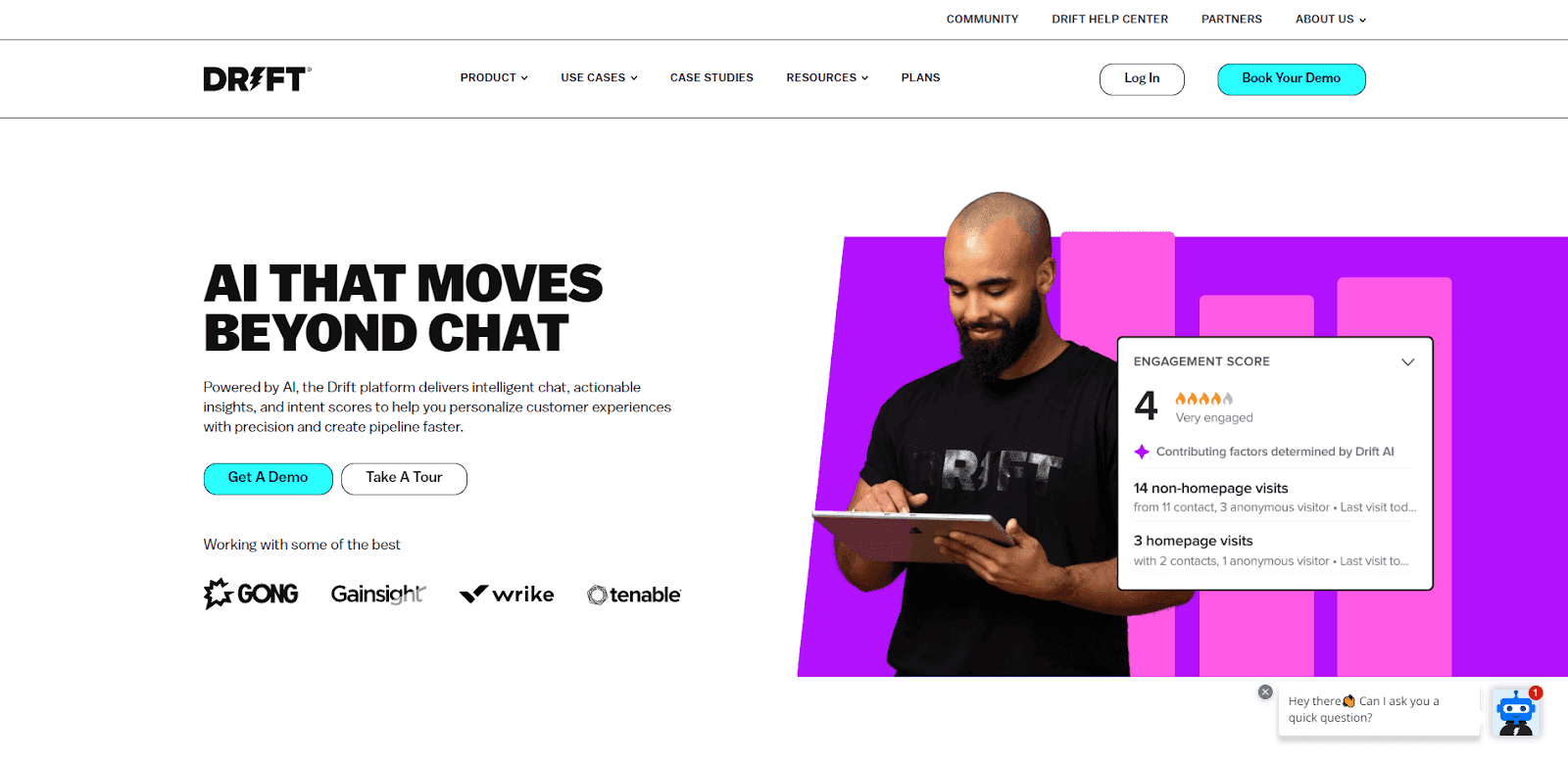 Drift offers its AI chatbot technology to its clients so that they can engage their customers in a more impactful way.
The company cleverly highlights its chatbot throughout the site. This gives visitors a chance to both experience what the chatbot can do and ask questions they may have about the product.
There's also a section dedicated to case studies and customer stories.
But what's truly impressive is Drift's content library. Not only are there blog entries about the company, but there are also posts about marketing and customer service in general. All these have information and advice that a new entrepreneur might need to jumpstart their business.
And if those aren't enough, readers can look into the Drift's ebooks, webinars, events, training, and podcasts.
There's no shortage of useful data one might need to be a better operator to his or her customers.
Example 3: Deloitte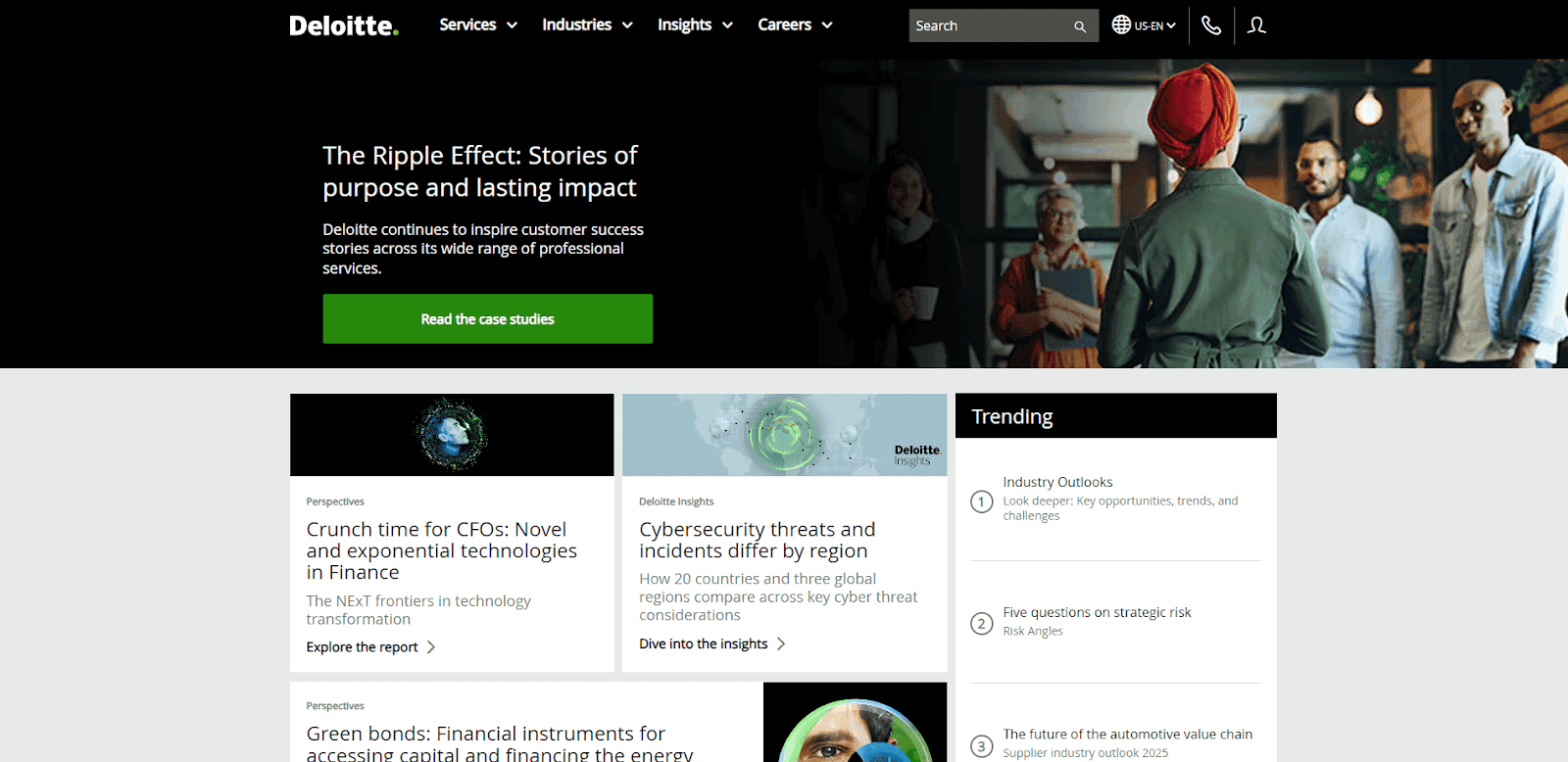 Deloitte is a tax and audit service provider that serves all types of businesses — which is one of its biggest challenges. As a company, Deloitte has clients in industries like consumer, tech, energy, healthcare, and government (among others).
Clearly, it needed to create content for every one of those sectors. And so it did.
Deloitte Insights is a space where most of the company's target audience can find content that is tailor-made for them.
Their posts are packed with data. For instance, consumers might appreciate the different surveys that Deloitte conducted. The company's research center does its own studies on energy.
They also have interviews with movers in the financial world like Platinum Equity's Stephanie Barter and State Farm's Sarah Mineau.
Even if you're not a Deloitte customer, you should visit its website — even if it's just for the articles.
Example 4: Blogging Wizard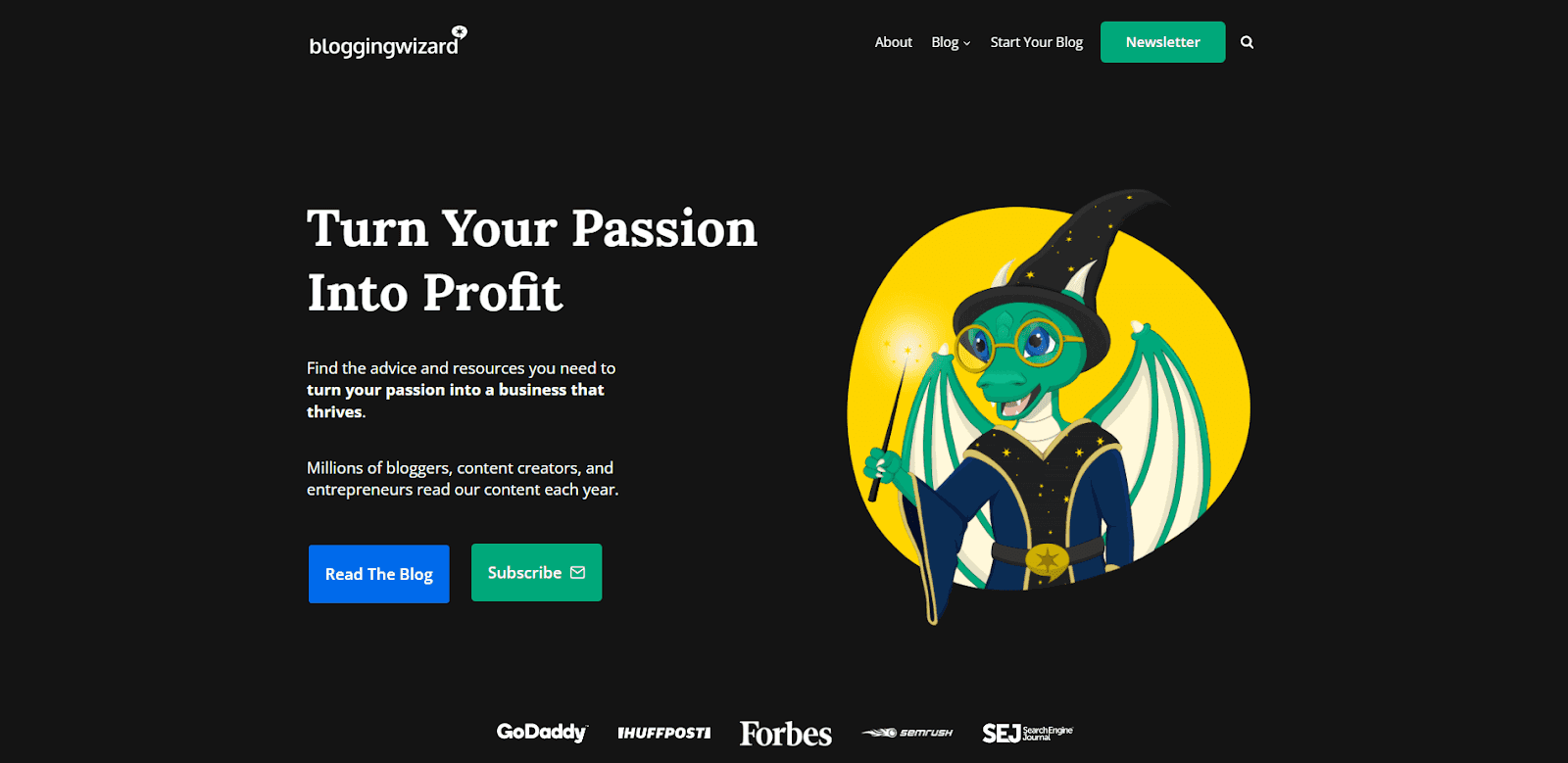 Blogging Wizard cares deeply for people who want to start their careers as bloggers and content creators. So it provides content that teaches them how to do it from the ground up.
But it's not just for newcomers. There are also posts on the site geared toward those with some blogging experience already. It's worth pointing out that there are several posts on how to make money through blogging as well.
There are also posts comparing products that target bloggers like this post on Sprout Social alternatives.
If you look at the footer, you'll find links to topics that a budding blogger might want to learn about to scale their blogs. These include guides on how to select a niche, name a blog, and increase site traffic.
Simply put:
It's one of the best sites for aspiring bloggers.
Example 5: Salesforce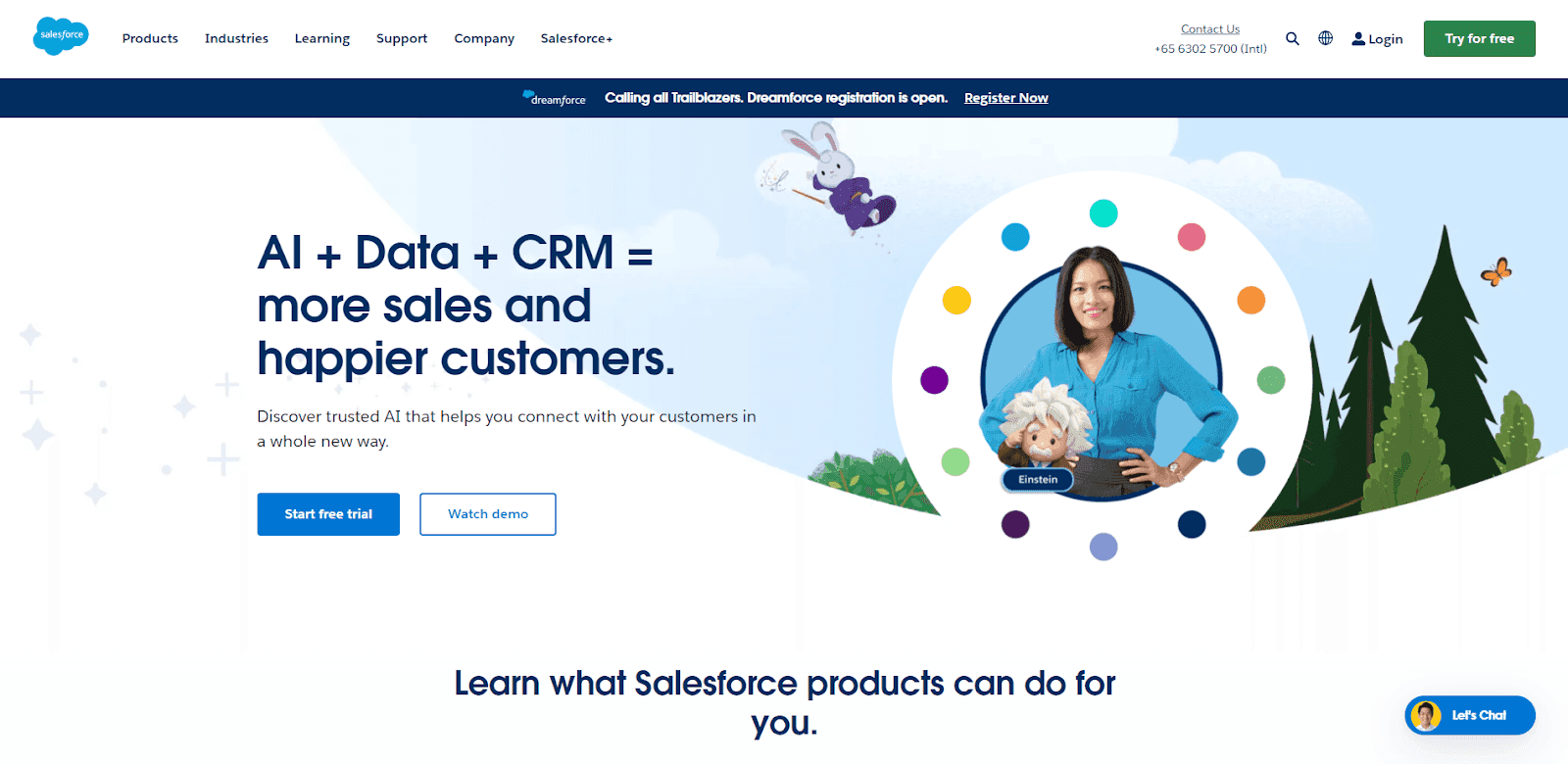 Salesforce is a customer relationship management (CRM) company. It pairs businesses with solutions that can get them to grow their sales and customer base.
How does a company of this size handle content marketing?
It does it with excellence. First off, it has its own learning portal called Trailhead. This is more than a collection of posts aimed at helping users get started with Salesforce. It's more like online classes that make anyone proficient at using Salesforce products.
You could even earn certifications that you can add to your resume.
Other types of content worth exploring include blog posts, guides, podcasts, research papers, reports, and customer stories.
Salesforce does a great job of letting users filter all of its content by their role in a company, topic, or content type.
Example 6: Trello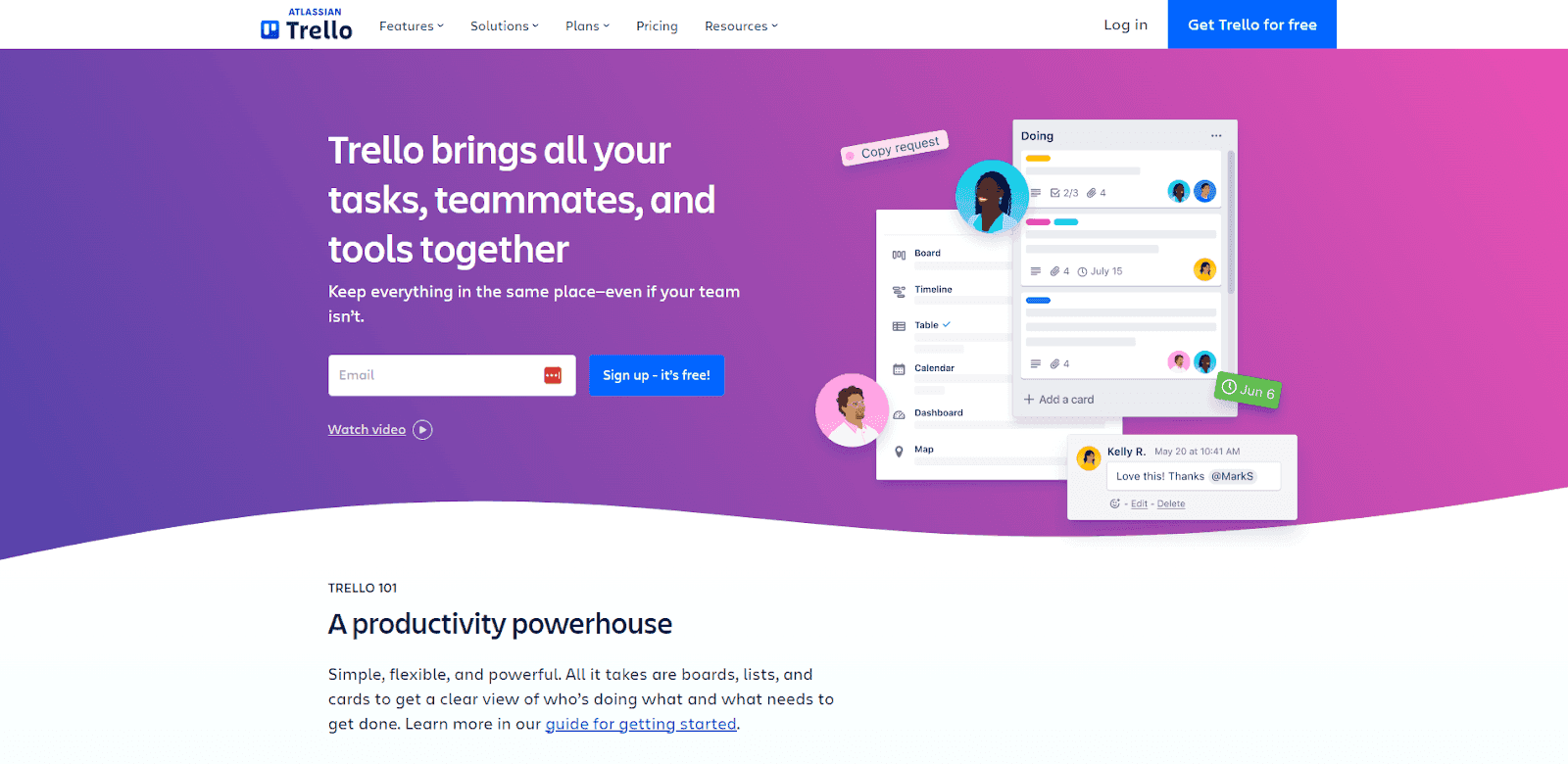 Trello is a productivity tool meant to help organizations manage their talents and tasks. Trying to sell people on its benefits is a challenge for Trello. So it needs a great content marketing strategy to showcase just what it can do for potential customers.
Trello Guides is the answer. It's a complete guide on how to get started with Trello. There are 9 lessons to go through. And Trello claims that after working your way to the end, you should be an expert on the product.
There's also a section on how to work remotely. It's a guide on how you can set your business up for success even if your teams aren't in the office physically.
You could watch the webinars that tackle productivity in the workplace. And if you want to learn more about the product, you can read all the available customer stories.
Example 7: Unbounce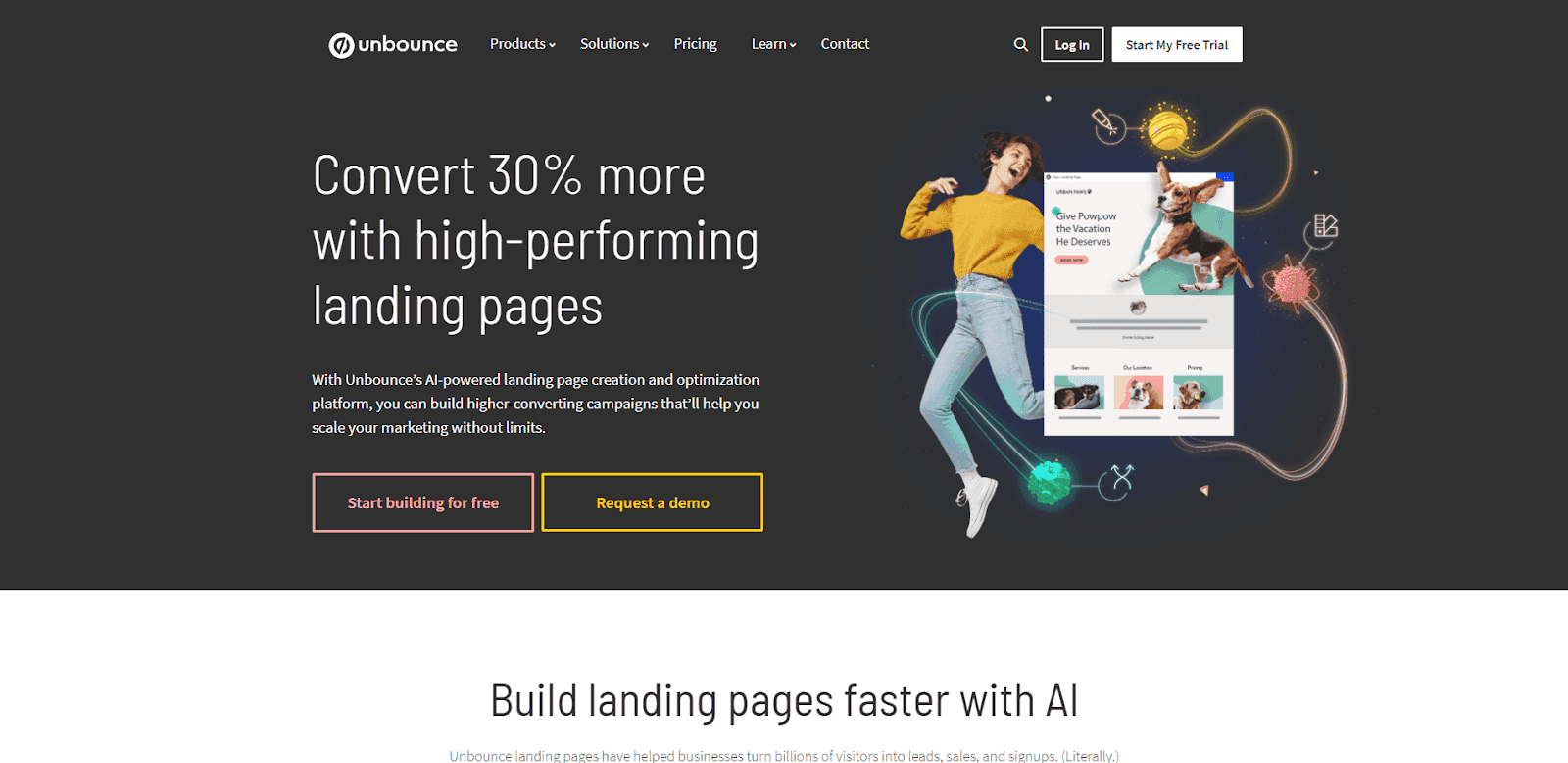 Unbounce is all about landing pages. If you need a landing page builder for your business, this should be your first stop.
This company knows its audience — marketers. That's why Unbounce releases marketing-related content. It wants to help its users get the most out of its product.
Their blogs mostly center on lead generation, landing page optimization, conversion optimization, digital marketing, and marketing AI. Nothing surprising there.
But where this company shines is content quality.
You'll find well-researched articles on the site. And the posts are conversational, meaning they're a pleasure to read. Sometimes, the posts come with videos that Unbounce produced itself.
There's a section that explains in detail what landing pages are and how to make great ones. This is perfect for anyone new to creating high-converting landing pages.
And you can find a page that shows examples of landing pages. Users can filter the pages by business category.
Example 8: Hootsuite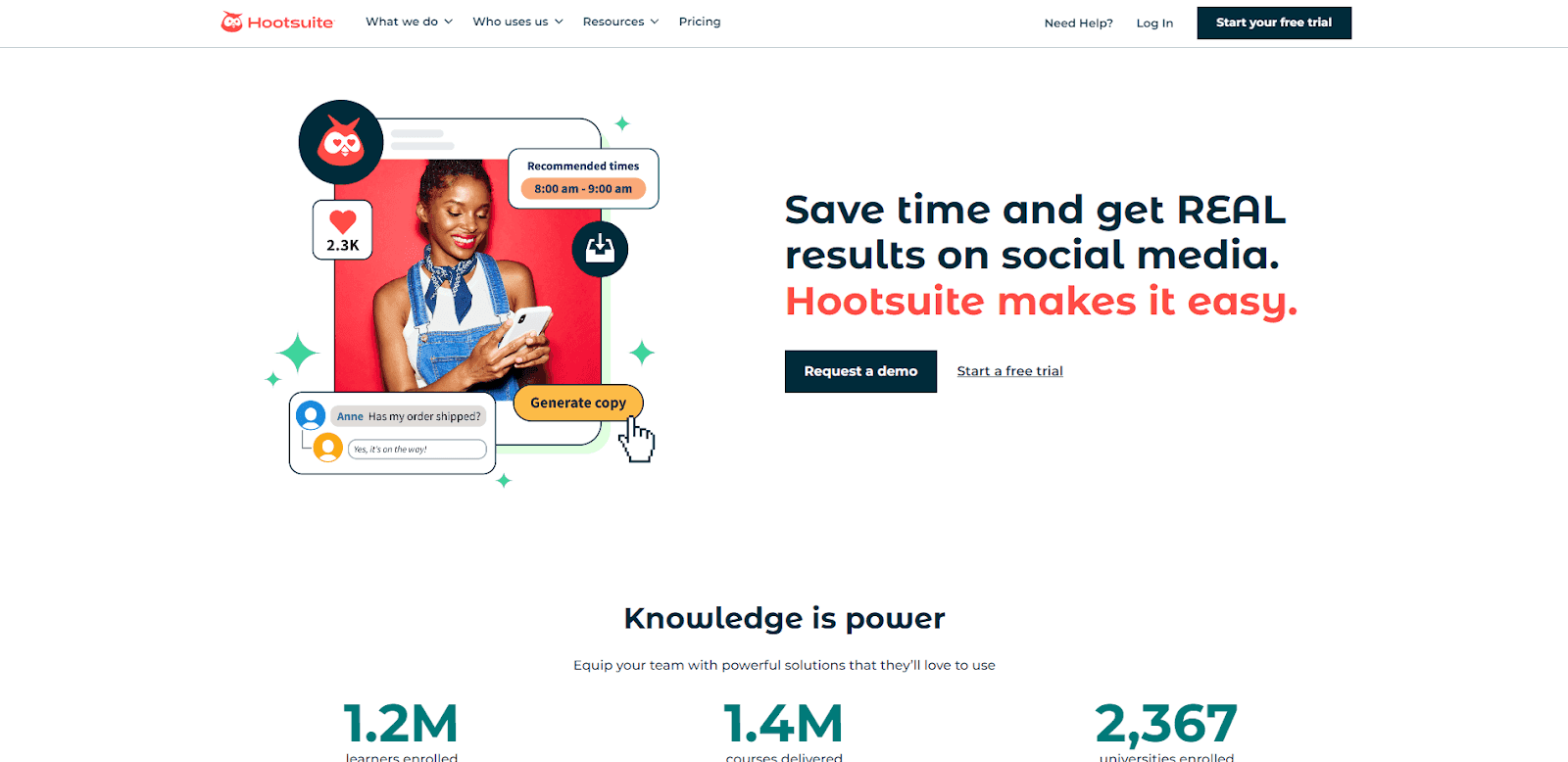 Hootsuite is a popular social media scheduling tool that's primarily used by businesses to manage their accounts. If you're a social media manager, you'll appreciate all the free content and tools on Hootsuite's site.
Let's start with tools. You have access to a number of them. If you need captions for any of your IG posts, use the Instagram Caption Generator. There's a Tweet and Instagram Threads generator as well to help you create engaging posts.
There are even tools specifically for YouTube and TikTok.
And the blogs are a fantastic resource for anyone looking to start a career as a social media expert. They even work for influencers looking to grow their reach.
Those who prefer watching over reading will enjoy the webinars about social media marketing.
Example 9: Vidyard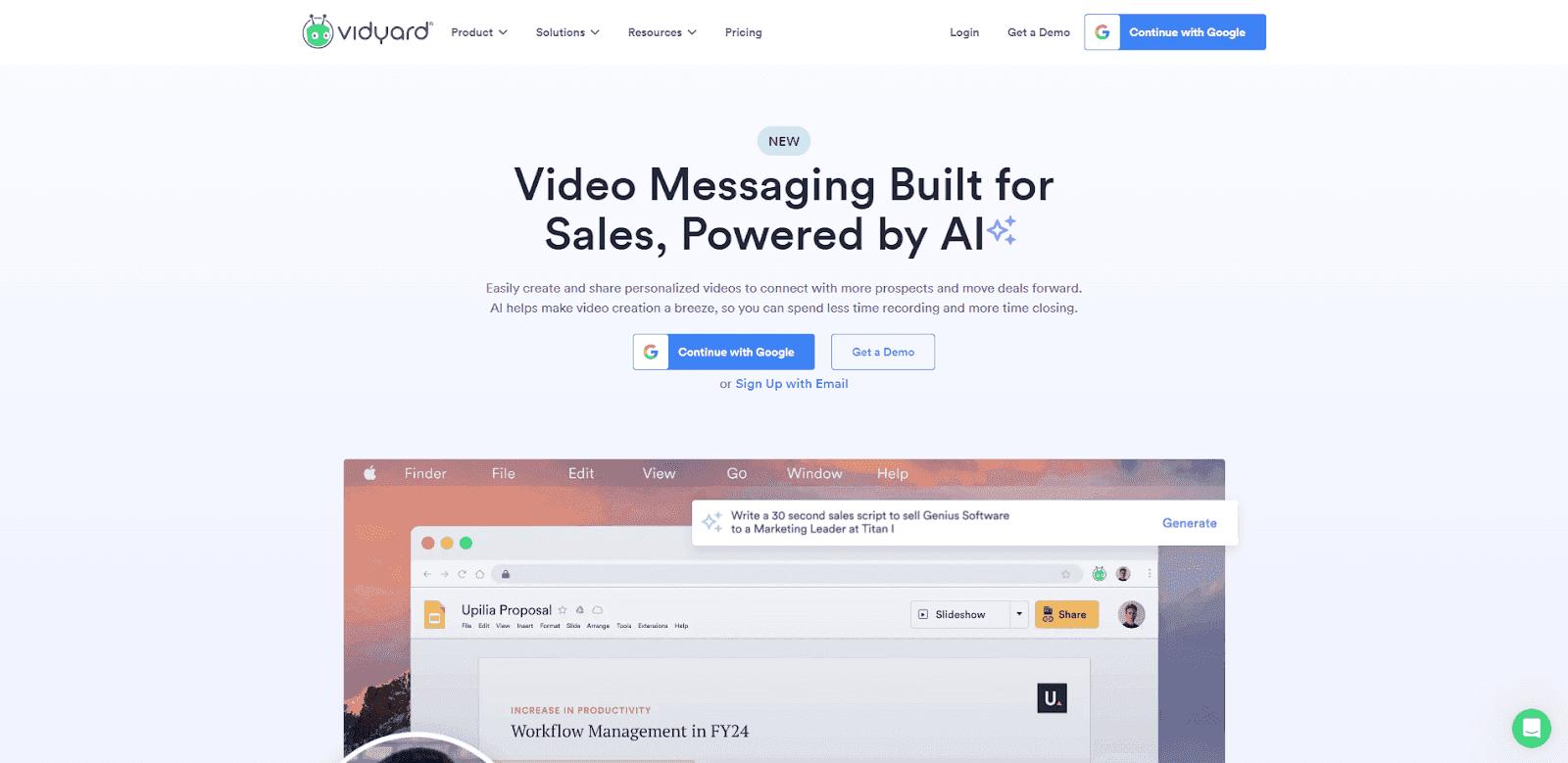 Vidyard is an AI-assisted video creation platform for people who want to send content through email. Basically, it replaces boring, old text with engaging videos to help users generate more leads.
This company provides a ton of resources for site visitors. There's Fast Forward, a repository of content featuring the latest ideas, tips, and inspiration all about virtual selling.
You can browse through some of the stored videos or attend a live, virtual summit meeting. There's also a monthly webinar if that's more your speed.
Even more impressive is the Video Selling Master Class. The lessons included will walk you through the benefits of using videos, where you should use them, and how to create high-quality content.
There are also sales video templates you could use if you're struggling to come up with a concept for your project.
Example 10: Zendesk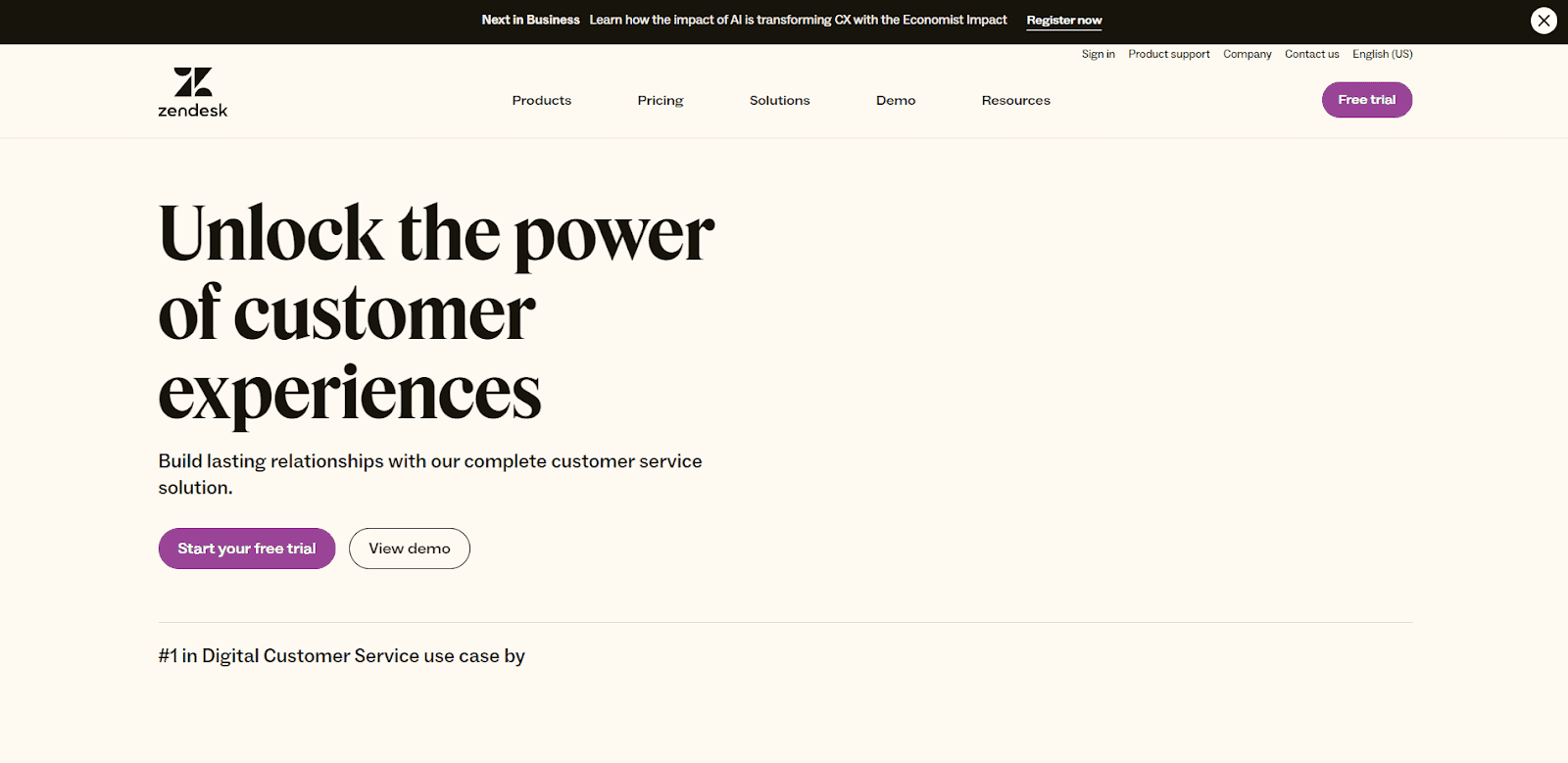 Zendesk is another CRM solution company that produces great content for its potential customers.
What kind of content can you expect from Zendesk?
As you might expect, there are plenty of articles on customer service technologies. And like other examples featured on this list, it too features some of its customers.
But what's great about Zendesk is its training materials. You can select a role like admin, CX analyst, or sales team rep and then get training specifically made for that role. You can become a certified Zendesk expert once you're done with the program.
Zendesk also records some of its events so watching them on-demand is possible. It also provides a platform where you can connect with other Zendesk users to share experiences or ask questions.
Developers have their own space where they can learn about Zendesk Sunshine along with its APIs and SDKs.
Conclusion
These are just a few examples of effective B2B content marketing at work.
If you want to attract more businesses, you'll need to step up your game. Create compelling content to not only gain some credibility in your space but to also get better leads.

Article by:
Christopher Jan Benitez
Christopher Jan Benitez is a freelance writer for hire specializing in digital marketing. His work has been published on SEO and affiliate marketing-specific niches like Monitor Backlinks, Niche Pursuits, Nichehacks, Web Hosting Secret Revealed, and others.