Largest Google Core Algorithm Update in 2018
Last updated on Tuesday, August 7, 2018
August has started with a lot of fluctuations in rankings!
Here at AccuRanker, we have clearly seen the fluctuations in rankings with our Google Grump tool. Google Grump has been showing FURIOUS (high ranking fluctuations indicating an algorithm update) globally for all devices since August 2nd. The biggest spike in ranking fluctuations was on Friday, August 3rd. Google releases several broad core algorithm updates a year, but this just might be the biggest one this year.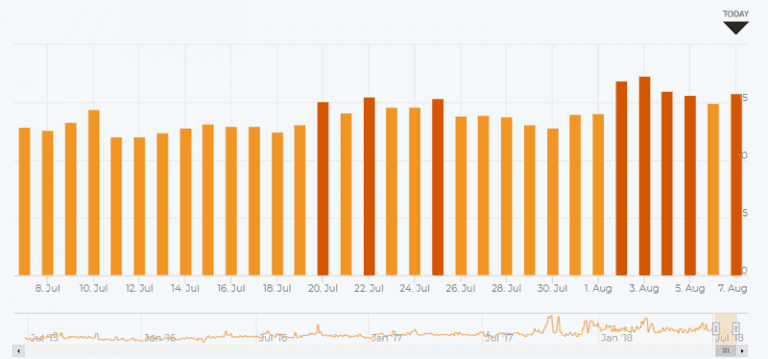 Google Grump
Both desktop and mobile ranking fluctuations
The unrest in ranking fluctuations is visible globally, both filtering by desktop and by mobile search. When looking at mobile search especially, we see high ranking fluctuations for six consecutive days (see mobile ranking fluctuations below). Google Grump showed Grumpy for desktop on August 6th, indicating that the Google Core Algorithm might be flowing down a bit, but Google Grump is showing FURIOUS again on August 7th.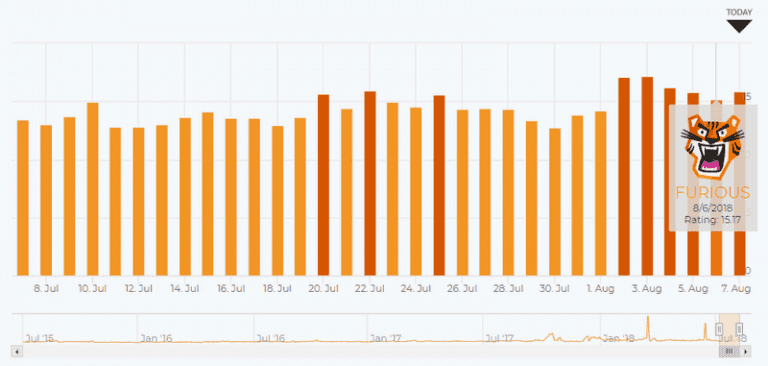 SEO Experts say that this might be the biggest Google Core Algorithm update this year. It is crucial for anyone working with SEO to keep an eye on Google algorithm updates. And since Google does not tend to inform about upcoming updates, it is handy to use tracking tools to be aware of important changes in Google algorithm that could impact your SEO strategy. You can check AccuRanker's 'Google Grump' Rating that shows the "mood" of Google. The Google Grump tiger indicates how big are rating fluctuations with his mood. The grumpier the mood, the bigger the fluctuations in rankings and bigger change that a Google algorithm update is taking place. AccuRanker's Google Grump Rating is based on a unique algorithm, built to calculate the average number of rank changes, across the top 100 results per keyword.

There has been a lot of chatter on Webmaster World as well as on Twitter. Barry Schwartz confirmed this algorithm update in Search Engine Land article. This is a big Google Core Algorithm update that we are experiencing, which started rolling out on Wednesday, August 1st. He also points out that the Google Core Algorithm update rollout is starting to slow down and is expected to be fully rolled out by mid-week.
How to Track Google Algorithm Updates
Would you like to receive updates on Google ranking fluctuations at the same time as SEO Exports do? We are the leading Google ranking tool to update daily with activity from the past 24 hours so subscribe to our updates, set your preferences and make sure you're the first to receive the news on fluctuations in rankings.