Must-See Speakers at BrightonSEO 2018
Last updated on Monday, September 17, 2018
BrightonSEO is approaching and we are so excited to participate again! With so many amazing speakers, it might be hard to choose which one to see. To make the choice easier for you, we have made a round-up of must-see speakers at BrightonSEO 2018 September edition and 3 reasons why you need to see each of them.
We gathered a list of Top 10 Speakers at BrightonSEO + of course, the highly anticipated keynote speech by Rand Fishkin.
Kelvin Newman
Founder and Managing Director at Rough Agenda, the company behind BrightonSEO
Since BrightonSEO started out with half a dozen mates meeting up in the pub it's always been about trying to find new and interesting knowledge to share that helps people do their job a little better. This time around I'm especially excited, I don't think we've ever had so many technical talks as we've got this time. Plus Rand Fishkin is keynoting which is something we've been trying to arrange for years! I cannot wait.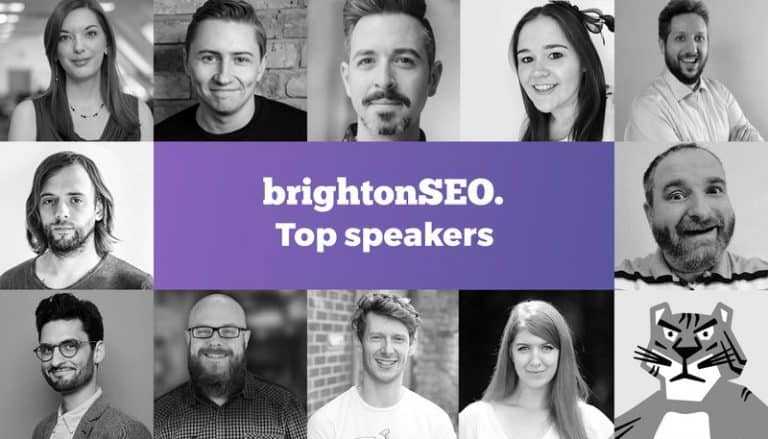 Top speakers at BrightonSEO 2018 Autumn edition:
The Future of SEO is on the SERP
17:30 Keynote Auditorium 1
Rand Fishkin, Founder of SparkToro
I'll be speaking about the changing search landscape and how Google's shifts (and those of social networks) are making it more difficult to win in SEO and social channels vs. years past. I'll also cover ways that marketers can step up and react to stay ahead of their peers and continue to get a strong ROI from search investments.
Three bullet points about why you should come to my session:
I'll have actual, high quality, clickstream data to share about what's happening broadly across Google
I'll show off tactics to fight back against the loss of organic click opportunity in search
No matter if you care about the big picture future or the in-the-trenches specifics, the talk will help you be better at your job and more strategic in your thinking
Accelerate: Page Speed Optimization Tips
10:00 am – Syndicate 1 & 2
Fili Wiese, SEO Expert at Search Brothers
Speed is both a Google ranking factor and a crucial signal for user satisfaction. Today SEOs have multiple options, ranging from optimizing HTML, implementing AMP and/or PWAs. Join ex-Google engineer Fili Wiese to learn from server configuration techniques to Javascript optimisation, strategy, and beyond. You will walk away from this session with unique insights and bucket-loads of practical hands-on tips, ideas, strategy-considerations, options and tactics on how to make your website blazing fast for the mobile-first world. Having programmed websites and Google internal tools, Fili Wiese is the go-to guy when it comes to technical SEO.
Samuel L. Jackson's Bad Ass Tips for Using Local SEO to Dominate in Mobile and Voice Search
2:30 pm – Syndicate 1 & 2
Greg Gifford, Vice President of Search at DealerOn
Voice search is the new buzz, and everyone wants to know how to succeed – but it's not just Amazon Echo and Google Home… Mobile devices are a huge source of voice searches, and mobile searches are inherently local. Local SEO has been a niche practice for years, but now that entity-based search feeds the results, Local SEO has come to the forefront. Greg's session is going to show how to use Local SEO tactics to boost the entity relevance of your business, so you'll rock mobile results and win in voice results.
Learn how entity-based search influences mobile and voice search results
Learn how Local SEO can help you solidify your entity online
See some sweet Samuel L. Jackson movie references
Also, Greg's running the Local SEO training class on Thursday, it's another don't miss session – a full day of incredibly in-depth Local SEO knowledge.
Securing Your Links Before You've Even Produced Your Content
2:55 pm – Auditorium 2 Botify Stage
Stacey MacNaught, Freelance
Creating content for link acquisition can be an expensive process and a time consuming one too. And there's nothing quite like sinking feeling that comes from launching something you really bought into and worked hard on, only to find interesting in running your story is limited. I'm going to be talking about what you can do to secure your links and coverage before producing your content. I'm going to talk about:
Getting input into your idea from the very people you'll be promoting it to once it is complete
Assessing whether or not there's a demand or interest in what you're planning to create
When (and when not) to consider offering exclusives
Data Journalism: A practical guide to winning big links
10:00 am – Auditorium 1
Ross Tavendale, Managing Director at Type A Media
My talk is called Data Journalism: a practical guide.
In the talk we uncover the exact processes our agency use in order to get link placements in some of the biggest publications in the world.
The talk is going to explore how we physically make the content and come up with the ideas. In this day and age everyone knows how to build a list of journalists and pitch them an idea, but if the idea is rubbish then they will not give you the link.
Therefore, we've come up with a practical, repeatable framework and methodology that allows you to come up with great on brand ideas that won't cost you the earth to make.
Bonus: Read a blog post about the speech "Killing Giants – How to Beat Big Brands in the SERPS" Ross gave at the last BrightonSEO.
Using Facebook funnels to improve e-commerce campaign targeting
4:30 pm – The Restaurant American Express Stage
Byron Marr, Paid Media Consultant at Aira Digital
"Improve the effectiveness and ROI of your Facebook ad campaigns by learning how to identify targeting opportunities throughout the buyer's journey and creating a custom audience strategy to target them, using Facebook analytics funnels."
Learn how to create funnels to highlight new campaign opportunities;
Improve your existing ad campaign targeting;
There may or may not be photos of my kitten.
SEO in big media agencies
10:25 am – The Restaurant American Express Stage
Eloi Casali, Client Partner at iProspect
I am extremely excited about my first talk at Brighton SEO and I have put together what I think will be a fascinating set of insights for our audience.
Kelvin asked me to outline what big agencies have learned from SEO, so I will first outline what the big differences are when doing SEO within a big media agency. Then I will go on to outline three SEO practices that are impacting other channels massively:
The increase of 'knowledge boxes' on SERPs (no click searches). I am pulling some client data to show how this has impacted other channels.
The importance of UX. In my world, brands love a big branding campaign but rarely understand that small efforts in UX and SEO will massively benefit their campaigns. Here we will discuss how to motivate brands to put part of their branding budget in SEO.
No search conference is complete without the "50% of searches will be voice by 2020" stat – I will bring a controversial point of view to the table, and explain why voice is not really a big deal just yet and you shouldn't focus on it too much this year.
Technical SEO Audit Top Tips for Beginners
10:00 am – Meeting Room 1
Helen Pollitt, Head of SEO at Reflect Digital
A simple, fast-paced guide to conducting a technical audit and implementing fixes for people who don't code. No matter your level of understanding of web development you can conduct this simple technical audit that will identify fixes that can have a huge impact on a website. Packed with tips and recommendations for free tools, this talk will equip you to understand what's going on under the hood of your website.
Practical Insights into Winning Featured Snippets
2:55 pm – Auditorium 1
Izzi Smith, SEO Manager at Sixt rent a car
Featured Snippets: you know what they are and you've heard all about them – but not like this!
Based on several great successes we've had winning Featured Snippets for the Sixt car hire domains, my BrightonSEO talk will give you really practical tips on how you can also achieve epic Featured Snippets that will drive both clicks and conversions.
Why people should come and watch my talk:
You'll learn how to discover and prioritise the right kind of queries for you to target.
I'll be cramming in tons of practical tips on how you can steal or trigger brand new Position 0 results, maximise their performance and keep them for good.
You'll get to see our successful Featured Snippet case studies from the Sixt car hire domains.
If you take one thing from technical SEO… Learn how to debug
11:45 am – Auditorium 2 Botify Stage
Dominic Woodman, Consultant at Distilled , Founder of teflSearch
I'm talking at BrightonSEO about de-bugging. One of the most valuable things you can get from technical SEO, or any of the more technical disciplines is the method of thinking. The tools, data and interfaces will change, but the thought processes for dealing with problems in marketing and pulling them apart will stay the same. And while it comes from a technical place it doesn't just apply to technical problems.
We'll pick a couple problems from across marketing and talk through how first principles, language and, breaking down and testing can help you pull apart a problem.
Why you should see my speech:
I'm before lunch. You're actually not missing out on beer or food.
Because we're talking about how to think, whether you're technical or not you should be able to get something out of this.
You'll get to rage at the sky when you see why markup sometimes won't work on Bing. Aah Bing.
Information Architecture and SEO: Laying The Foundations of Success
10:25 am – Auditorium 2 Botify Stage
Barry Adams, Founder & SEO Consultant at Polemic Digital
Information Architecture (IA) is the practice of making information systems, like websites, easy to navigate and use. The benefits of good IA go way beyond a site's navigation: applying information architecture best practices to a website means you are likely to end up with a very SEO-friendly site. In his talk, Barry Adams will explain the core principles of good IA and show you how to apply these to lay the foundations of SEO success.
In this talk you'll learn:
What Information Architecture is and why it's important.
How to apply IA best practices to a website.
Examples of good IA that help websites perform better in search.
So as you can see – there is a great mix of new speakers and our all-time favourites.
Please stop by and say Hi to the AccuRanker team in between the presentations! We will have some great giveaways and a special offer only for BrightonSEO participants!
We can't wait to see you at BrightonSEO on 28th Septemeber at stand B3!