SearchStars 2018 – Key Learnings from SEO Experts
Last updated on Thursday, October 11, 2018
The Swedish search conference, SearchStars, had a wide range of speakers. The topics vary from on-page and off-page SEO, content marketing and technical SEO, as well as SEM and creating synergies between SEO and SEM. The common thread throughout the 2018 conference was the future of SEO. Many speakers focused on the shift from search marketing to 'find' or 'discover' marketing, due to Google advancing to predicting users needs with machine learning.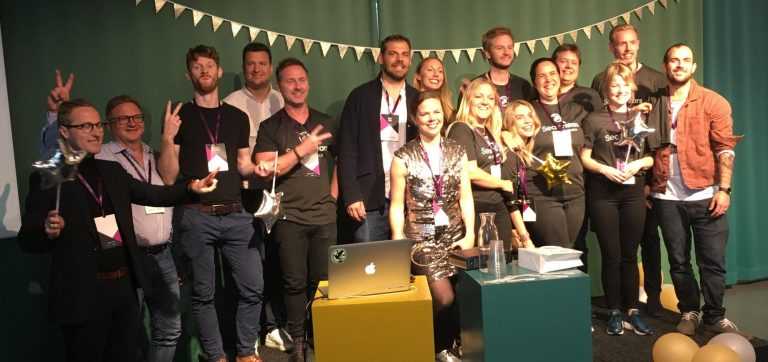 Group photo at SearchStars 2018
Future of Search
Ola Andersson
Web Operations Manager, Systembolaget
The Internet is basically a digitized concept bunch of library cards in the cyber web. There have not been major changes to the concept of the Internet. Consumers go to your website only because they have to to get the things they need (e.g. purchase your product).
How is it changing now?
Social media has always been about staying on their platform. Search engines like Google have been about directing the user to your site but now this starts to change. Google now wants visitors to do everything on their platform including buying products in the search results without even leaving. For example, buying movie tickets, flights, hotels etc. Google is paying Apple $9 billion to be the default search engine on iOS.
Facebook is also taking this approach where you can have you product listings in the ads. In the past, Facebook was the platform that was about killing time, but now it wants to help save time by offering to purchase items on their platform. On the contrary, Google has been about saving time but now is becoming about killing time. It wants you to stay on their platform by using more newsfeed style approach.
In the near future your bot or voice assistant will do the search for you, such as booking your vacation. Cortana and Alexa integration is in the plans, meaning your bot or voice assistant talks to others bots. This means that 'find' will replace 'search'. We will need to shift into prioritizing findability instead of searchability. Google is trying to predict our next move: what we will search for, using data it has about us. Take Alexa Hunches as an example, Alexa can make suggestions based on machine learning of your daily behaviour.
We are entering a post-dotcom world when customers don't come to you but you are where customers are. Bots are becoming a target audience as they will perform searches for us.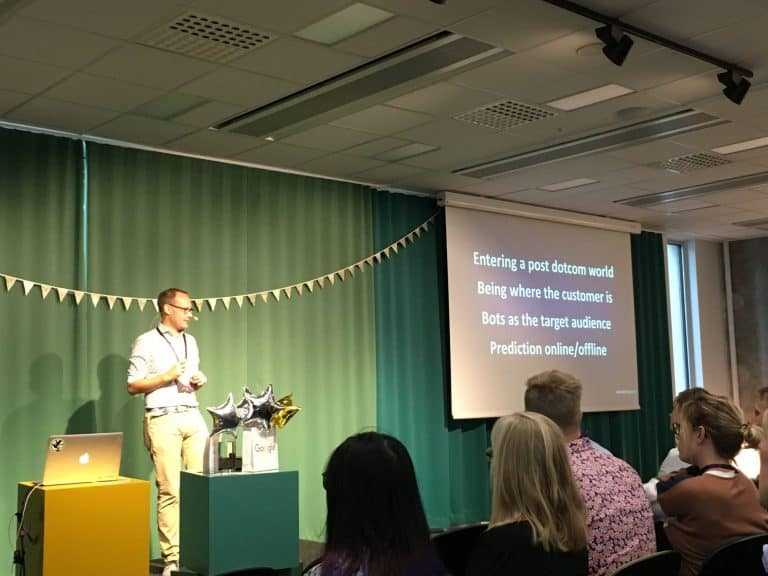 Ola Anderson at SearchStars 2018
Mobile-First Indexing
Rachel Costello
Technical SEO Executive, DeepCrawl
Mobile first made a lot of noise and a lot of confusion. In fact, so much confusion that Google had to clear things up to explain what it actually means by mobile-first indexing. The mobile version of a website now becomes the primary version. Basically, Google will not have a separate mobile index, it is the same index. If you switch to mobile-first indexing, you will see a message in Google Search Console that mobile-first indexing is enabled for your website.
Desktop only sites, responsive sites, and canonical amp sites have no change, there is the same content. For separate mobile sites, the mobile URL will be favoured. For dynamic sites, the mobile version will be indexed. Check for legacy issues like existing dynamic or separate mobile pages as these will be indexed instead. So make sure that everything you want to rank for is included on mobile.
Canonical tags do not need to be swapped to point to mobile as mobile versions can be found through the rel="alternate" tag.
Note that most important content has to be on the mobile version. Structured data will play a crucial role in the mobile-first world. 62% of people are less likely to buy from a brand when they have negative brand experience on mobile. And 79% of people are more likely to revisit and share a mobile site it is user-friendly. Check your mobile configuration for any UX issues. Test mobile-first readiness by using SEO tools that support mobile crawling. Testing is vital to make sure your mobile configuration is set up correctly.
These elements need to be maintained across desktop and mobile:
Content
Metadata
Markup
Hreflang
Indexing rules
Images
Videos
Alt attributes
Canonical tags
Rachel Costello at SearchStars 2018
Internal Architecture
Dominic Woodman
Senior Digital Consultant, Distilled
Building a website should be more like building buildings. Customers should see the right pages at the right points of their customer journey. It should not be chaos stacked on to of each other and randomly connected with links. When speaking about internal architecture, we don't really agree on a definition and we focus on links too much (especially internal links).
There are two parts to internal architecture:
Matching up intents to templates and pages How you link and relate those pages so search engines understand the relationship Look at what are the step to buying and how you can reach people in each step. 5 steps of buying include looking around, building requirements, making a product wish list, comparing competitors and looking for deals. Below is an example of a process to buy a car and how to reach people in each step: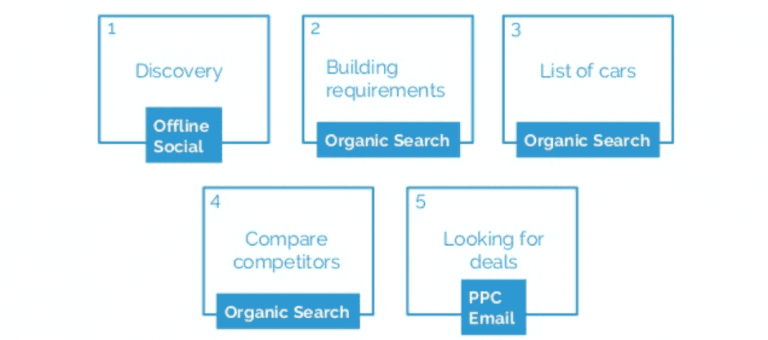 In the processes where organic search is the way to reach people, get keywords. Take your top keywords and scrape them with your rank tracking tool. Then get title and meta description for these keywords. Group all keywords semantically and match the groups to pages. Split you keywords into pages either with tools like term tagger, language APIs or manually. Analyse if you are stronger or weaker than competitors, and if the SERP contains specific or general pages. And check what pages Google shows for each keyword group. Use search analytics in Google Search Console to analyse performance. Go through this process, clean it up, optimize again and repeat. You might not get it right the first time, but every time you will learn to improve.
You have to link and relate pages in your website so search engines understand the relationship between the pages. People disagree on how important links are and it is really hard to measure it.
Roughly work from these principles and be ready to compromise:
Aim for a shallow pyramid
Avoid having dead end pages (use 404 to your advantage and link to other pages)
Use useful anchor text
Link topics together
Do not link to unindexable URLs
This is not a quick win. It might take a few months but it will be worth it.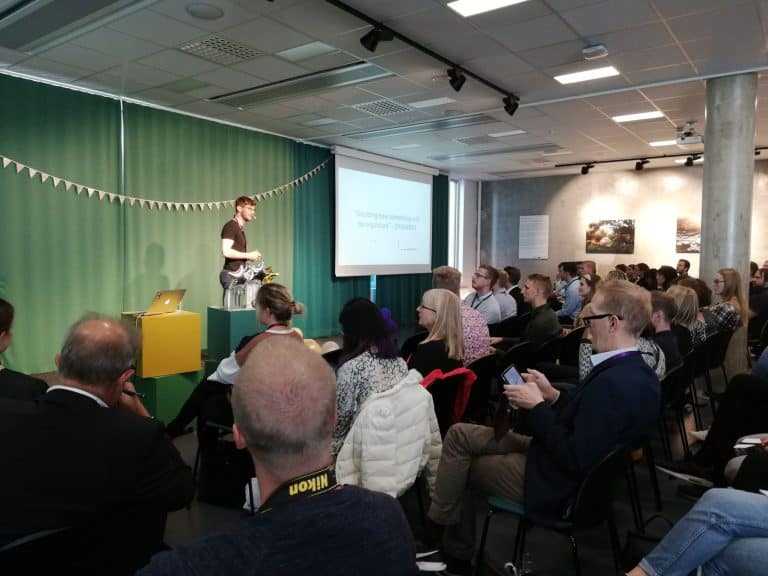 Dominic Woodman at SearchStars 2018
The Future of SEO is DEO
Hannah Thorpe
Head of SEO Strategy, Found
If Google understands synonyms, a brand name could technically be another keyword. Neuro Matching displays results of a keyword you did not type but Google knows what you meant from context. Google is becoming a discovery engine. Google is changing – Google feed is called Google Discover. Most relevant topics will be displayed in a single search as they are related. Personalization in the SERPs with activity cards suits longer journeys as previous pages and queries are stored. This works similar to pinning in Pinterest. Entity will hold the value instead of domain and focus will be on journeys instead of single answers.
Google is shifting from searching for answers to predicting the questions. Getting results before the query itself means our old SEO methods do not work. High rankings might not result in high traffic, as Google SERP provides an exact answer. So people do not have the need to click on the search result to get to your site. This means that we need to optimise for discovery.
DEO (discovery engine optimization) instead of SEO (search engine optimization).
How to prioritize for DEO:
Think higher up the funnel and understand customers journey and at what moment they are in. Look at it from a user perspective. What type of information do they need, when and how they want to consume it.
Simplify your content and make it clear and on point. Give expanded examples and comment. Don't think just about SEO value but also brand and conversions value (put this last and keep the answer – SEO value first).
Structure the data and explain what content will be on the page. Have a simplified table to appear in SERP. Look for clarity in your articles and help Google understand your content.
Deserve to rank. Google need evidence that you are the preferred brand. You need people to search and click on your brand, especially in combination with your product name.
Google is taking a much more active role and is changing for consumers, not websites. So we need to focus on consumers too.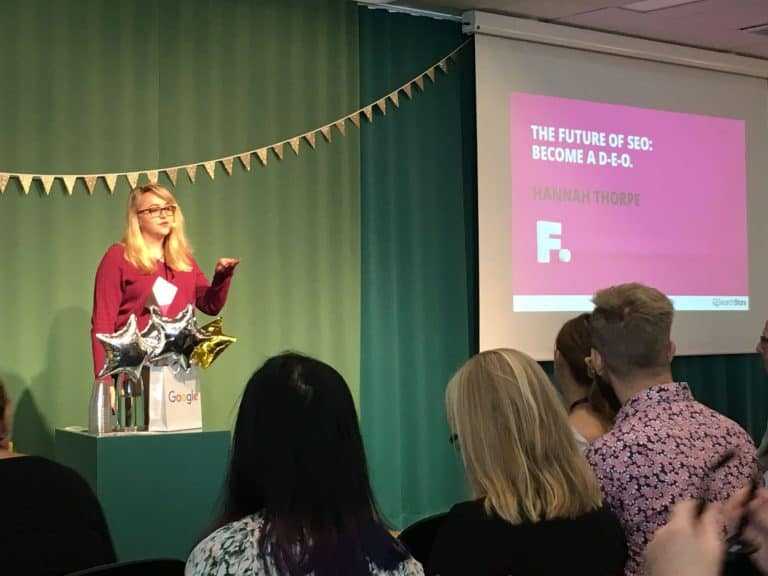 Hannah Thorpe at SearchStars 2018
Data Driven SEM and SEO Synergies
Nikolaj Mogensen
Head of Quisma Denmark
There are 3 main drivers for creating synergies between SEO and SEM.
Higher quality score
You can use SEO to get a better Quality Score (QS) that will result in you paying less in Google ads. QS is influenced by landing page experience. What determines good rankings. By working with SEO you can increase QS. So by working together you can help each other.
Higher CTRs when you are visible both on paid and organic search results, you have higher CTR. Use data you can get out of Google Ads to prioritise which landing pages should be optimized first (the ones that give the most savings in QS).
Aligned search strategy. See which keywords you need to invest in paid and organic – which keywords to use in paid from organic and vice versa. Link Google Search Console data into Google Ads and look for opportunities in the data. Locate which keywords you buy that you should be ranking for organically as well. And see which keywords you rank for that you also should buy Google Ads for.
Place you branded keywords in the mix of SEO and SEM. You will save money by ranking organically, and dominate the SERP and protect the brand if you buy your branded search terms.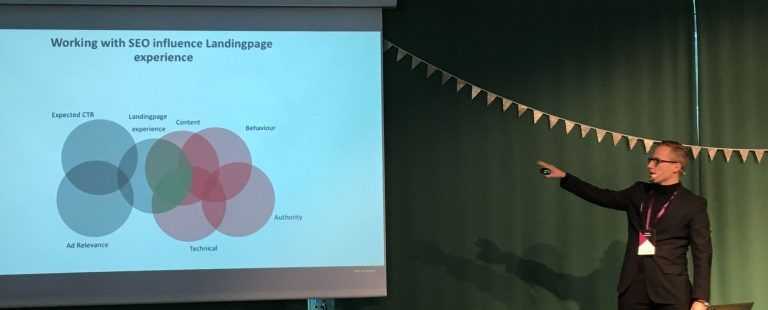 Nikolaj Mogensen at SearchStars 2018
Off-Page SEO and Acquisition
Mattias Bergehed
Head of SEO, LeoVegas
Mattias spoke about acquisition in terms of search intelligence with UK examples. If you offer a wide range of products or services, you need to figure out how to prioritise and which landing pages to optimize. Take a product that offers a great lifetime customer value and is easy to scale regardless of the market.
The process starts with getting your keywords from Google Search Console and grouping your keywords. Then scraping search engines and looking at your organic Share of Voice.
Learn which keywords to target based on the data such as search volume. Look at the organic rankings of your competitors and see how you compare and where you could have future growth. Analyze the report of your organic ranking to have a better understanding of the market landscape.
Synergies between departments is another important aspect to point out (acquisition and tech department as an example).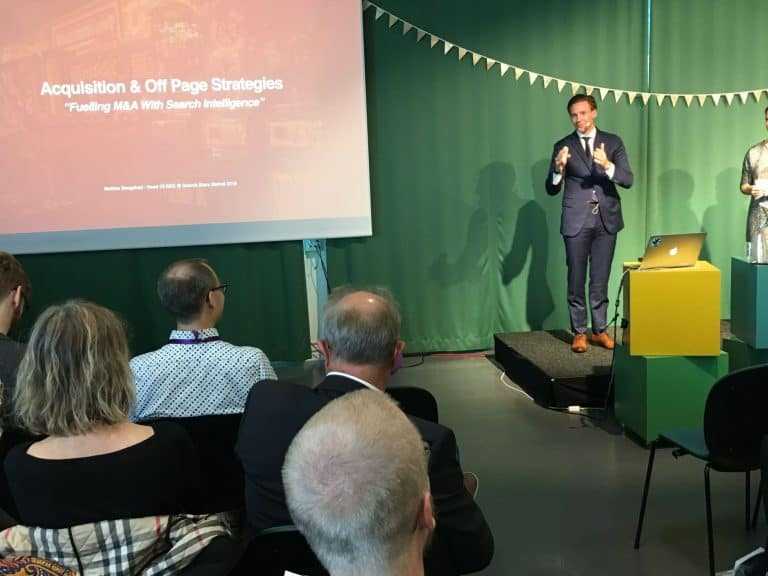 Mattias Bergehed at SearchStars 2018
Survival Tips for the Future of Digital Marketing
Jono Alderson
Mad Scientist, Yoast
The gap between brand and platforms is widening. Most brands have transactional websites to perform a singular task (e.g. buying a product). Most brand websites are messy and have poor user experience, but platforms are much nicer and sleeker, and therefore customer is willing to spend time there. There is a division as the user experience on platforms is better than on websites.
We are becoming increasingly reliant on paid advertising. We spend money on paid ads on these platforms. This model is not perfect because consumers don't want ads and platforms don't want the users to leave. So platforms like Google want to keep users on their platform. You need to build your brand equity on these platforms where the customers are. A solution can be distributed content as you can put your content on the platforms for free. This creates a better user experience without ads. You need to adapt to be discoverable and engage in the customer journey.
We need a new marketing model. The roles of content and brand websites need to shift away from conversion, and towards positively influencing brand preference and recall. An example can be a logo recognition from content they have seen on one of the platforms. You have to influence people much earlier in the buying process. The objective should be not to sell but to remember you.
Marketing assumes we can interrupt a potential customer somewhere in the micro-moment.
If systems are making decisions on my behalf, some of these micro-moments are gone where you reach me as a consumer. Personal assistants will not replace all search. But these systems already exist as they exclude bad fits.
Systems will use these 3 concepts to make decisions:
Availability (is your business open, nearby, valid)
Sustainability (is the product good, right for your, cheap)
Implied Preference (is it a right fit for you)
According to this theory, you need to positively influence the consideration set before the customer expresses a need. Influence inferred preference and optimize for experiences. Here we look at Brand Currency Hierarchy – how do you feel about the brand.
Digital marketing should be modern marketing and think about the whole picture.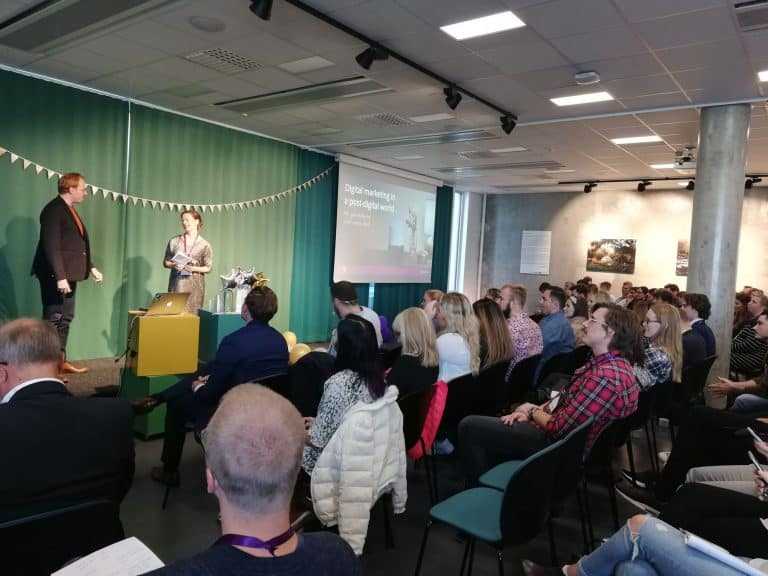 Jono Alderson at SearchStars 2018
SEO and Content Marketing
Andre Alpar
Investor & Digital Marketer Strategist
Everybody hates advertising because it is pushed marketing. A good example of this is the rise of adblocking on a browser level. Users will not accept push advertising anymore. Pull marketing should have more focus.
Search engines understand the search intent and provide content for it. Content marketing has a strong impact on on-page SEO. Production of content is important but do not forget about promoting it. If the content is done right it should work even if it is a small company without a huge budget.
Invest in high-quality content and understand the different content types:
Transaction content (SEO)
Informational & Branding Content (SEO + content marketing)
Social content (content marketing)
Think about the buying process when creating content: attention, interest, desire and action.
Basic, expert and inspiration content are valuable in different stages of the process and has levels of authority. Don't forget to intensify and continue the relationship with existing customers with content.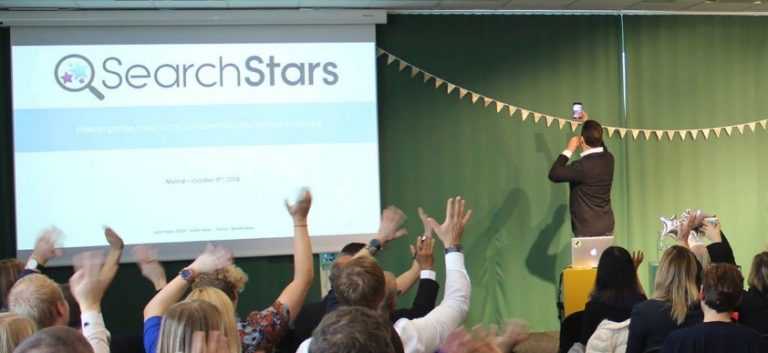 Andre Alpar at SearchStars 2018
Innovation and Digital Marketing
Grant Lingel
CEO, Neil Patel Digital Latin America
Whether you call it localization or internationalization, you can enter new digital markets using SEO. Understand who you are trying to reach and convince them to choose your product.
It is easier to expand to places where there is less competition and less saturation in the SERPs. Especially when going out of English-speaking markets in terms of SEO. In many cases, you can reach a bigger audience than in your main market. Brand queries and trends will increase your rankings across the board and increase your global branding and organic visibility.
Look for gaps in keywords that have a lot of traffic but low competition. These keywords might be different in different markets.
Use off-site SEO strategy to make a splash in big news outlets. Make it your advantage that you are not local to generate a buzz in local news outlets and on social media. Speak at local events and share your experiences from abroad.
Tips for an early expansion to a new market:
Create a local version of your site (sub-domain/sub-folder) using Polyland Pro plugin
Build a small team of local specialists with SEO experience for the translation process
Focus on keyword analysis and competitor research in the new market
Avoid translate everything – only what makes sense in the market
Optimize content for SEO in the new market
Focus on one new market first. It is better to execute one market, streamline the process and use the learnings to enter the next market.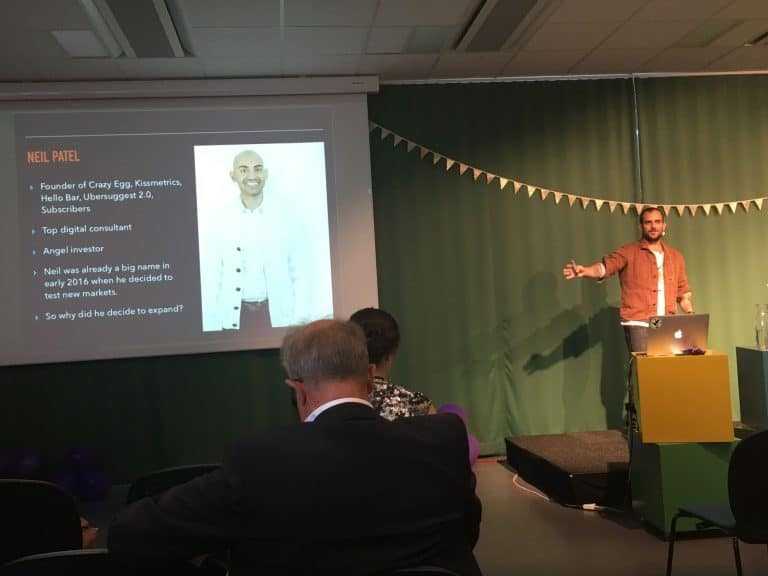 Grant Lingel at SearchStars 2018
In case you missed the BrightonSEO, we have also gathered the key takeaways from BrightonSEO September 2018 edition here.
Get more inspiration from world class speakers in our article about the top 10 UnGagged London 2018 speakers in this article.