Google Releases the September 2019 Core Update
Last updated on Monday, September 30, 2019
Google announced on September 24th that another core algorithm update was being released later that day. Every day, Google makes changes to their algorithm to improve search results, but these usually don't have a noticeable impact on global rankings.
However, several times a year, Google releases larger updates that can have a bigger effect on the search results, resulting in websites dropping (or rising) in rankings. Well, it's that time of the year again, and this one is called the September 2019 Core update.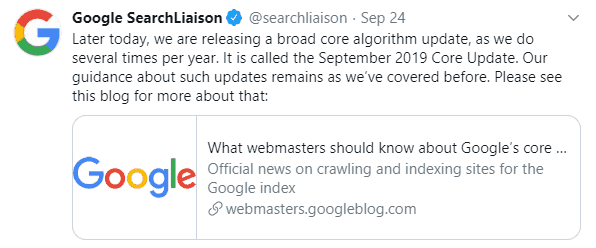 Large fluctuations in rankings on desktop and mobile
Following the update, we at AccuRanker have been seeing a lot of fluctuations in rankings. Our Google Grump tool has shown how the update is affecting rankings on desktop and mobile devices. Ranking fluctuations saw a big spike on September 25th globally on all devices, although desktop showed slightly more change than mobile.

Europe seems to have been hit harder by the update than the US and Australia. Fluctuations in the US have stayed pretty much the same since the update was released, with only a small change on the 25th.

The UK, Germany and France all saw the biggest spike on September 25th, while Denmark has a massive change on the 26th.


What does this mean for you?
So, Europe has been experiencing more fluctuations in ranking than the US in the past few days, but what does this mean for your website and keyword rankings?
When you're using AccuRanker to track your keywords, you can see whether your rankings have changed in the past few days after the update was released. For example, we saw a massive increase in our Share of Voice in the UK as a result of the update.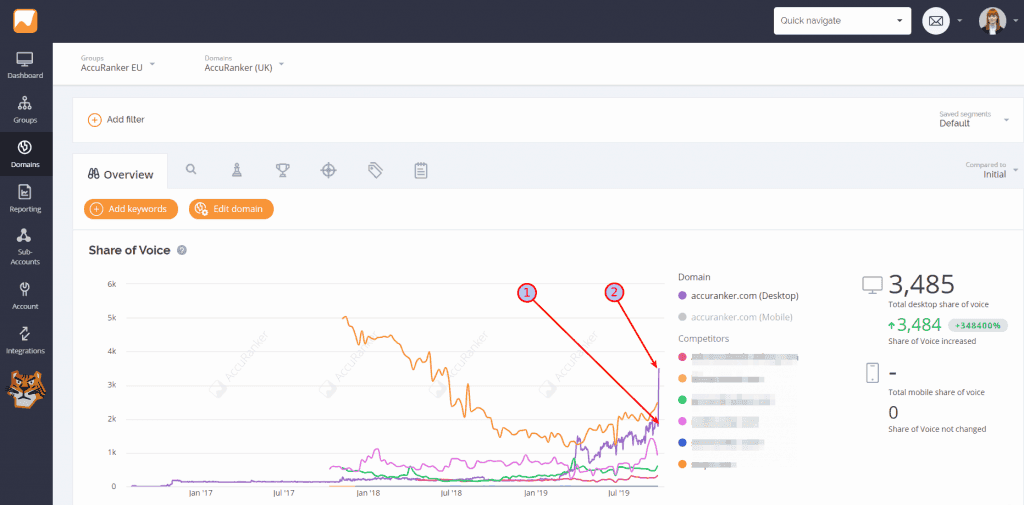 SEOs around the world have been noticing the impact too. However, a majority didn't see a change until late on September 25th according to a Twitter poll from Barry Schwartz.
If you're one of the unlucky ones and see that your rankings have dropped, Google made a post back in August about what you should know about the core updates, stating that even though your page might perform worse, there might not be anything "wrong" with your site to even fix.
If you're not using AccuRanker, it can be hard to know exactly what impact the update had on your website within the SERPs. Even though you might not be able to make a quick change and magically secure the top organic position on Google, it's important to understand how your website is performing for your keywords and why sudden changes occur.
Start using AccuRanker today and sign up for a free trial to track how your website is performing for your keywords, and make sure to check out Google Grump for any increase or decrease in ranking fluctuations. You can even sign up to receive updates straight to your email inbox, so you'll be the first one to know if there's any change in Google's mood!