Get Better Ranking Insights With Google Data Studio & AccuRanker
Integrate your AccuRanker account with Data Studio by Google using the official API connector in a matter of seconds.
Google Data Studio is one of the most popular Business Intelligence (BI) tools in the digital landscape. But why are we telling you about it?
Well, if you don't know about this already, you can now integrate AccuRanker with Google Data Studio using the official connector.
The growth of your clients needs to get accurate ranking data and insights. AccuRanker helps you get accurate data, while its integration with Google Data Studio enables you to acquire better ranking insights across all your clients.
By using AccuRanker and Google Data Studio, you not only get accurate data for your clients' web pages on the relevant keywords, but you can also visualize the data in a better way, thanks to numerous unique Data Studio templates. We have made it extremely easy for you to get better ranking reports and insights in less time without any hassle.
Invest more time on more important activities for your clients' growth with the accurate data from AccuRanker and better insights from Google Data Studio, acquired in no time!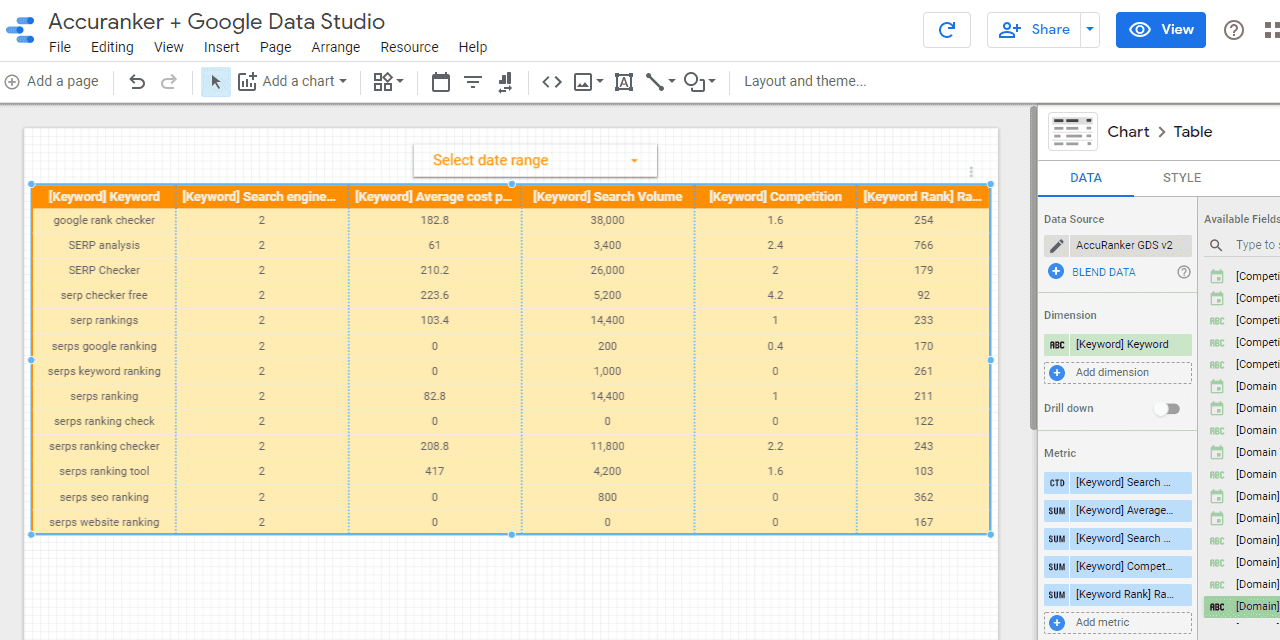 Don't hesitate - Sign up to a free trial today!
Over 20.000 Agencies, SEO Professionals, and Brands use and trust our tool. They all started with a free trial.
Create Reports in Google Data Studio Using AccuRanker's Data for Better Insights
As a Digital Marketing Agency, your growth mainly depends on your client's growth and the business decisions you make. It is a little too risky to rely solely on your gut for these critical decisions. This is one of the main reasons we at AccuRanker, work day and night to help you get the most accurate rankings data.
With our official integration with Google Data Studio, you can visualize and analyze the accurate rankings of your client's website on various keywords. It will help you visualize and present the key insights of the rankings data to make more informed business decisions and tap the growth for your clients.
It does not take more than a few seconds to add AccuRanker as your Data Source and create valuable vital reports to help you make the right decisions for your clients' growth.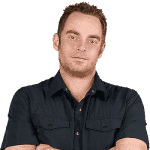 Connect Your AccuRanker Account to Google Data Studio Now
Create your AccuRanker account right away if you haven't already, and integrate it with Data Studio by Google for better insights.
What is Google Data Studio?
Web analytics has always been a challenge in the digital world, yet its significance makes it essential for the growth of any business. This is one of the biggest reasons why Google released its data visualization tool dubbed as Google Data Studio in the race of BI tools.
In the simplest terms, Google Data Studio helps you create customized reports with data visualizations so you can make the most out of your valuable data and get better insights about anything you are analyzing or willing to analyze.
The best part is that you do not need to worry about Google Data Studio pricing, as it is still a free tool to visualize your data and make more sense of all the data you have acquired from your AccuRanker account.
Here are a few other significant facts about Data Studio that you need to know:
You can get a Google Data Studio Certification, and it is absolutely free to learn how to use it. In addition, you can follow google data studio tutorials to use your data on the Data Studio like a pro which includes things like Google Data Studio calculated fields.
You can also create your connector to be integrated as the data source, thanks to the developer's options in Google Data Studio. In addition, you can also connect various web APIs to your Google Data Studio account to create reports from multiple data sources. For example, you can create a report using your Google Analytics and AccuRanker data.
You can find various Google Data Studio templates to create your reports without any advanced customization. However, it is also relatively easy to create a custom report if you want to make one from scratch.
Why should you connect AccuRanker with Google Data Studio?
Investing a lot of time gathering various reports can negatively impact your productivity. We have kept it extremely easy to integrate Accuranker with Google Data Studio. By connecting these two and adding your Google Analytics as another data source, you can get the accurate rankings data from Accuranker and its impact on your organic traffic through Google Analytics. All of this at a glance by creating your customized dashboards per your client's needs.
Here are some more ways to use the rankings data acquired from Accuranker in your clients' Google Data Studio's dashboards.
### Use multiple Data Sources to gauge the impact You can add multiple data sources and use them in your reports to get more insights. Google Data Studio dashboard gives you the ease to craft beautiful visualization of your SERPs data by directly pulling the data from your AccuRanker account and any other that you have added as the data source. For example, suppose you can accurately see where your client's website is ranking on specific keywords using AccuRanker. In that case, you can create a report on Google Data Studio to see the impact these rankings have on the traffic on their website. You will have to use Google Analytics as a data source, along with AccuRanker. You can also get the Google Data Studio SEO report using this combination.
### Analyze the weak areas at a glance If you can see the impact of individual rankings on the website traffic, you can also analyze the weak spots and their impact on your client's website. It is always wise to identify the weak areas and gauge if that soft spot has the potential to be improved. If you have tapped the right weak spots and can manage to hack the growth on these spots, there is no denying that you are highly likely to see a spike in no time. All you need is the right data and the right insights. For this, Google Data Studio, Google Search Console, Google Analytics, and AccuRanker can be your best friends.
### Hack the growth using accurate data & insights Finding the pattern in anything can give you the leverage to repeat it. Imagine doing it for all the successes you have acquired in increasing the website traffic for your clients through organic channels. You would certainly like to repeat them to all the other clients you are working with. It sounds easy, but it actually is a little tougher because most people rely more on the activities and less on the data, which is why it becomes hard to gauge, analyze, forecast, and tap the growth. Not anymore, because now you can make more sense of your accurate data because of AccuRanker!
### Analyze your competitors in a better way While you can get tons of insights about the rankings data of your client using AccuRanker with Google Data Studio, you can also keep an eye on your competition's SERPs ranking because they are the ones who are standing between your client's website and the number one spot on the SERP. Setup custom reports where you can see and compare where your client's website is beating the competition and which keywords need more attention to help get ahead of your competition in the battle of keyword rankings.
Features that can help you create better Data Studio Reports for Ranking Analysis
### See the history of SERP rankings Analyze the whole journey of your keyword ranking for your client's whole website or a single page. You can use this feature to see the whole pattern of growth by mapping it into a Data Studio SEO report using AccuRanker as the data source. It helps you analyze whether your activities are helping you improve your ranks or you need to revise your strategy.
### See the average rank of any website The average rank checker helps you analyze all the keywords where your clients' web pages are ranking. Based on your ranked pages and their ranks, our tool provides the average rank score that tells you whether the average rank of all the relevant keywords has improved or not over a certain period. Visualize average ranks using Google Data Studio, find ranking gaps, and watch all the algorithmic updates impacting your client's website ranks.
### See rankings of all pages Keeping an eye on all the keywords across your agency clients' rankings can be laborious. Worry not, as AccuRanker helps you see the specific keywords your desired landing pages are ranking on, and you can analyze your SEO efforts' performance. Use metrics like volume data and share of voice to compare with other pages using Google Data Studio and hack your SEO growth in no time.
### See competitors' rankings Keeping an eye on the competition is a smart move, but it becomes way more important for agencies that manage search engine optimization for many clients. AccuRanker lets you see the rankings of your client's competitors and the overall ranks, and the rank on any specific keyword. This can help you improve and give your client an advantage over the competition!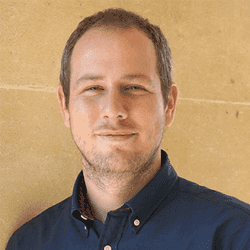 How to integrate AccuRanker with Google Data Studio?
We have made it easy to integrate AccuRanker with Google's Data Studio. We understand the importance of data analysis. That is why we do not only help you get the latest and most accurate data on the rankings of your desired web pages, but we also work hard to help you make the most out of it.
All you need to do is follow the simple steps given below. You will be able to connect AccuRanker to your Google Data Studio account in seconds to create any custom report for your client's website.
Step 1: Create and Confirm Your Account
First, Create your AccuRanker Account if you haven't already.
We offer a 14-day free trial without taking your credit card details so you can see the real magic yourself before spending your money on AccuRanker.
Once you have signed up, you will have to confirm your account. Please go to your email, find the confirmation email by AccuRanker, open it and verify your account.
Please check your junk, promotions, or any other folder in your mailbox, if you cannot locate the confirmation email.
Step 2: Login, Setup Your Domain, and Add Keywords
Log into your AccuRanker account using your email and password.
First, add a group to your AccuRanker Dashboard. Click on "Add Domain" in the dashboard and enter your desired website's domain. Select your preferred country, language, devices, and Search Engines, including Google, Bing, Yandex, Baidu, and even Youtube.
Now, click on "Add Keywords" and enter all of your desired keywords to check the ranks of the website you have previously added for these keywords.
Step 3: Log into your Data Studio Account
Go to Google Data Studio and log in using your Google Account.
Step 4: Connect your AccuRanker Account with Google Data Studio
Go to "Integrations" and select Google Data Studio. Now click on the data source link.
If you have never used Google Data Studio before, you will be prompted to do the basic setup. After that, you can authorize the Google Data Studio connector for AccuRanker.
Step 5: Connect and Create Reports
Once you have authorized the Google Data Studio API connector, you will have to click on "Connect" AccuRanker as your data source on your Google Data Studio.
That's it! You are good to create your desired rankings reports on Google Data Studio using AccuRanker as the data source.
Try AccuRanker today for accurate website ranking data
Get your free AccuRanker trial today and see why it is the best; even better when integrated with Google Data Studio!