Key SEO Insights from SearchLove London 2018
Last updated on Saturday, March 3, 2018
SearchLove is a two-day conference arranged by Distilled. Each year it brings together some of the world's leading thinkers in online marketing. The gathering takes place in the UK as well as the US, and we attended the 2018 edition in London to learn more about search. In this sum up we present you a selection of highlights and key takeaways from the speakers within SEO.
'The two-tiered SERP: Ranking for the most competitive terms'
Tom Capper, London Consulting Team Lead, Distilled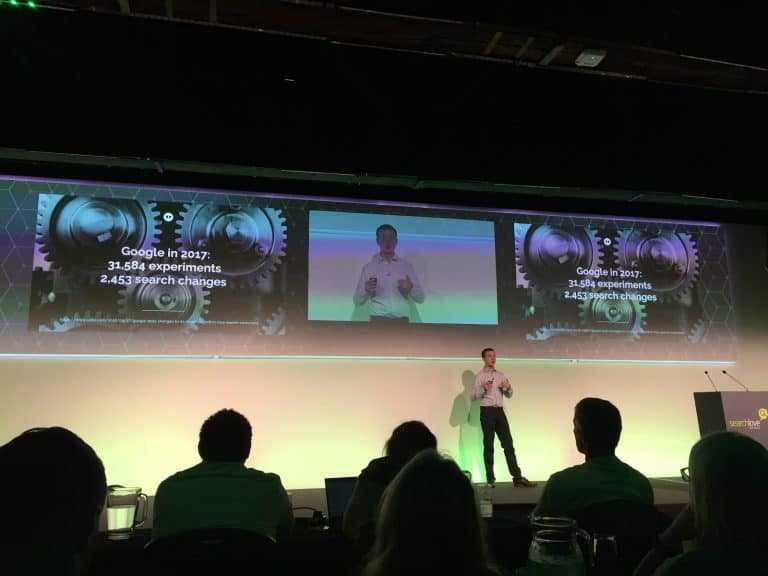 Tom Capper talked about ranking for a head term. You know that high-volume keyword that your boss really cares about. A lot of times it's difficult to answer his question: "Why aren't we first for [head term]?!".
Tom had an interesting theory: What if head terms are no longer about ranking factors? What if Google has so much data now, and they have become so data-driven – using data from their own search results – that ranking factors are no longer a helpful model for these most lucrative positions?
To explore this topic he presented three pieces of evidence and explained the 'how' and 'why' from Google's perspective. He also talked about the implications and how you can win in this new game.
One of Tom's main points was that Google has changed a lot over the years. And continues to do so. Alone in 2017, Google ran 31,584 side-by-side experiments with its quality raters and subsequently launched 2,453 search changes (source). But a lot of SEO's are still focused on old updates.
Tom tested the hypothesis 'The higher you rank, the less "ranking factors" matter' with his own studies focusing on links. His analysis found this to be true: The higher you rank, the less important links are (as a ranking factor). Links are less import in top 10, and in top 1-5, they lose their importance even more. Head terms are no longer about ranking factors. Just look at the fluctuation on the SERP for a big fat keyword like "mother's day flowers":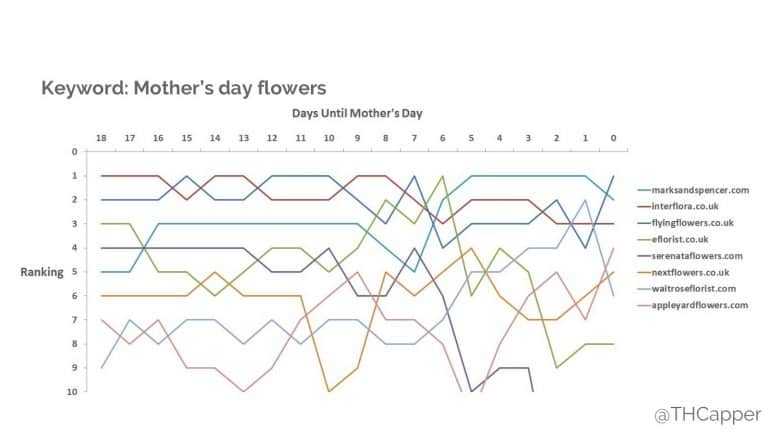 No big changes were done over this period of time. The only thing changed was that many more people started searching for this term around here.
SERPs change when they become high volume!
Also, a lot of formerly commercial keywords are increasingly dominated by informational content. And this is not because Google reordered some ranking factors. It is because of intent. Google is re-assessing intents for established keywords.
For head terms in the top of SERPs, Google might be measuring metrics like:
Pogo-sticking (don't look at bounce rate, use event tracking)
Time to SERP interaction
– and these should be the KPIs you should focus on.
And for that reason, you might want to reevaluate your:
Price
Aesthetics
Short-sighted interstitials
– as they might influence the above metrics that Google might be measuring your site on.
What can we do about that?
Tom pointed out that the fundamentals still work. You need to have your basic SEO in order. What you could optimize more on are things like:
Ask users to compare your site to competitors
Change the sorting (in your webshop) and see if less users leave the site
Remove pop-ups
Page speed
Add USPs to page titles
Brand awareness
Intent
Tom's key takeaways were:
'10 Conversation Changing Visuals'
Wil Reynolds, Founder, Seer Interactive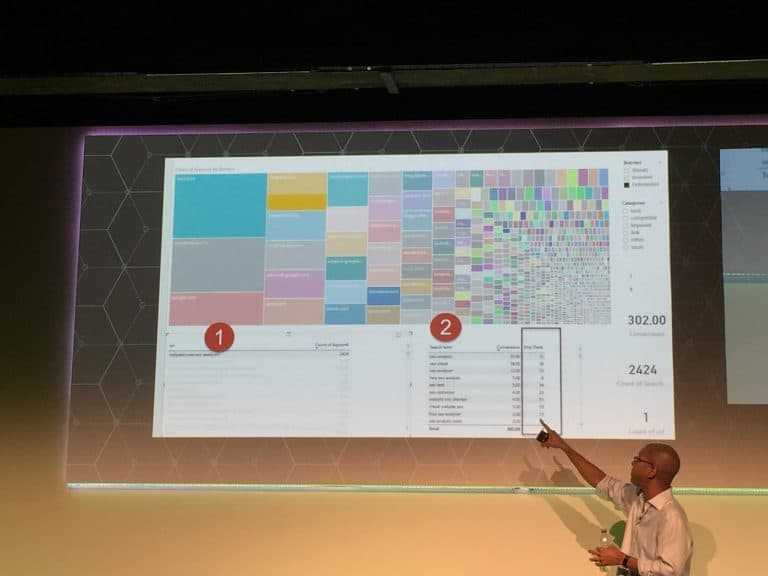 Wil Reynolds is well known for breaking down the silos between SEO and Paid Search, and using big data tools to look at search. One of his main tools is PowerBI, and he urges all SEOs to use it in their work. You can check out his video about the topic on YouTube.
Wil initially stated, that his presentation was not for everybody. If you had not gone through the process of creating a relationship between your paid and organic data, you probably would not get much out of it. Except knowing that it was possible.
If you are not using PowerBI or integrating SEO with PPC, you might want to start with his presentation from Learn Inbound 2017 and/or check out his slides from from SearchLove 2017.
In his presentation at SearchLove 2018, Wil went through 10 data visualizations that gives greater insights, and had examples from both local search, e-commerce, B2B and, B2C, PPC or SEO.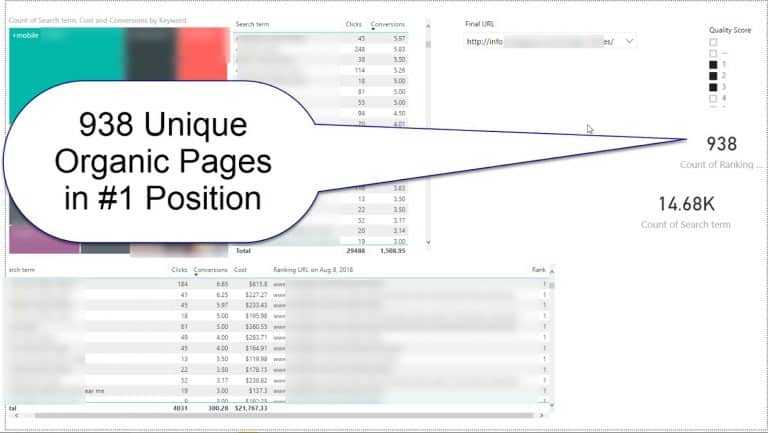 One of Wil's many insightful and revealing dashboards from PowerBI
To sum up, big data has helped Wil's company change conversations with clients, prioritize workloads, get things done faster and win in SEO.
His main points being: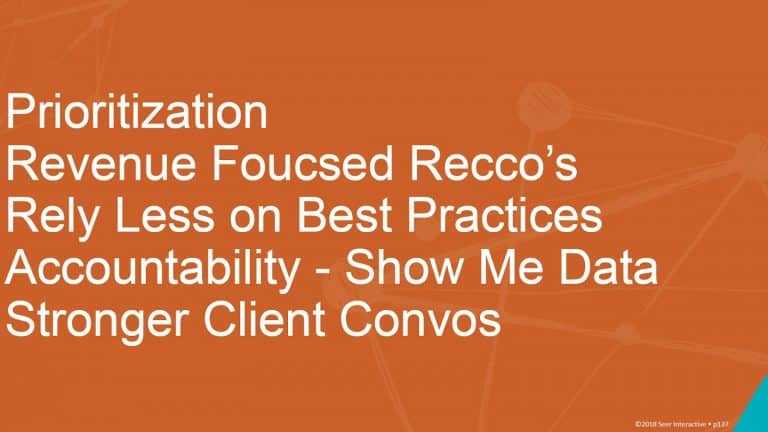 'How Distance and Intent Shape a Local Pack'
Rob Bucci, CEO, STAT Search Analytics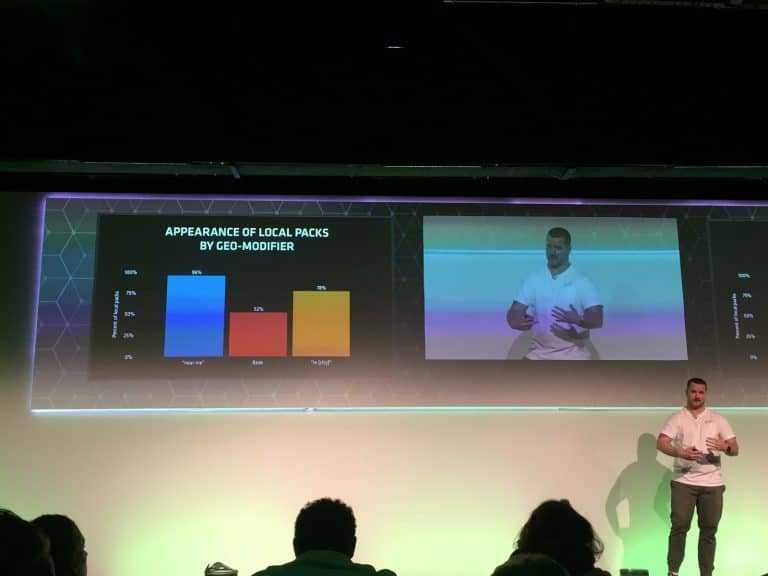 Rob Bucci is the former CEO of STAT since MOZ recently acquired the company as you can read here.
Rob talked about why local search is important and how you can get better at it. He made reference to an article from Think With Google revealing that Google had seen an increase in local searches where people are not being explicit about their local intent. This is because people are increasingly learning to anticipate that Google will understand what they want, when they just use a short word or short phrase (e.g. "pizza"). Therefore, you should not ignore the keywords with implied local intent. Google is interpreting the implied local intent, so as SEOs we have to know how Google is thinking and how they are responding.
Rob pointed out that, to some degree, every single SERP is localized. Localization is perhaps the most important filter Google passes its results through as it builds its SERP.
Rob referred to a analysis made by STAT where they took highly local keywords and tracked them in specific zip codes and at general market level (with no local information) and did side-by-side comparison of the two. It turned out that the SERPs where only 30% similar. If you are not tracking in specific locations you are missing 70% of what your searchers are seeing.
Only 5% of the organic results stayed in the same ranking position. This means that if you spend all your time measuring just on national level you are actually missing a huge slice of what your users are seeing, and you are not reporting on accurate data.
Also, SERP features (like featured snippets) are even less similar in the local and market level SERPs. SERP features are more affected by localization that organic results with only about 20% similarity.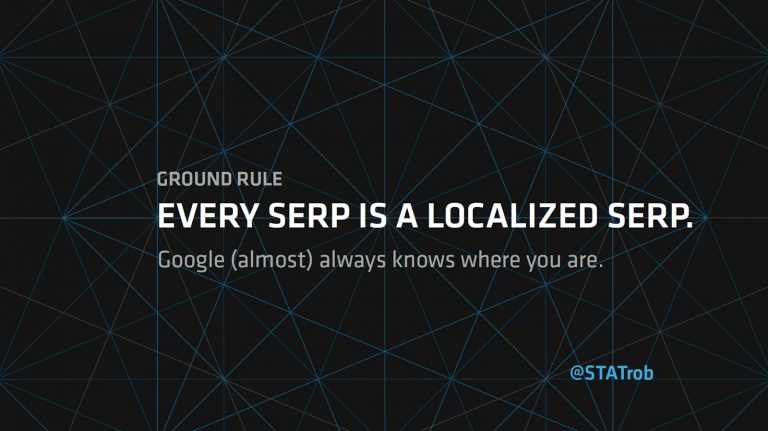 Another crucial point Rob made was, that your opportunity in the Local Pack varies by which geo-modifier you use. In for targeting "near me" queries you will have a lot of Local Pack opportunities. If you are targeting "in city x" for instance, you have a little less etc.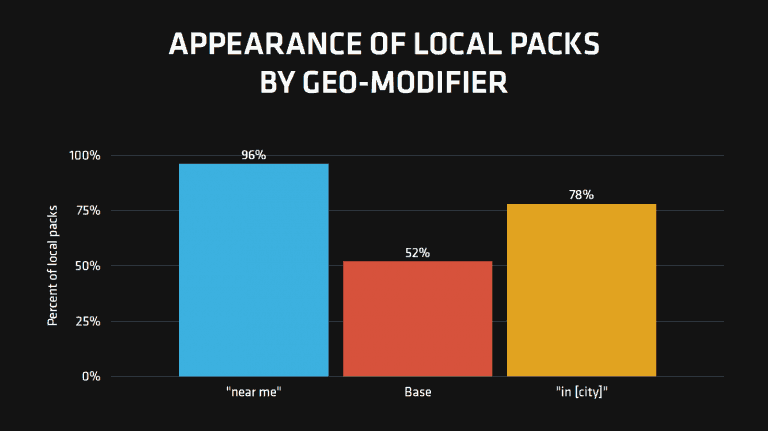 Google, when it comes to the Local Pack, cares more about where you are standing when you do your search, than how you phrase your search. But it varies by geo-modifier. So you need to track multiple locations and use different geo-modifiers to have a strong local SEO strategy.
What are some of the things you can do to influence your ability to appear or rank in a Local Pack?
These were the main conclusions:
Measure the distance of your Local Pack results and find competitors within that radius
Have a good Google rating
Rank on page 1 in the organic results
There are lots of other findings and takeaways in Rob's presentation, so dig in to his slides a learn more about Local Packs. You can also download a whitepaper on STAT's website that goes into more details about the topic.
Authors note: In AccuRanker you can add any specific region, city or even address to the keywords you are tracking. This comes in very handy if your focus is on local SEO, as you can add as many locations as you wish.
Link to slides
A Year of SEO Split Testing Changed How I Thought SEO Worked
Dominic Woodman, Senior Consultant, Distilled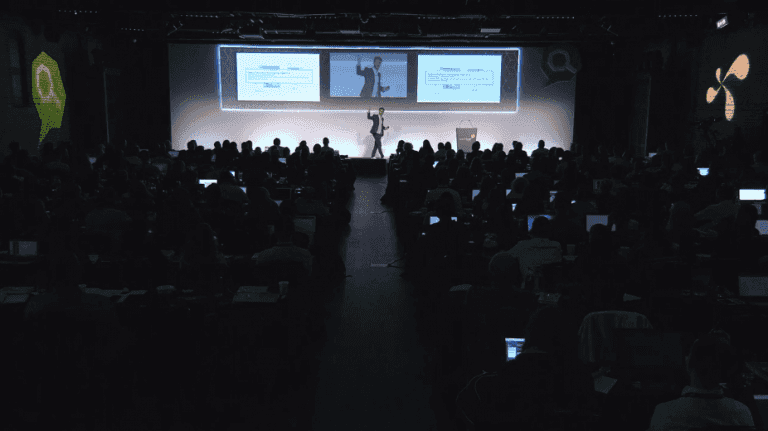 Dominic Woodman talked about SEO split testing. A lot of SEOs are struggling with clarifying and showcasing the value of their work. The reason being that it is not always clear why the changes you did had the actual outcome. Oftentimes you do not know. Split testing is a good way to get rid of some of that uncertainty and find out what actually works.
Dominic has run a numerous number of experiments using DistilledODN. To be specific he ran 50 tests across different websites.
ODN stands for Optimization Delivery Network. It is deployed like a CDN (Content Delivery Network). The tool allows you to test individual SEO changes on a website. It splits different pages rather than users and is template-based. It measures the changes between the two variants and gives a result, which is calculated by change in organic traffic e.g. '3% daily increase'. Important note: You need roughly 1,000 organic sessions a day to the group of pages you are testing.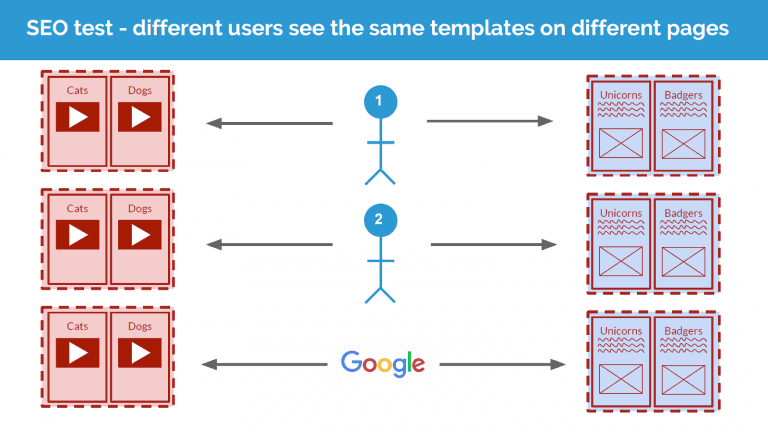 What did Dominic's series of tests show then?
Well, for title tags the conclusions were this:
Title tags DO have a notable effect. By and large they change traffic between ~5 – 15%
It's hard to write good titles. 56% of all title tag changes were negative, only 6% were positive. Around 37% were null.
You can not stop testing titles. Titles exist in the context of the rest of a SERP. When everyone copies your good title format (and they will), you have to renew it.
Title/meta effects on traffic typically appear in 2-4 days.
Other outcomes from the tests were:
Visible content on the initial page load matters – So, enable javascript up front
SEO content (like 'SEO texts') sometime help
Reducing content on non-article pages often has no effect
Structured data has an effect outside of rich snippets
Freshness does matter – If you change last modified date
Also, Dominic highlighted a number of important insights and tips in regards to the process of split testing:
Periodically re-challenge your beliefs
If you do not have intent, the special features that are added will fail
You do not need to argue, when you can test
Tests can shift the focus to the process instead of just results
A negative test you rolled back is a failure avoided
Tests can force you out of the silo
– and probably the most important one being this: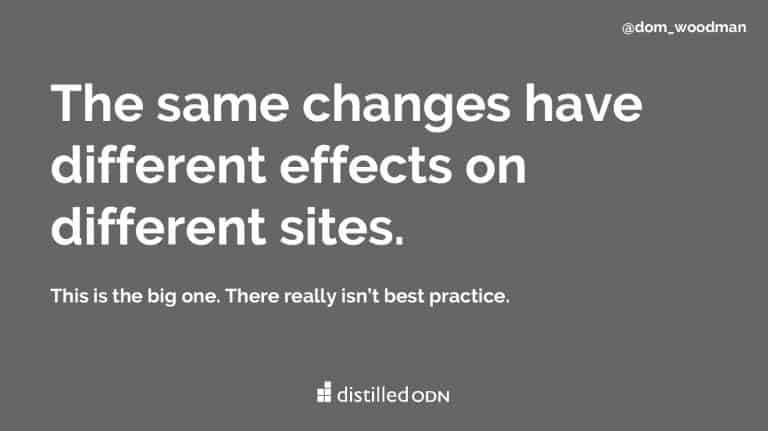 'Newsjacking: How To Add to the Story and Earn Big Links in Real Time'
Ryan Charles, Director Sales & Marketing, HireAHelper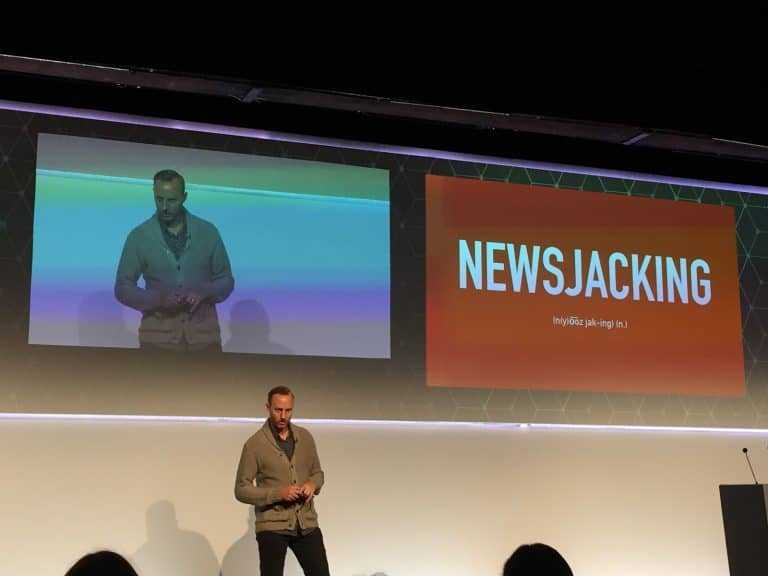 Ryan Charles talked about Newsjacking and gave examples of how his team and himself had worked with it.
If you are not familiar with the term, here is a short definition Ryan referred to in his presentation:
"The practice of taking advantage of current events or news stories in such a way as to promote or advertise one's product or brand." (Source)
The main objective being, that you can get massive press coverage and tons links from big news sites.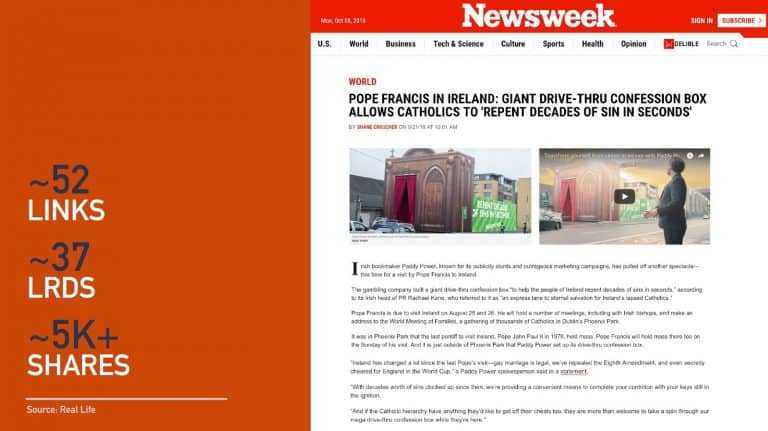 Any company or brand can take advantage of this tactic, and according to Ryan, it should be part of every digital marketers tool box. Creating a campaign does not have to cost you a lot of time or money, and it can earn you a lot of authoritative links and create good brand awareness.
The bad news is it's hard to plan for and is inconsistent.
Ryan went on to talk about:
How you spot opportunities
How to decide if you should do it
How to create a campaign
How to pitch it
How to handle it if it blows up
So how do you go about it?
Firstly, it's important that you train yourself to spot opportunities and be on the lookout for them. Secondly, you need to have some sort of connection to the news. Thirdly, you should have an original angle. Fourthly, you need to offer some value. Fifthly, you need to react fast, when the story is out there.
Here are some ideas on what you can do: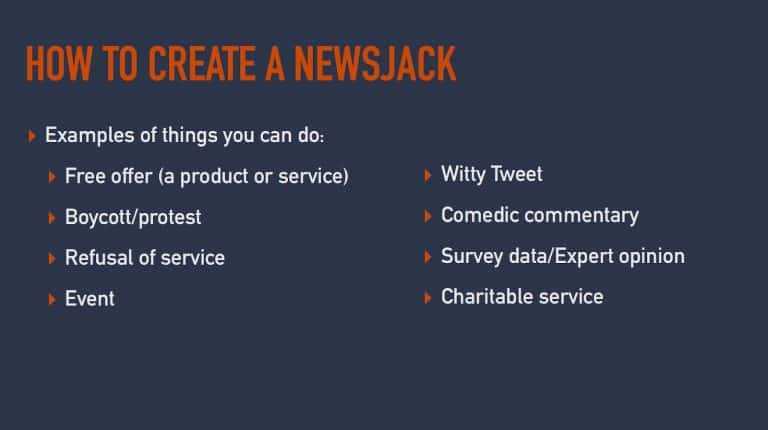 Make sure that you provide a visual asset to the press and have a website with information they can link to. Do not try to force your idea on the journalist when you pitch it, but do get to the point. If you get interviewed, be well prepared.
Newsjacking is more affordable and less time-consuming than you probably think, and anyone can do it. But using the tool comes with its own risks, special considerations, and unique rewards, as Ryan noted.
'How to Nail SEO for Discontinued Products'
Luke Carthy, Digital Lead, Mayflex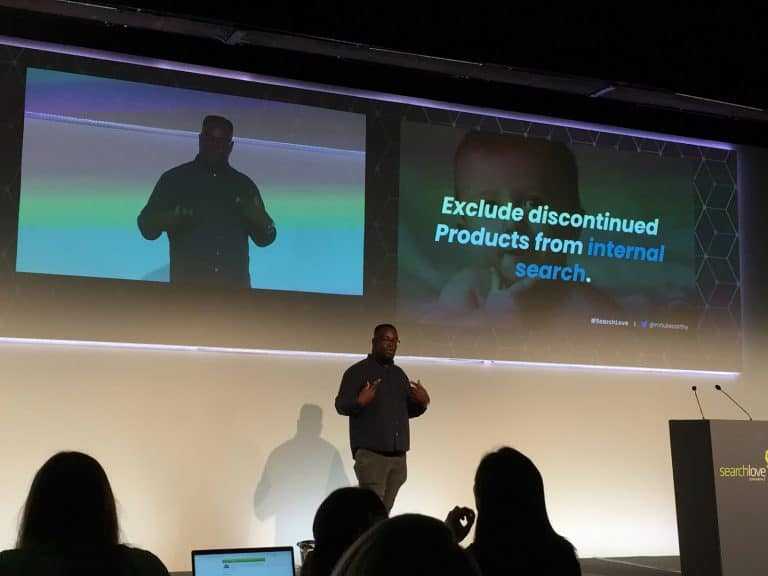 Luke Carthy talked about what to do with discontinued products. Many websites and webshops delete their discontinued product pages without thinking about the consequences. Often times, these pages rank for many keywords, receive a big amount of traffic and have earned lots of backlinks during their lifetime. Therefore, you are missing a lot of opportunity and leaving achieved value on the table when you just terminate the discontinued items.
Besides direct sales, you can expect these benefits, when you turn your discontinued products back on:
Reclaim links and keywords
Better, cleaner UX
Demand often continues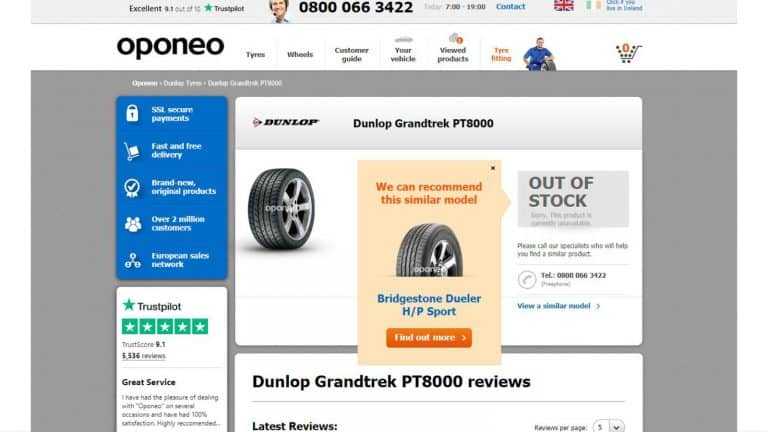 A good example of an out-of-stock product page. The site recommends an alternative product that matches the discarded one.
Now, when you switch your discontinued products back on, you should take the following into consideration:
Do not let customers "buy" products that are no longer for sale – Turn off the ability to add them to the basket
Do not let search engines see your site as one that has more discontinued products than items for sale
Exclude discontinued products from internal search
Set some rules for how long discontinued products stay online and/or in the search engines
Exclude from paid search
Avoid redirects where possible (because you will lose the keyword ranking)
Use DataLayer to get useful insight on the users and traffic to discontinued products
'Controlling branded SERPs and preventing negative press'
Laura Hogan, Director of Search, Ricemedia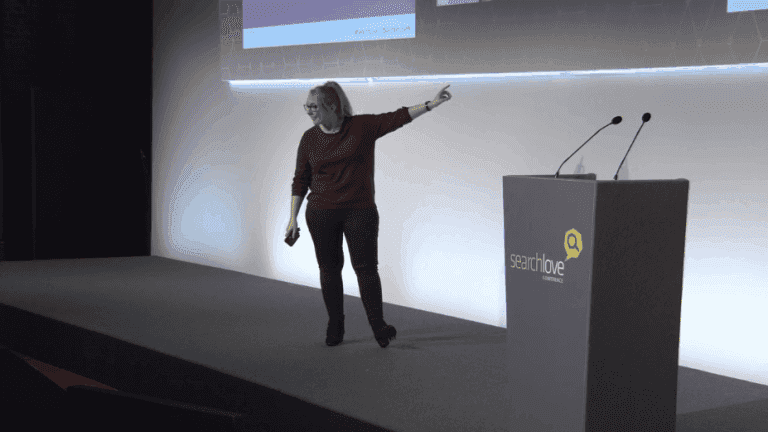 Laura Hogan talked about how you can control the SERP if you have negative press.
You can have a nice and beautiful profile on your website and on social media. But how you look in the SERP may paint a different picture. The thing is that branded search can expose a lot of negative mentions of your company or product because negative publicity gets more attention. Therefore, you will see a lot more of it ranking.
Also, negative press on page 1 can be the difference between your potential customers converting or not. Laura made her own small survey before the conference that showcased this fact: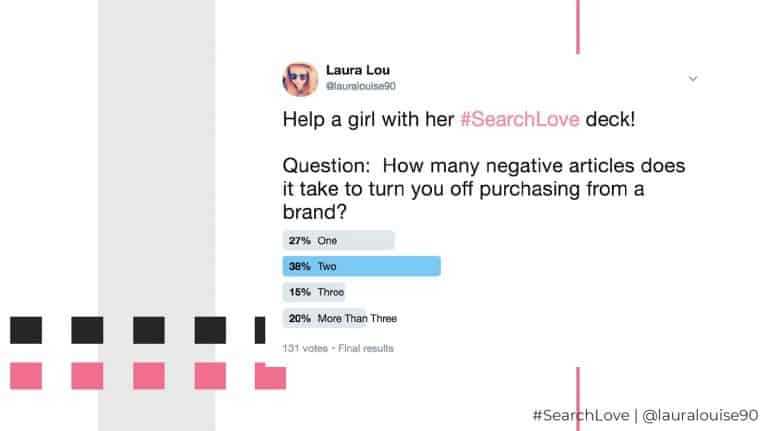 A good example of an out of stock product page. The site recommends an alternative product that matches the discarded one.
But what can you do if you have negative results on page 1?
In order to take control of what is showing on the first page for your branded searches, you can leverage these actions:
Google My Business – Where you can do all this now: reviews, products, booking, photos, posts, Q&A
Branded press – Make sure that your brand name is in the title
Wikipedia – Use as many features as you can, source your references and link to other wiki-pages
Local reviews/citations – Where you control the information
Discount code page on your own site
You need to control the narrative around our brand. That is why it is important for you to monitor and handle the branded SERPs in any way you can.
'Local Search Has Changed - Here's What's Working in 2018'
Darren Shaw, President and Founder, Whitespark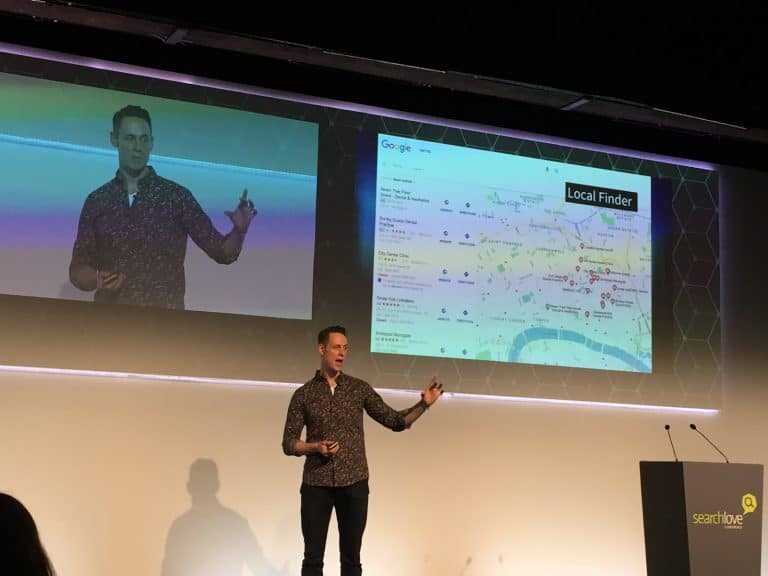 Darren Shaw talked about the local ranking factors. He presented the latest results from the 2018 Local Search Ranking Factors survey published on Moz along with new research data. The survey is conducted each year, and asks a handpicked selection of Local SEOs about their views on what is important in local search.
Darren displayed the things you need to focus on if you want to succeed in today's local search landscape. What influence rankings in the Local Pack/Finder?
This is the break down of what is driving Local Pack rankings: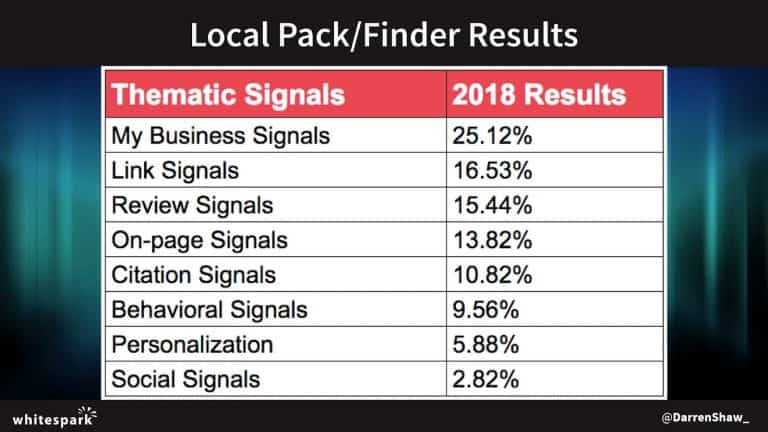 Especially the influence of Google My Business has increased since last year, because Google has integrated a lot of new features you can add like videos, posts, Q&A's etc.
In the 2017 survey, none of participants mentioned Google posts, and in the 2018 study it is the number 2 thing that Local SEOs are investing their time in!
To sum this is what is important in the Local Pack: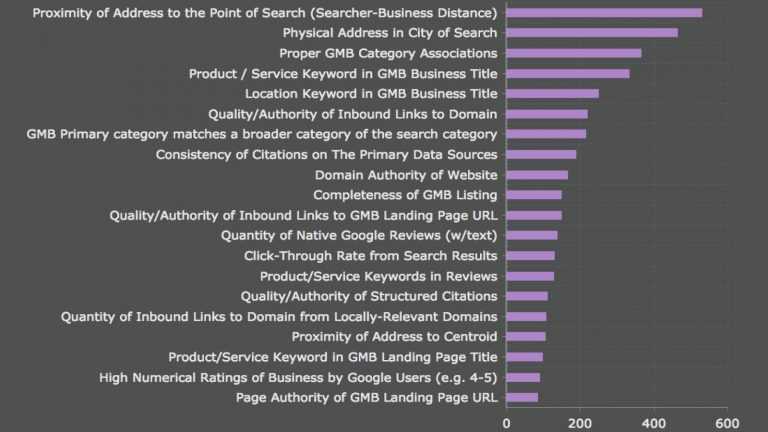 As you can see, proximity is the number one local search ranking factor. The results in the Local Pack are VERY much tied to the location the searcher is searching from. One benefit of this is, that your local business will at least rank at your location. 🙂
For the local organic results (blue links below the Local Pack), this is what typically drives the rankings:
– which is mostly link signals and on-page signals.
These are the aggregated factors: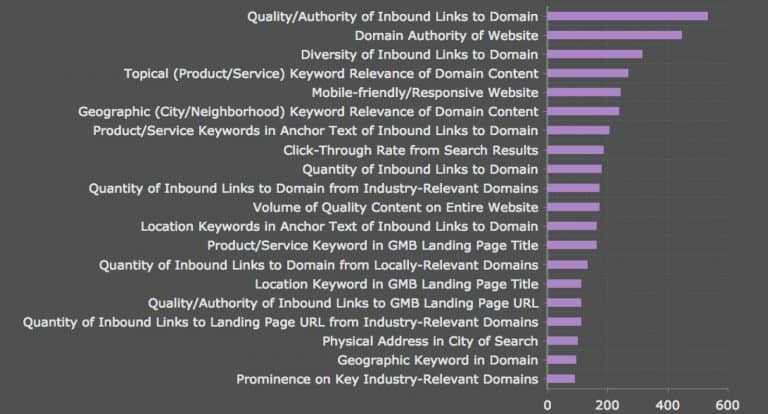 This is much the same kind of signals that drive regular organic ranking. The difference is that you really should focus on industry relevant and locational relevant domains. Both for citations and for links. Getting links from industry specific or location specific domains will increase your location prominence and your topical relevance for the term. And for on-page, you have to make sure that your content of your website is well filled out with all the local terms.
Behavioral factors are not a big part of the survey, probably because they are a bit hard to assess. But they are undoubtedly important and increasingly becoming so.
What can you do to influence behavioral factors?
Darren gave a couple of tips:
Stars in the SERP – Will improve your Click-Through Rate
Mores reviews than competitors – Will get you more clicks in the local results
Overall, the conclusion from the the study was this:
Local search has evolved. The usual suspects of citations, reviews, Google My Business, website optimization, and links still drive the algorithm. But since proximity is becoming a predominant factor, and most conversions happening on Google rather than your website, your tactics needs to change for what really moves the needle in local search.
'Voice Search – Calculating and Seizing the Opportunity'
John Campbell, Head of SEO, ROAST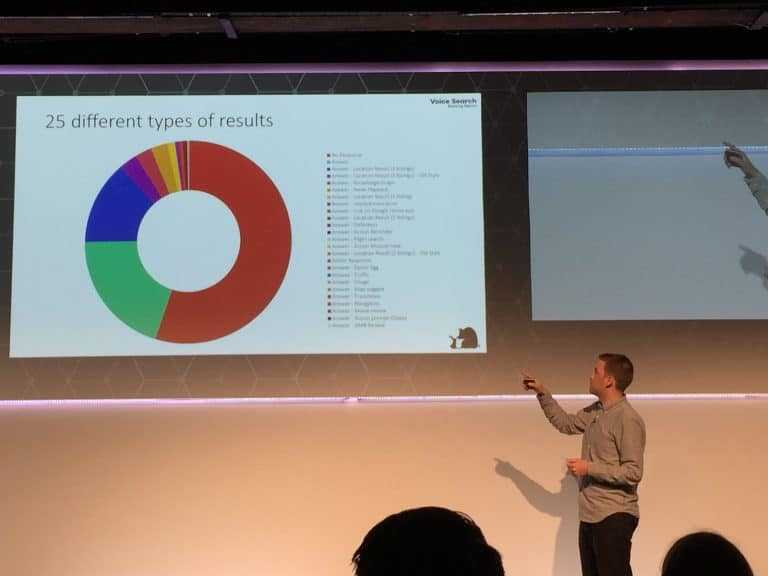 Voice has been, and continues to be, a hot topic of 2018 in SEO. This has largely been fuelled by the statistic that "50% of searches" will be conducted via voice by 2020.
John Campbell started by putting down this statistic. Or rather, he cited a great article written by Rebecca Sentance that punctures the statement. You can read it here. The best attempt so far at predicting voice numbers comes from Will Critchlow from Distilled. His calculation roughly estimates, that currently there are only around 100,000 searches a month globally. That assessment can be found here.
John's presentation was divided into these four chunks:
The landscape
Tracking to find opportunities
How to gain voice results
Voice search volume example
The initial question was: What are people actually using voice search for? If you look at the case for smart speakers, most people actually use it to listen to streaming music services (like Spotify) and to check the weather. However, some also use it to ask questions, and this is of course where it gets interesting for SEOs.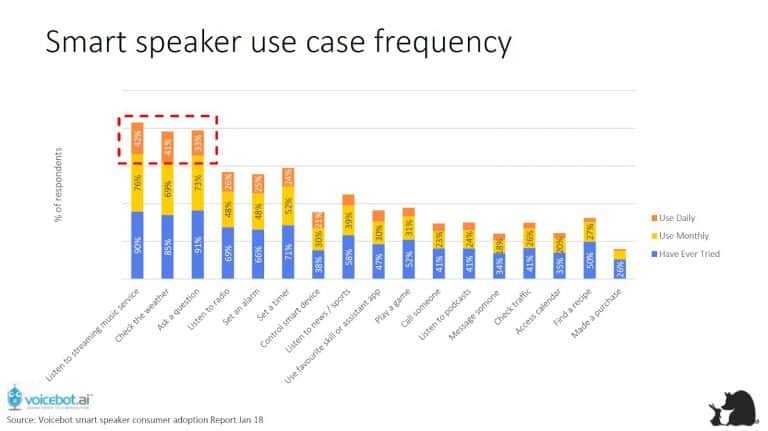 But how do you get the smart speaker to use your result as an answer? Previously, the advice was that you had to get a featured snippet or answer box, as they also are called. And if you had that in the regular search results on web, then the Google Assistant would read out exactly the same information.
To test this out, John did some research. He built a voice search ranking report tool and searched for 10,000 key phrases. His aim was to test if the featured snippets match the answers given on the smart speaker. He runs the test on a regular basis now.
His research shows, that there is much more to Google Assistant than just reading out featured snippets. There were a lot of different result types and he regularly discover even more. Also, since he had grouped key phrases into different verticals (like finance, health, travel etc.), he were able to split the results out.
Interestingly enough, Google's ability to answer varies depending on the verticals, as you can see from this chart: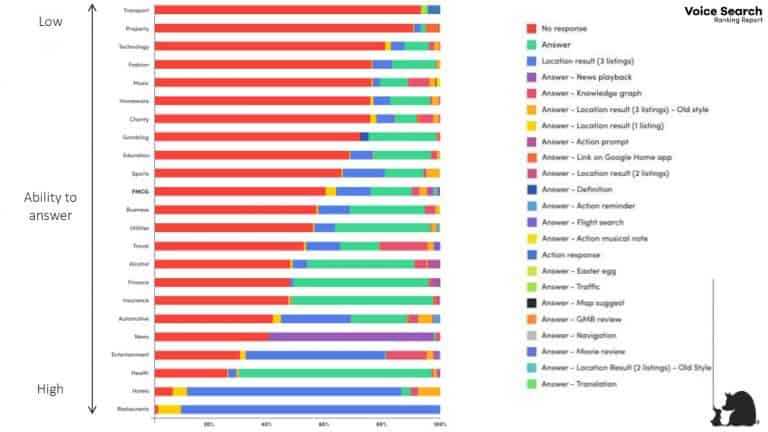 Where there is lots of red, Google's ability answer is low. Where there is lots of blue, Google is answering quite well. And they are answering with location results.
The answers on voice can be grouped into six different combinations:
No answer
Featured snippet
Knowledge graph
Google My Business
Built-in feature
Actions
Important takeaway: Even if you have the answer box, the Google Assistant will not always read out your answer on voice.
So how do you gain voice results? Firstly: Get some featured snippets, because this is still the most common type result. Secondly, you can create an Google Action. Getting an answer on voice is great, but what will happen is, that Google will just read out the answer and then stops. With Actions you are able to continue the conversation and hereby have users ask more questions about the topic.
John's key takeaways:
There you have it – our wrap up from SearchLove 2018 in London. We enjoyed attending and learned a lot, so we will definitely be back next year!
In case you missed BrightonSEO, we have also gathered the key takeaways from BrightonSEO September 2018 edition here.
In case you missed UnGagged London 2018 edition, read our 'Key takeaways from UnGagged London 2018 speakers'.