Organic rankings: Black Friday & beyond
Last updated on Friday, November 20, 2020
Organic rankings: Black Friday & beyond
The holiday season is fast approaching. And for many, this means shopping – lots and lots of online shopping. This starts on the run up to Black Friday and carries through all the way until Christmas.
"£6 billion is expected to be spent on Black Friday alone in 2020," shared Sophie Gibson, an SEO Strategist we spoke to from Rise at Seven.
Since 2017, the total value of online retail sales in the UK has been growing each year for the Christmas period. In 2019, around one-third of retail sales were done online (£25.4 billion) but this number is expected to be even higher in 2020.
With local lockdowns and Covid-19 restrictions meaning that in-store experiences are less accessible this year, many brands are taking the opportunity to attract consumers to their eCommerce websites instead.
But as Tom Pool, Technical SEO Directory at Blue Array, noted: "There are so many different retailers taking part in this annual shopping event, and more join in each year. It's getting harder and harder to appear within Google Search for Black Friday retail related queries."
At AccuRanker, we've been digging through our data to find out what really happens with search rankings over the holiday period, especially now that there are more potential brand competitors in the mix.
We've also spoken to a handful of SEOs to get their thoughts on this competitive time of year to see why they're taking action, and what work they think is most important.
Let's start with the data.
Ranking fluctuations in Q4 2019
We analysed AccuRanker data for 200 domains in the 'web shop' category that tracked over 1000 keywords in Q4 2019. At first, we plotted all of the results on a graph: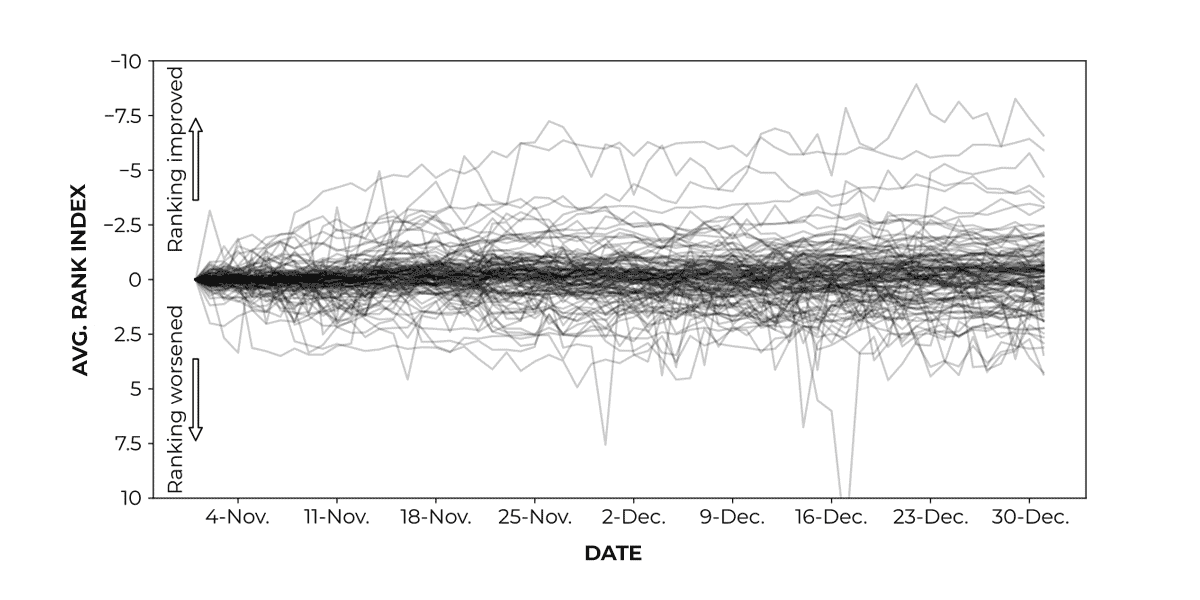 (Yes, we know that it doesn't look like much more than some messy zigzag lines at this point, but stay with us on this!)
From the plot, we noticed that some domains managed to improve their rankings over the period, while others didn't. Some domains even ended up in a worse position than where they started.
This isn't what any brand would want to see at such an important shopping period, as it would likely mean less organic clicks, and potentially increased spend on paid ads to retain some brand and product visibility.
Enrico Chidono, SEO Director at Blue Array, believes that the cost per lead of paid traffic will be sky-high "due to even-higher-than-normal competition this year". He says: "organic traffic is the best way to keep that under check with no increased costs."
Remember our original graph? Well, we wanted to get a clearer picture on what happened in 2019, so we decided to group data into clusters using the k-means clustering algorithm.
Splitting the above 'lines' into their respective clusters resulted in the following plots:

For even better clarity, we then took the average rank index for each day during the two month period, and plotted them together with a simple regression line.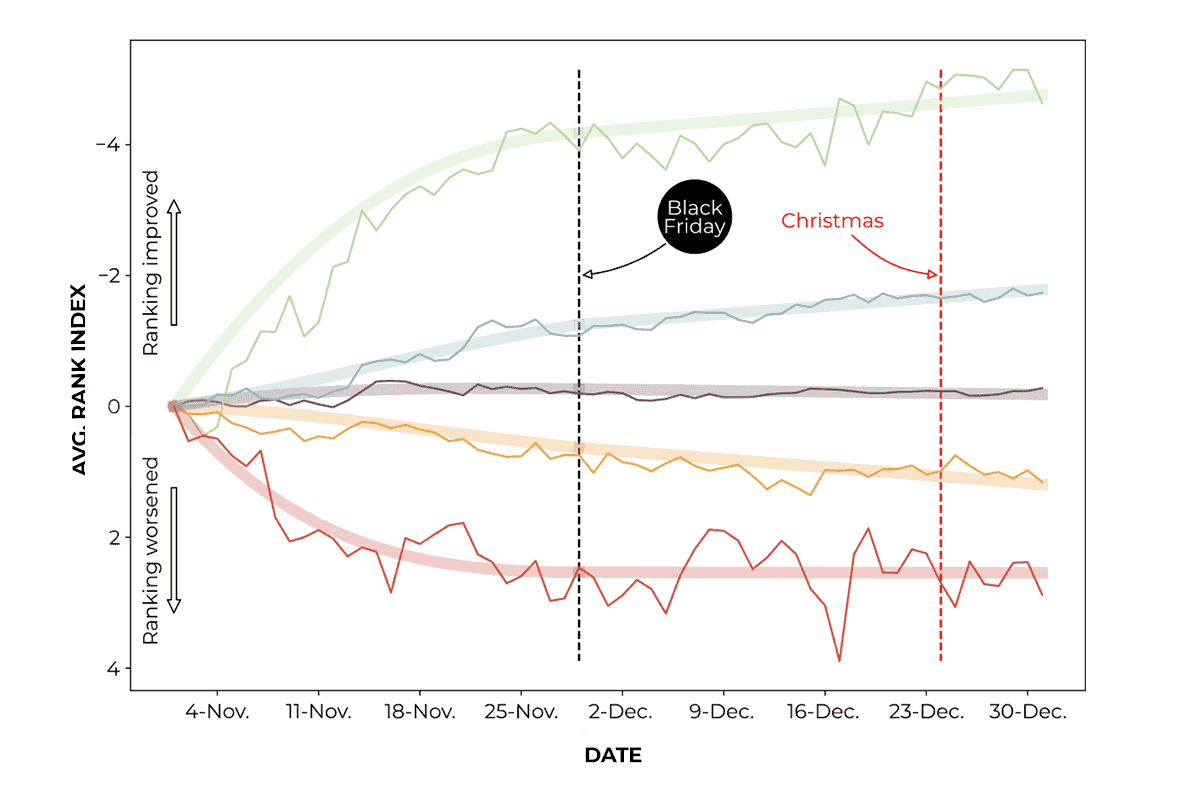 As shown on the graph, the green cluster of domains saw the biggest improvement in rankings from the beginning of November through to Black Friday, with further growth seen until Christmas.
At the other end of the spectrum, the red cluster was not so successful over the latter end of Q4 2019. This group of domains had worsening rank positions, losing ground steadily until Black Friday, and maintained this loss until Christmas.
Losing out to competitors would've been scary enough in 2019, but the prospect is even more frightening in 2020.
That's why we decided to talk to some of our favourite SEO experts and get their insights on Black Friday and beyond.
Hear from the SEO experts
We reached out to some thought leaders in the industry with some questions about SEO best practice on the lead up to the busiest shopping period this year.
You'll find some great tips in this section (they'll still be relevant in 2021 for future planning if you can't quite get everything ready for 2020!).
Tom, is SEO really that important for Black Friday?
SEO is important any time of the year – but for seasonal events such as Black Friday, it's even more so! Having a solid SEO strategy set out for this event helps you be competitive in the Organic search landscape, and helps land you more visitors.

Tom Pool

Technical SEO Director at Blue Array
Tom's top takeaway: make sure that you have a solid SEO strategy in place for seasonal events.
@cptntommy
Natalie, what is the best piece of advice you'd give to brands ahead of seasonal events?
The best piece of advice I can give brands preparing for seasonal events such as Black Friday and Christmas is to ensure you have evergreen content about these events, that you keep updated on an annual basis.

It's still common for brands, particularly in e-commerce and FMCG, to launch a completely new seasonal page every year, meaning that the link equity ends up being split across multiple pages, when it could so easily be consolidated resulting in better SEO performance.

Natalie Mott

SEO Consultant (Freelance)
Natalie's top takeaway: create evergreen content for big events and update these on an annual basis.
@njmott
Sophie, what are some practical ways that brands can prepare for this period?
Black Friday and Christmas are super important days on the eCommerce calendar, and making sure these pages are set up for SEO success from the very beginning is really important – which means planning in advance and putting in additional work. Getting your strategy wrong here can really impact the bottom line – a small issue can cost a website a large amount in sales or lost opportunities.

From creating checklists for optimum set-up, giving advice on best practices and suggestions for on-page set up, internal linking structures and keyword targeting; plus coordinating with other teams (such as product and marketing) to make sure everyone throughout the business has their needs met – extra communication is really key for a successful Q4.

Plus, you also need to factor in actions for after the event is over, as these are typically temporary pages, and making the most of the authority that these pages gather over this period will set you up for the next year – so making sure you plan this in is also important.

Sophie Gibson

SEO Strategist at Rise at Seven
Sophie's top takeaways: plan ahead and communicate more effectively with the wider team.
@sophiegibson
Natalie, when is the best time to start work for seasonal events?
The festive season needs planning and a lot of it. Your SEO, content, design and website team need to come together to make a cohesive and integrated plan to get the best value out of everything you do. But before executing any of it, you'll want to spend some time making sure your website is ticking all the speed, UX and other SEO best practice tick boxes as possible.

Ideally, by mid-August, you'll want to add your shop categories and start updating old or adding new content relating to this season in September. Remember it takes SEO crawlers anything between one day to three months to crawl your site, so having your Christmas shop page ready in August, partly populated and optimised (even if not in the menu) can help.

Natalie Welch

Director at The Typeface Group
Natalie's top takeaway: start work in the summer months to be more competitive for Christmas.
@NatalieJayW_
Andrew, what about 'business as usual' after these seasonal events?
We set aside time in Q4 each year to sit down with each of our clients and map out SEO strategies for the upcoming year. We dig into changes in their industry, priorities, and goals to understand their needs going forward.

Listening to our clients allows us to adjust our ongoing strategies and adapt to evolutions in the SEO industry. It is really refreshing to get out of the weeds and focus on the big picture as clients are planning budgets and strategic shifts for the new year.

Andrew Miller

Co-Founder at Workshop Digital
Andrew's top takeaway: don't neglect the rest of the year; spend time preparing for Q1 before the new year.
@AndrewCMiller
More about the clusters
Before we go, we'll share with you our final insights from our data analysis: the type of eCommerce stores that made up each cluster.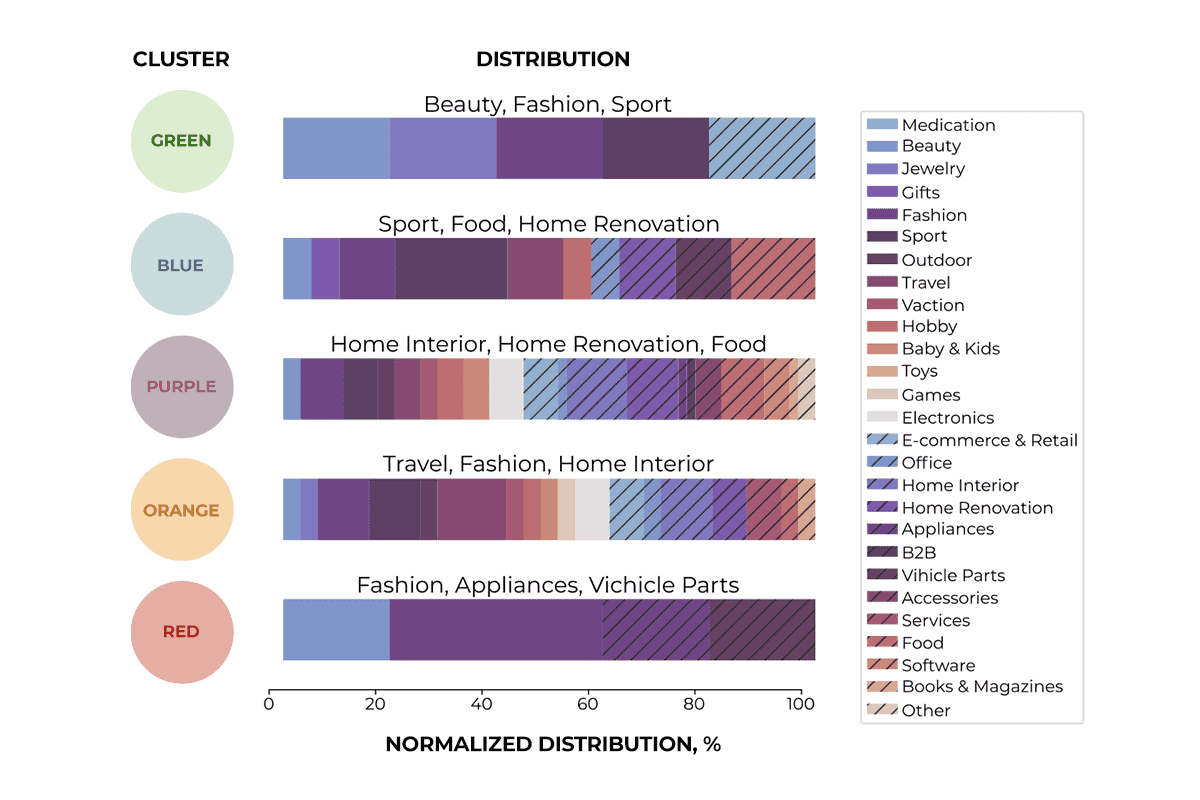 You'll notice that the biggest winners and losers over this period are from a smaller set of categories, whereas the middle clusters are much more mixed though also with a larger population.
Despite this, making gains isn't impossible if your own brand's webshop sits in one of the middle clusters; it simply shows what happened to a sample of domains in 2019.
What is worth noting is that if you don't continue to optimise and improve your website, you may be more likely to end up in a poorer performing cluster as your competitors make gains. So follow the tips from our contributors and you'll be on your way to better performance.