7 Tips and Strategies for Affiliate Marketing Success
Last updated on Tuesday, September 26, 2023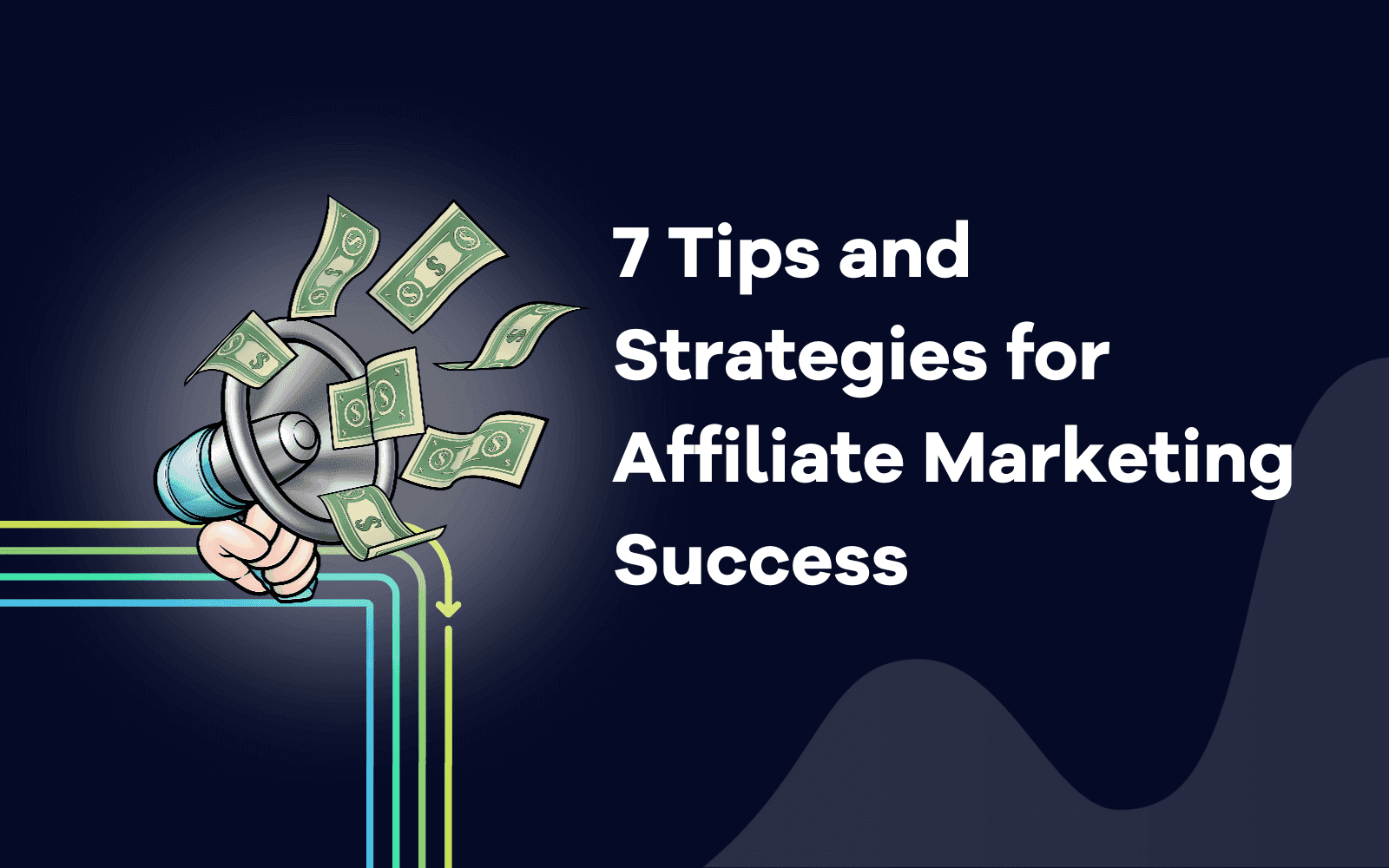 Affiliate marketing is an effective way to increase online income and boost business growth. But, like any other marketing strategy, it requires a well-thought-out approach and strategic execution.
These tips are designed to unlock the potential of your content and boost your income to new heights.
Get ready to delve deep into the world of affiliate marketing and explore tactics that can take your earnings to the next level.
Select Relevant Programs
Choosing the right affiliate program is the foundation for success.
You should the ones that align with your business objectives and appeal to your target audience.
Make sure the products or services you are promoting are reputable, reliable, and of high quality.
Some of the most popular marketplaces to find affiliate programs are Amazon, CJ Affiliate, ShareASale, and Clickbank.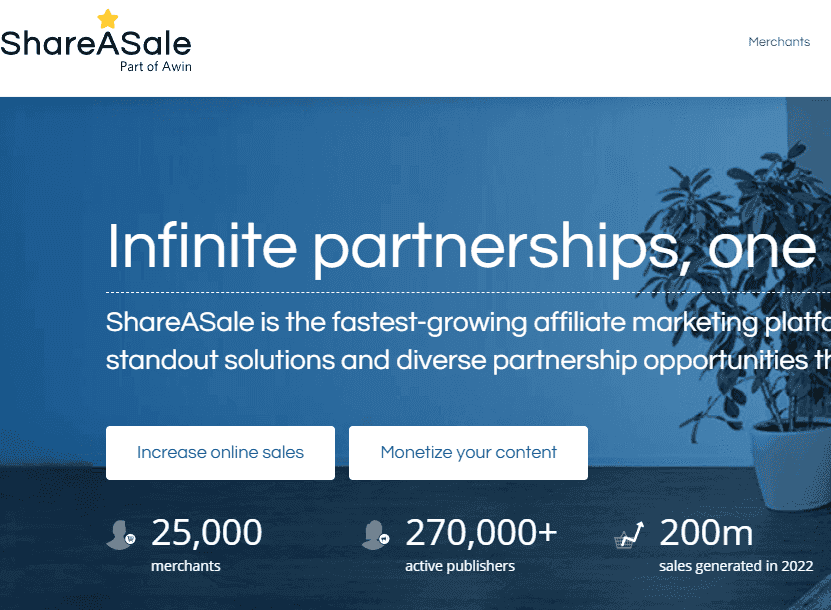 Once you are there, consider these tips:
Pick Relevant Programs

Find Out the Cookie Lifetime

Read General Terms and Conditions
Pick Relevant Programs
To ensure your affiliate program is successful, it must be relevant to your audience.
For instance, if you are looking to sell art online, you should consider partnering with an affiliate program that offers art supplies and materials.
Or if you're in the beauty and makeup niche, focus on products like face creams or makeup brushes.
Make sure what you're promoting is related to the content on your website.
This will not only increase trust but also boost conversions.
Find Out the Cookie Lifetime
Cookie lifetime determines how long an affiliate link remains active once a visitor clicks it.
So, it's essential to find out about each program before signing up for it.
Some programs offer a cookie lifetime of 30 days, while others provide up to 90 days or more.
The longer the cookie lifetime, the more chances you have of earning commissions on sales made through your affiliate link.
Read General Terms and Conditions
It's essential to read well the general terms and conditions of each program you join.
You should be aware of all restrictions, rules, and regulations related to the program — such as return policies, fees, commissions, payment cycles, etc.
That way you can make sure that you fully comply with all requirements to ensure your work runs smoothly.
Earn Your Audience Trust
Trust is a crucial factor when it comes to affiliate marketing success.
Your audience should know that you are promoting a legitimate program by providing accurate information.
In fact, one of the best ways to earn your audience's trust is by being transparent about your affiliate links.
So, it's essential that you create a disclaimer page on your website that outlines anything about your affiliate programs and content strategy.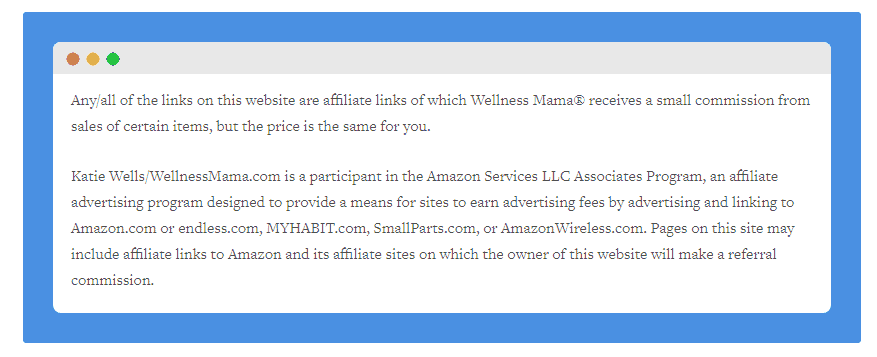 Other than this, you should also follow these other suggestions:
Be Honest

Provide Value

Share Your Experience
Be Honest
Be honest with your audience about anything related to the affiliate products you promote.
Don't be too pushy or promise something that isn't true.
Be open about the pros and cons of each product you are promoting to ensure your readers feel you are giving them useful information.
Provide Value
Providing value is essential to increase your audience's trust.
Create helpful guides, tutorials, or reviews about the products you promote that can help your readers make an informed decision.
Be sure to include all the necessary details such as features, benefits, pricing, etc. so your readers understand what they are getting into and don't have any false expectations.
Share Your Experience
Share your own experience with the product or service you are promoting to build trust and credibility.
Explain how you use it, and what features you like most, and include screenshots or videos of the product in action.
This will give your readers a first-hand look at the product and help them make an informed decision.
Research Keywords
Keyword research is a critical part of any affiliate marketing strategy.
You must identify what your audience is searching for and choose relevant terms to target for your content.
To do this for free, you can use different features from Google, like:
People Also Ask

Autosuggest

Related Searches
People Also Ask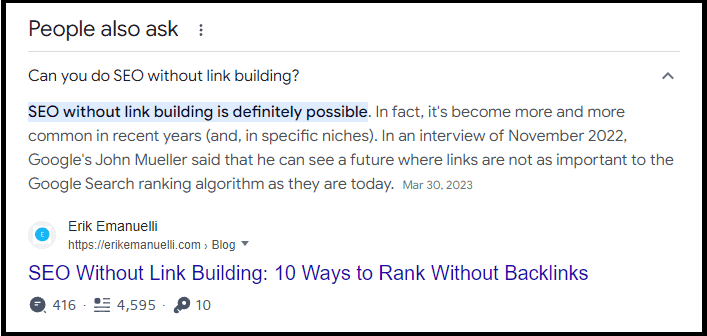 The 'people also ask' feature is an excellent source for researching keywords.
Just type a query and Google will display a list of related questions that show you what users are searching for and can give you ideas for content topics.
Autosuggest
Autosuggest is another great way to look for keyword ideas.
Just start typing into the search bar and Google will display a list of related terms.
You can then create content around them.
Related Searches
Google's 'related searches' feature also offers valuable keyword research insights.
It shows you what people are searching for in related topics that can help you identify related terms to target.
You can usually find this section at the bottom of the SERPs.
Optimize Content
Once you have identified the right keywords to target, you can start optimizing your content around them.
Make sure that each term is naturally included in your content — in titles, headings, body copy, meta descriptions, and URLs.
Also, consider these tips:
Organizing your content makes it easier for search engines to crawl and index it.
Using headings, subheadings, and paragraphs can help break up the text and make it more readable.
Make sure you include keywords in these elements so that Google knows what your content is about.
Add Relevant Images
Images are a great way to break up the text, but make sure they are relevant and include alt tags with keywords.
Google can't read images, so these tags help Google understand what the image is about and how it relates to your content.
Use Structured Data
Structured data helps search engines understand the context of your content.
Using proper schema markup can help Google display your content in the search engine results pages.
It can also help you rank higher for specific terms, resulting in more organic traffic and conversions.
Share Bonuses and Discounts
Sharing bonuses and discounts is a great way to boost engagement and conversions.
It can be as simple as offering free shipping on specific products or 10%-15% off select items for customers who use your affiliate link.
This incentivizes people to take action and helps you earn more commissions from sales generated through your affiliate marketing.
You may also want to try these methods:
Holiday and Seasonal Deals

Incentives for Social Shares

Contests and Giveaways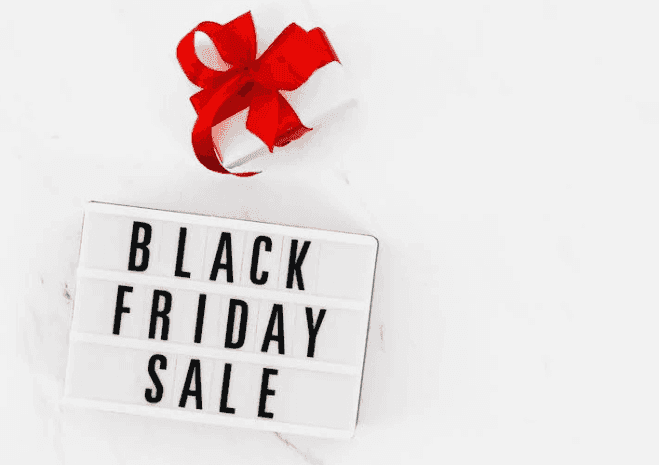 Holiday and Seasonal Deals
Holiday and seasonal deals are a great way to attract new sales during special occasions.
You can offer exclusive discounts or products only available through your affiliate link to increase conversions by taking advantage of the holiday spirit.
Incentives for Social Shares
Offer incentives for social shares to promote your affiliate links.
For example, you could offer a discount code or free product to anyone who shares your link on one of their social media pages.
This will help spread awareness and get more visitors to your website.
Contests and Giveaways
Contests and giveaways are another great way to engage your audience and get more people on your affiliate products.
You can create a giveaway with the prize being one of the products you're promoting or offer some type of grand prize that includes several items from different brands.
Leverage Trending Topics
Leveraging these topics can help you create trending content with your affiliate links for added exposure.
You may also want to look out for product launches or upcoming events that you can use for content ideas.
Consider any of these tools to identify what's popular at the moment.
Google Trends is a great way to see what's trending in the world right now and get ideas for content.
It shows you which topics are popular in different countries, regions, and cities so you can tailor your content to the interests of your audience.
Twitter Trends
Twitter Trends show you what people are discussing on Twitter.
You can use this data to target particular topics or hashtags related to your affiliate products.
Reddit
Reddit is a great source for finding trending topics and content ideas.
Just search through different subreddits and you'll find plenty of popular threads about various topics that you can leverage in your content marketing strategy.
Implement A/B Testing
A/B testing or split testing is an essential tactic for improving conversion rates.
It helps you identify which versions of your content are more effective in getting people to take action.
You can create multiple variations of a web page, email campaigns, explainer videos, ad copy, etc., and then compare the performance metrics to see which one performs better.
This will help you optimize your content for better results and higher affiliate conversions.
Try any of these methods:
Split Test Different Landing Pages

Test Headlines

Experiment with Colors
Split Test Different Landing Pages
Split-testing different versions of your landing pages is a great way to optimize them for conversions.
You can test different page elements like headlines, images, copy, and calls-to-action (CTAs) to see which ones get better engagement from your audience.
Test Headlines
Headlines are one of the most important elements on your landing pages.
They should be catchy and entice people to click through and read the rest of the content.
Try testing different headlines to see which ones get more clicks.
Experiment with Colors
Colors also play an important role in conversions. Different colors can evoke different emotions and make your content more appealing.
Test testing different colors on your landing pages to see which one resonates better with your audience.
Final Thoughts
Affiliate marketing can be a great way to increase your income if you're willing to put in the necessary effort and take the right steps.
Remember to focus on creating quality content, engaging with your audience, and leveraging the latest trends.
By doing this, you'll be able to maximize your earnings from affiliate marketing and achieve success in no time!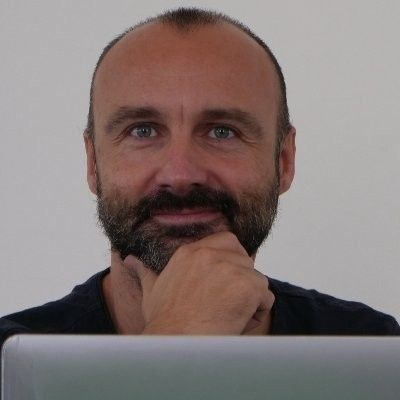 Article by:
Erik Emanuelli
Blogger
Erik Emanuelli has been in the online marketing game since 2010. He's now sharing what he has learned on his website. Find more insights about SEO and blogging here.