Top 10 Speakers at UnGagged Las Vegas 2018
Last updated on Tuesday, October 23, 2018
UnGagged Las Vegas SEO & Digital Marketing conference will take place on November 4th to 6th, with masterclasses on November 7th.
There is no recording allowed at UnGagged, so you have to be there to get uncensored insights and advice from the leading SEO and digital marketing experts.
But with so many great speakers on the agenda, how do you choose which ones to see?
We have gathered the top 10 speakers you cannot miss at UnGagged Las Vegas.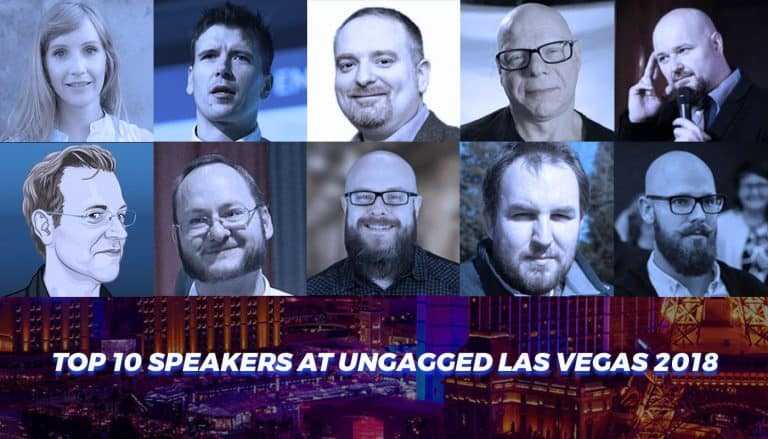 Sunday:
Be a Local SEO Legend
11.30am – 12.25pm Palace Ballroom 1
Greg Gifford, VP of Search – DealerOn, Inc
I'll be covering the latest Local SEO tactics and how they're more important than ever with the explosion of mobile search, and I'll also show how local SEO is important for showing in voice results. I'll share some inside tips on how to win in the map pack, tips on rocking with Google Posts, and tips for using GMB Q&A to stand out from competitors.
Shameful technical SEO confessions
2.00pm – 2.55pm Palace Ballroom 1
Bartosz Góralewicz, CEO – Elephate Agency
You've heard Bartosz Goralewicz pushing the importance of technical SEO for years. And now that the dust is settling to reveal the latest SEO landscape – one which Google is finally caught up with technical SEO – Bartosz has a confession to make: there's now another way to do this.
2018 is the year that Google finally caught up with technical SEO. And now that the dust has settled and we have conquered our mountains full of data, the easy thing to do is move full steam ahead. Bartosz Goralewicz is stepping back from the technical myopia to tell you that there's another way. Bartosz's session is going to look past the smart-ass egos, the SEO-shaming, and the proverbial carrot on the SEO stick and allow his audience to discover a new mindful approach to technical SEO that will take them into 2019 and beyond.
Everyone is talking about technical SEO these days and in all the frenzy it has pushed SEOs into a race to get even more technical. Bartosz Goralewicz will even admit that he was one of those voices, but now he's ready to confess. This session is going to look past the smart-ass egos, the SEO-shaming, and the proverbial carrot on the SEO stick, and give you the cold hard truth about where technical SEO is today. And you might not like it.
Takeaways:
Learn the secrets to technical SEO in 2018 and beyond
Learn to navigate the new SEO reality with the right skillset
Discover how to prepare for the right SEO apocalypse
Workflow for technical SEO in 2018
Real-World Technical SEO Puzzles and Solutions
3.00pm – 3.55pm Palace Ballroom 1
Barry Adams, SEO Consultant – Polemic Digital
A lot of writings about technical SEO are mostly about the theory – ideal scenarios and theoretical issues. In the real world, websites are messy and complicated, and you can encounter all kinds of weird and unexpected technical SEO issues. In his talk, Barry Adams will show several real-world technical SEO problems he's encountered that you'll never read about in blogs, and show you how he approached solving these issues.
Why see this talk?
Learn how to apply technical SEO theory to the real world
Learn to recognise unusual issues and how to solve them
Be entertained by Barry's profane and passionate style
Monday:
Making Money with Paid Social in 2018, #WTF!?
9.00am – 9.55am Palace Ballroom 1
Marty Weintraub, Founder – Aimclear®
The road to bullshit keynotes is paved with non-actionable tactics, amusing data, and useless black-hat entertainment. That's not me. However, even Marty Weintraub, ME, includes some funny jokes in my presentation. Not this keynote, Ungagged 2018, Vegas. THIS UnGagged, I'm challenging myself to share ONLY MONEY TACTICS, start to finish, proven to line smart peoples' pockets with conversion cash.
I'll cover a range of sweet tactics in Facebook, Twitter, LinkedIn, and other channels– paid, organic, and integrated (including with paid search & SEO). I'll tender 13 gooey, slurpy, yummy social media tactics which PAY, as indicated by Aimclear's work and hundreds of case studies I've seen in judging the EU and UK Search Awards. We'll cover shit which comprised bagging our third straight win, the 2018 US Search Awards Best Integrated Agency award.
Hacking Google: From Tracking Users to Hijacking PageRank
10.00am – 10.55am Palace Ballroom 3
Tom Anthony, VP Product – Distilled
Eighteen years ago I was arrested for hacking a corporate network, and I realised I probably needed a more productive outlet for that part of my mind that liked to take things apart and understand how they worked. That led me into the world of web dev and SEO, which had similar challenges. The 'hacker mindset' is very valuable in SEO, and I'm going to talk through some experiments I've run in that way over time.
People should come along if they want to hear about:
How Google paid me a $5000 bounty for black-hat SEO research.
How I hacked Google Search Console to download anyone's manual action report.
The latest research I've been doing...
How Just Eat feeds Google and Users
11.30 am – 12.25 pm Palace Ballroom 3
Gerry White, Freelance Technical Marketing Consultant – Just Eat, Global Technical SEO
I will mainly be talking through the difficulties in controlling crawlers when you work on a large site with daily releases, organic growth, JavaScript and more. Just Eat feeds 13 markets food from thousands of takeaway restaurants so it is critical to us, that Google is fed just the right amount of information and content relevant to the users searching.
Then moving on to the future – although it's a bs acronym, AEO does feel like where a lot of SEO is evolving to. The question is: how much we sacrifice owning the customer experience versus giving the experience to a 'within' Google transactional experience.
Tuesday:
Defense Against the Dark Arts: A Guide to Fighting Against and Recovering from Negative SEO
10.00am – 11.00am Palace Ballroom 1
Joe Sinkwitz, Principal – Digital Heretix
This November I'm speaking on the Defense Against the Dark Arts: A Guide to Fighting Against and Recovering from Negative SEO. Having spent over 20 years in some of the most competitive industries in search and being one of the main reasons there was an update called the 'Payday Loan' update, I'm intimately familiar with negative SEO. There's several reasons why someone should attend:
If you don't know much about negative SEO and are afraid to ask, I'm going to provide an in-depth explanation on what it is and why it became so popular.
If you aren't sure if you've been hit by negative SEO, I'm going to describe a process you can employ to assess whether or not your issues are related to negative SEO or something more innocuous.
If you are worried about getting hit by negative SEO, I'm going to provide a set of actions you can do today to help protect yourself.
If you're currently being attacked, I'll explain what you need to immediately do.
If you've been attacked in the past, I'll show you how to go about the road to recovery.
If you're curious about what kind of attacks might exist in the years to come, I'll cover my thoughts on where negative SEO might evolve.
Black Hat Analytics: The End is Nigh
11.00am – 12.00pm Palace Ballroom 1
Jono Alderson, Special Ops – Yoast.com
Jono will be preparing you for the upcoming Halloween as his speech is going to be terrifying! Just kidding – we are sure he is going to be scary in a good sense – hopefully, to protect you from the vulnerabilities and blind spots in the center of the systems that your business uses to make decisions every day.
He will give you an idea of how your competitors can use tracking pixels to destroy your business, and he admits there is not that much we can do about it.
Your tracking pixels are a weapon that competitors, hackers and bots can use to disrupt, impact or even destroy your business - and there's very little you can do about it.
If you want to know how to defend and enhance your analytics being prepared for what's coming, this session is for you. You will learn important defense tactics about what you can do to strengthen and defend your analytics. Let's see if he can really scare you!
Stranger SEO: You're Telling Your Story Wrong!
12.30pm – 1.25pm Palace Ballroom 3
Christian A. Dumais, Creative Director – Elephate
First and foremost, I'm going to be telling one long ridiculous (and hopefully entertaining) story about my journey from the US to Poland. And since I'm coming at the SEO/Content Marketing industry from the outside looking in, I offer a unique POV when addressing some of the shortcomings of the industry and how to best address them. My goal is to give someone entrenched in the industry the tools they need to best step back and see what they're doing wrong and then turn it around into something that can bring more traffic, more page views and more links.
Here are the top 9 reasons to see Christian A. Dumais speak at UnGagged:
Christian is a stand-up comedian who performs sold-out shows in and around Poland, so he might be funny. Maybe.
Christian offers a unique POV when it comes to the SEO/Content Marketing industry.
Since Christian is best known for his work as Twitter's @DRUNKHULK, maybe he'll show up covered in green makeup (spoilers: he won't!).
Christian's work at Elephant – the best small SEO agency in Europe – has achieved huge results which he'd like to share with you.
You've heard Elephant's Bartosz Goralewicz blabber on endlessly at UnGagged before, isn't it time for a change? Christian isn't your grandma's Bartosz!
Christian is prepared to provide actionable tips on how to get the most out of your content.
Christian can't believe he committed to doing a top 10 list. Man, is he struggling to finish this!
Christian will show you what most SEO/Content Marketing agencies are doing wrong and how they can fix this.
Christian always finishes what he starts.
Data-driven decisions to excel at on-page SEO
2.30 pm – 3.30 pm Palace Ballroom 3
Viola Eva, SEO Consultant – Flow SEO
On-page SEO is the lost art of search engine optimization. But don't underestimate of tuning the ranking signals ON your website. Why? Because you are in full control and can create the content, structure and factors that are needed. In 2018, the times of guesswork, intuition and gut feeling about keyword placement and on-page SEO are gone: Let's talk about correlational SEO! Let's study our competition and understand more than 500 ranking factors and what those websites ranking in the top positions are doing right.
The SEO debate is over: Black hat. White hat. On-page? Off-page? What if we knew exactly what your competitors are doing right? And we could make it even better. I am sharing examples and case studies about how to use correlational SEO for your advantage.
In case you missed UnGagged London 2018 edition, read our 'Key takeaways from UnGagged London 2018 speakers'.