How You Can Use SERP Features to Boost Traffic
Last updated on Thursday, March 28, 2019
What are SERP Features?
Google's SERPs (Search Engine Result Pages) have been constantly evolving. When you search for something today, it's extremely unlikely that the results page will simply return ten blue links.
With an ever-growing amount of information on the internet, it's becoming harder and harder to provide the best and most relevant content. SERP features are Google's way of providing users with the most relevant information in the quickest way possible.
When you type "SEO" into Google, you'll see ads, a featured snippet, top news stories, local maps, related questions and more. It's likely you'll have to scroll down one-third of the page before reaching the first organic result on the page.
Why are SERP Features important?
We all know position one is important for SEO. But if the top third of the page is taken up by other sites chosen by Google's various SERP features, how can you make it so that your website stands a better chance of appearing as a SERP feature?
It is therefore crucial to know which SERP features are available for your keywords to determine how much value they'll add to your SEO efforts. For example, is there a local pack which might boost your sales? Or are there a number of paid ads, meaning that your organic efforts will get pushed halfway down the SERP and potentially harm your traffic?
This is where AccuRanker's tracking of SERP features can help.
How can you target SERP Features?
Now we understand a little bit about what SERP features are, what's the best way to target them?
One way is to supplement your SEO strategy with a keyword rank checker, like AccuRanker. Our software shows which SERP features are available for your target keywords, for example if there's a featured snippet or paid ads, that may boost, or reduce your organic traffic.
It's then possible to check keywords and optimise them in order to target SERP features which are useful for you. For example, you might be an agency with a client owning a number of local businesses selling flowers, which wants to appear as the top result in a local pack when people search for a local flower delivery store, e.g. "online flower delivery Cambridge".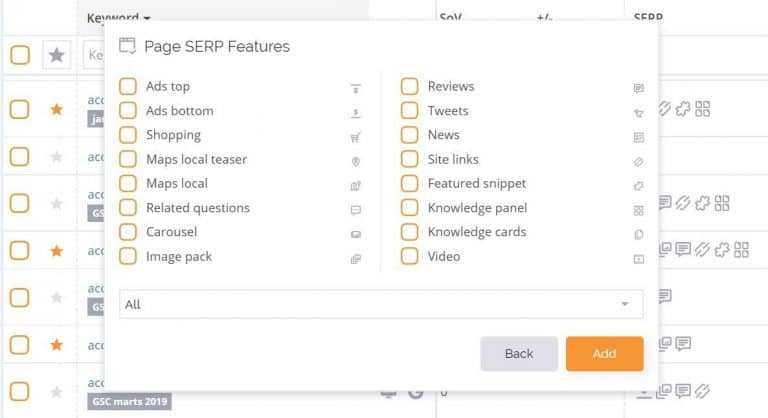 With a keyword rank-checker like AccuRanker, you can quickly identify which keywords include a local pack, and then see your current ranking. You can then optimize content to improve its ranking with target keywords and track your progress with our intuitive and easy-to-use software – improving the chances of your client appearing in a local pack.
What's more, AccuRanker allows users to filter by local results, as well as track keyword history and automated reports which can be sent to clients and show how close your SEO efforts are to achieving a voice-search result.
If you haven't already, sign up for a 14-day free trial with AccuRanker. No credit card details needed!
To help, we've put together a list of various SERP features, explaining what they are, why they're important, and some optimization tips.
Featured Snippet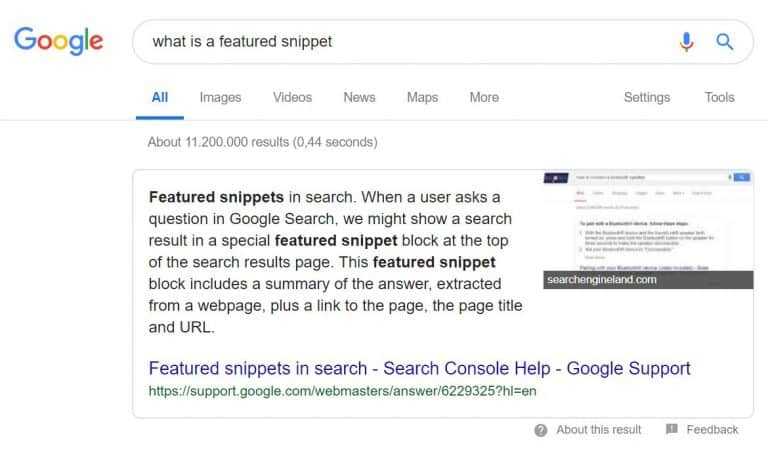 What are Featured Snippets?
Featured snippets are designed to provide the most relevant answer to a search query in the most direct way possible. They can appear in different forms, such as paragraphs, bulleted or numbered lists, and tables – although the most common is a paragraph.
Also known as position zero, these snippets always appear on the top of page one, above all organic results – but still below paid ads. The information is usually taken directly from a source that's already ranking in the top five organic results on the SERP.
Why are Featured Snippets important?
If your site is included in a featured snippet, it can result in increased traffic and visibility. Featured snippets are essential when it comes to voice search since they are most likely to be read out loud.
How do you optimize for Featured Snippets?
Optimizing for a featured snippet can be difficult, but is possible if you take certain steps, e.g. focusing on natural speech, using long-tail keywords, and building strong link authority. The best way of increasing your chances to appear as a featured snippet is making sure your content is answering a question. This can include long-tail keywords as questions in your H2 titles, followed by a paragraph, as well as using a list or table to answer a certain question makes it easier for Google to crawl your site, and in turn, achieve a featured snippet.
You can learn more about how you can achieve a featured snippet and optimize for voice search in our article and infographic.
Local Pack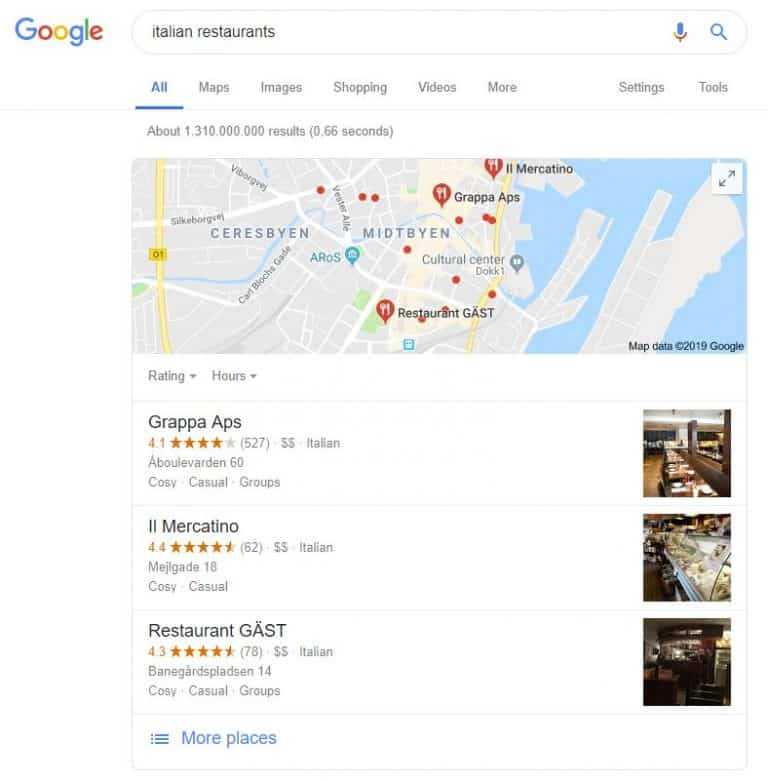 What are Local Packs?
The local pack generally shows up when a search query has local intent. This feature is beneficial for local businesses, since the results depend on where the searcher is, such as "near me", or a location they search for – e.g. city name. Local packs appear as a map near your location, with three results listed below. The map has pins, showing each result's location, while each result has more information such as an address, business hours and ratings.
Why are Local Packs important?
This feature might not bring a lot of traffic to a website but is likely to bring customers to your location. Studies suggest that 50% of local searches on a mobile device result in either a call or visit to the business within 24 hours. On mobile, voice search is becoming increasingly popular, especially with local intent. Finally, local packs take up more space on mobile than on desktop.
How do you optimize for Local Packs?
The most obvious factor influencing this feature is your location and proximity to the searcher. You need to make sure your Google My Business information is correct and up-to-date. Having a mobile-friendly website with good site structure also affects how likely you are to rank in local results.
Don't forget – reviews are important! Google takes into consideration your business' rating on Google, as well as the number of reviews.
Local Teaser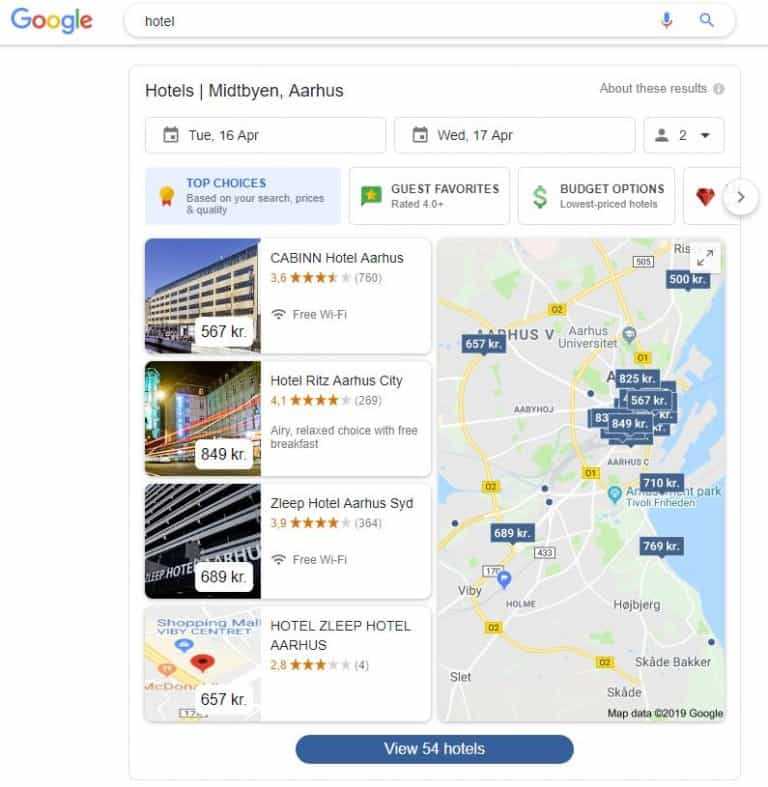 What are Local Teasers?
Sometimes Google will display a 'local teaser' which is similar to a local pack, but is more focused on reservation-based businesses, e.g. restaurants and hotels. This feature tends to show a description of the business instead of an address, as well as pricing and date ranges.
Why are Local Teasers important?
Reservation-based businesses tend to focus on different things than other businesses, such as short descriptions, photos, prices and calendars to specify date ranges, as well as the option to sort results, e.g. by rating or price.
How do you optimize for Local Teasers?
Optimizing for a Local Teaser is similar to optimizing for Local Packs. Ensure that your business information is up to date and Google knows what type of business you run, especially if it's a hotel or restaurant. A mobile-friendly website and well-written content will also improve your ranking, as will association with local directories – although remember that contact information should be uniform across all these sources to improve ranking.
Paid Ads

What are Paid Ads?
Paid ads, or paid results, are search results that appear at the top of a SERP with a small box identifying them as an 'Ad'. These are reached by bidding for certain keywords and then optimizing adverts to ensure they best match what the searcher is looking for.
Why are Paid Ads important?
Ads are important to know about, as they'll affect your organic rankings. While always identified as adverts, which can discourage people from clicking on them, they push organic results further down the SERP. When looking at certain keywords it might be worth focusing efforts elsewhere if you have no intention of paying for ads, while if you do have a bit of money to spend then optimizing properly will be key to getting the most out of them.
How do you optimize for Paid Ads?
When it comes to optimizing, Google says that "Ads are ranked primarily based on how relevant and useful they are to what the person searched for, your bid, and a few other factors." Some others recommend optimizing your display URL and adding a countdown timer. If you're unsure whether your target keywords include Ads on the SERP, AccuRanker will tell you right away.
Shopping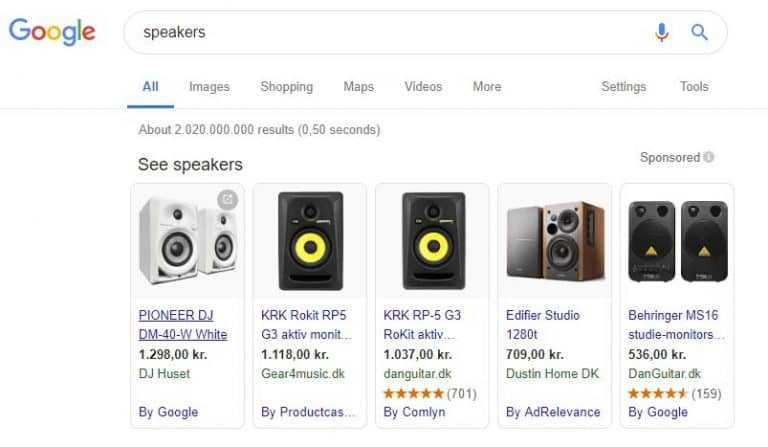 What is Google Shopping?
Similar to paid ads, the shopping feature is a paid placement, but has slightly different characteristics as it tends to include products with images, a price, store name and other information.
Why is Google Shopping important?
Google Shopping can attract a higher click-through rate (CTR) than Google Ads and the inclusion of images and pricing on the SERP helps convert transactional queries. It also allows for companies to bid on certain keywords and provide an at-a-glance summary of the options. This is particularly useful for e-commerce, where people can have products shipped to them after buying online.
How do you optimise for Google Shopping?
To optimise for shopping results, you'll need to set up a shopping campaign in Google Ads and monitor the campaign there. Looking at various metrics such as competitor search queries, negative keywords and simply increasing your budget and cost per click (CPC) can also help.
Related Questions

What are Related Questions?
Related questions appear as a list of questions that Google thinks are relevant to the user's search. When clicked on, the list expands and provides an answer to the question – looking similar to featured snippets. This list can appear anywhere on the SERP.
Why are Related Questions important?
Appearing in related questions can result in slightly more traffic to your website. However, related questions that appear are usually keywords that include a featured snippet.
How do you optimize for Related Questions?
In order to appear in related questions, you have to earn the feature snippet for that search query.
Image Pack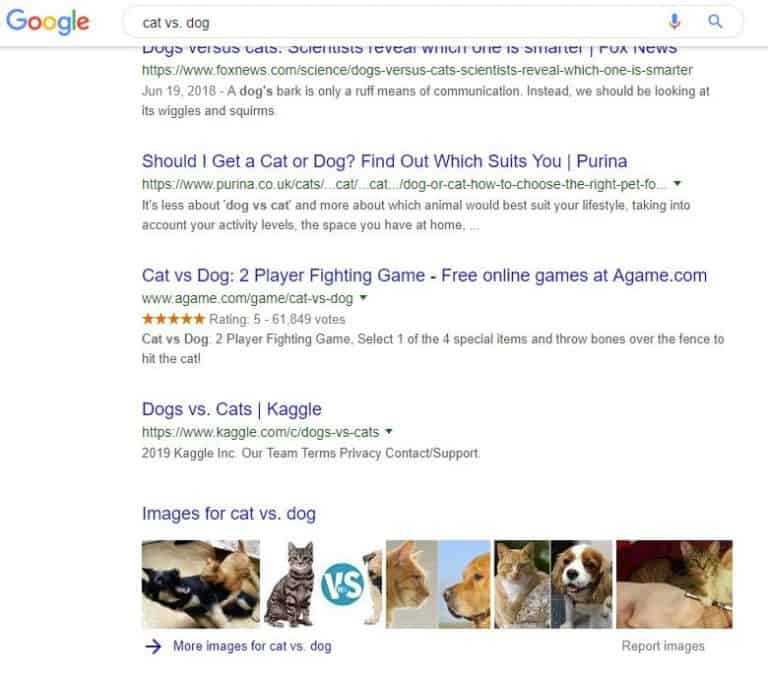 What is an Image Pack?
Image packs are displayed as a row of images and can appear in any organic position. When clicked on, it takes you to a Google Image search. This might not bring your site a lot of traffic, but it doesn't hurt to optimise the pictures on your website to improve chances of appearing in an image search.
Why are Image Packs important?
A third of all Google searches are for images, and 12.5% of SERPs show image pack results. Image results are particularly important for products and services that are visually sold. They can also help build backlinks and are particularly important for photographers and illustrators. What's more, optimising images properly can improve chances of appearing in a Carousel result.
How do you optimise for Image Packs?
Use descriptive file names, alt-tags and image captions, and make sure the pages your images are hosted on have relevant titles and URLs.
Reviews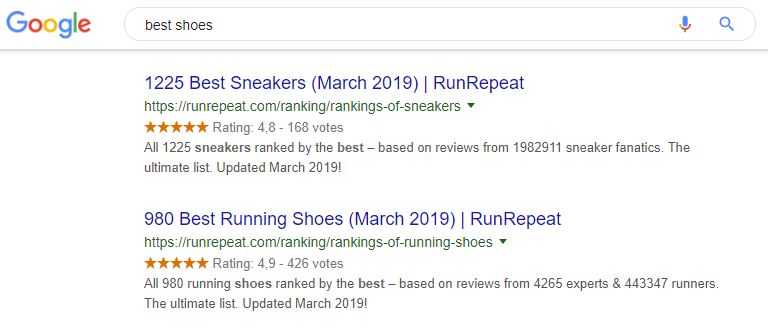 What are Reviews?
Google sometimes shows review ratings for products, recipes and businesses. These appear as stars between the URL and meta description. They're often part of Google My Business, and strong reviews improve the chance of products and businesses appearing in searches.
Why are Reviews important?
Reviews are one of the most important ranking factors. Google puts a lot of weight on both the quality and quantity of reviews when selecting which results to present.
How do you optimise for Reviews?
The simplest way is to encourage customers to review your product or business on Google, so that Google starts to recognise that you're a respected outlet and therefore boosts you up the rankings, particularly for local searches.
News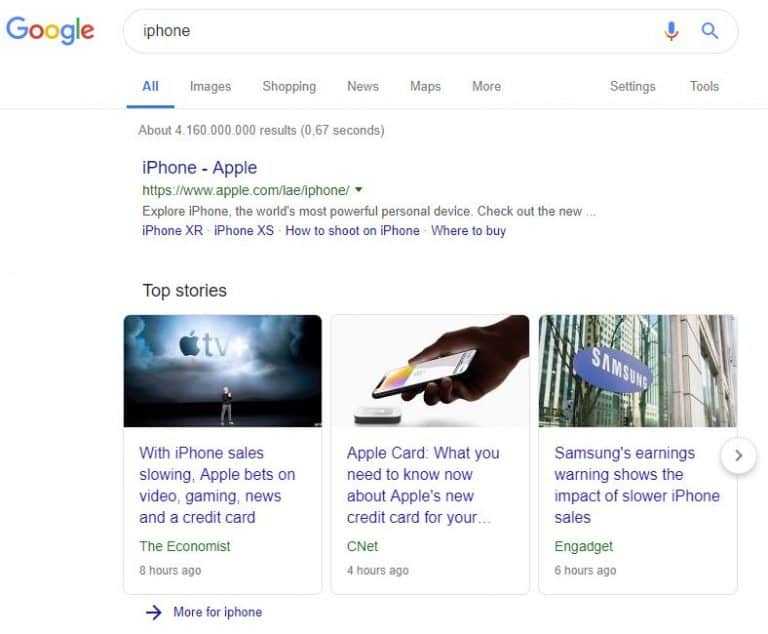 What is the News feature?
The news feature appears as a block of news articles relevant to a search query. It's hard for businesses to acquire a spot in this feature since it's mostly dominated by big publishers. However, it is possible for smaller organisations to optimise for niche topics relevant to their industry.
Why is the News feature important?
Google News is a news aggregator that presents articles from a long list of publishers and magazines. It provides a snapshot of links to articles on certain topics, improving the chance of searchers clicking on those results.
How do you optimise for News?
The first step is to submit your site for approval by Google. If successful, you'll need to work on your website layout, the speed of your website, the 'freshness' of content, as well as optimising the text and images. Data markup may also help – although there are multiple options to improve ranking.
Google Knowledge Graph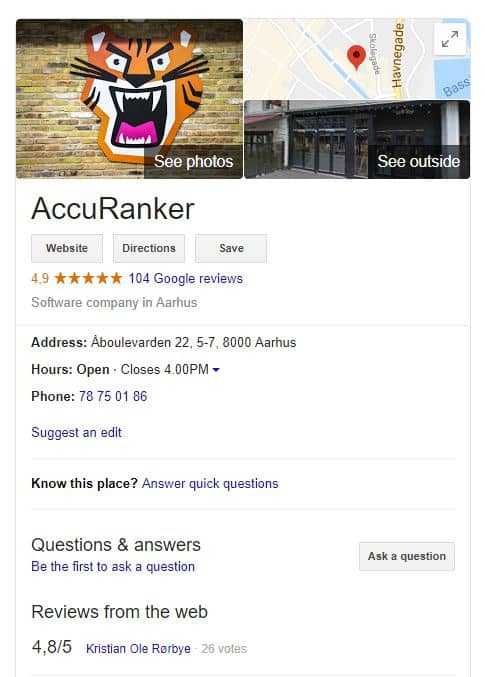 The Knowledge Panel pulls information from Google's own database, while Knowledge Cards consist of information from sites like Wikipedia and others
What is the Knowledge Graph?
The Knowledge Graph consists of Knowledge Cards and Knowledge Panels. They show up on the right, or above organic results, displaying a range of information and related searches. For example, Googling "New Dehli" brings up images, a map, general information, options to help plan a trip and similar cities that people search for. Google pulls this information from their own database and external sources, including: Wikipedia, the CIa World, Factbook and Database. Unlike rich results, which may look similar in the SERPs, you can suggest changes to Google's Knowledge Graph (Google's database), especially if it refers to brand identity or information.
Why is the Knowledge Graph important?
According to Google, they are in the process of becoming a 'knowledge engine' instead of an 'information engine'. They're doing this by understanding more about user queries, and more about the information available on the web, and linking both.
Therefore, appearing in a Knowledge Card or Panel puts you right to the top of the SERP and increases visibility while giving users strongly relevant information, for example reviews, contact information, and similar searches. This also increases the chance to drive strongly targeted traffic back to your site.
How do you optimise for the Knowledge Graph?
Keywords remain an important part of Google Knowledge Graph, and help determine whether you're an authority, in particular with natural content. Having keyword focused titles can also help improve your chances of appearing in a card. Knowledge Panels however, are usually taken directly from Google's database, so make sure all relevant information is included in Google My Business. It's also recommended to set up a page on Wikipedia, verify social media accounts and send any requests for changes to Google.
AccuRanker will show you how your keywords are performing for Google, as well as indicating if a Knowledge Graph Card or panel is available for your target keywords.
Video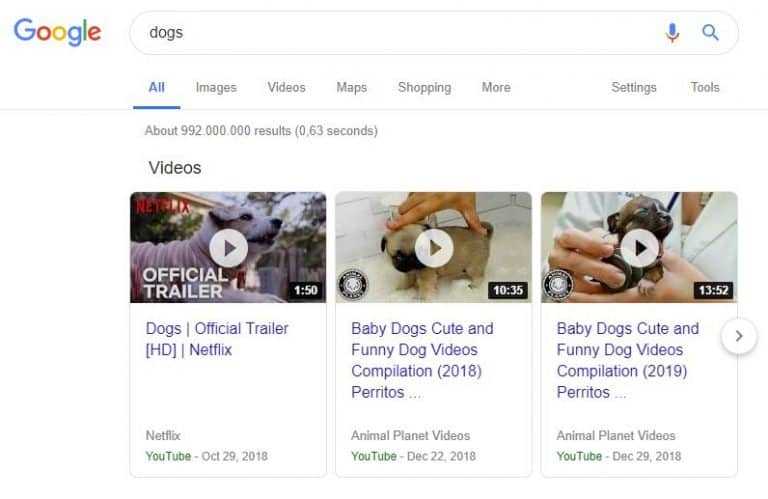 Videos attract a lot of traffic and increase time spent on site
What is Video in SERPs?
When searching for a term, there's a fairly good chance that it'll include a video. Even topics you wouldn't associate with visual aids, like "bacon", return video results.
Why are Videos important?
Videos are a quick and easy way to communicate information in a way that people understand. What's more, studies have suggested that video will make up 80% of consumer traffic by 2021. So videos tend to attract a lot of traffic, and provide visitors with the information they need, while also increasing their time spent on your site.
How do you optimize for Video?
The most important thing is to make it easy for Google and YouTube to understand your video content. This can be done by creating an optimized title, a full description and considering whether your video might benefit from using closed captions, or uploading a transcript.
Developing videos with a strong customer value, identifying and using target keywords in the title, tags and description may also help. Using a call to action and link with the video, and promotion on social media will also help you ensure videos are attracting traffic.
Carousel

Carousels impact 14% of keywords, with the travel and hospitality industries most affected
What is a Carousel?
Carousels typically appear on mobile searches, but can also appear on desktop for certain content types, e.g. local tourism searches and recipes, or results that might usually appear as lists, e.g. "Green Day albums". However, Google is expanding them to include features such as 'carousel featured snippets' which include various 'IQ bubbles' underneath a snippet which answer brand new queries.
Why are Carousels important?
According to research, Carousels currently impact 14% of keywords across all industries, with Travel and Hospitality most affected. When clicking on a result from a Carousel you can see information, e.g. for restaurants, this can include a review score, address and photos.
How do you optimize for Carousels?
Results for Carousels are taken from Google Knowledge Graph, which is taken from Wikipedia, Google's database of facts and Freebase's database of facts. It can be difficult to know which types of searches result in a Carousel, however with AccuRanker, you can see if this SERP feature is available for your target keywords. Optimizing is difficult, but getting a presence and citations on Wikipedia can help, while optimizing images can also help.
Tweets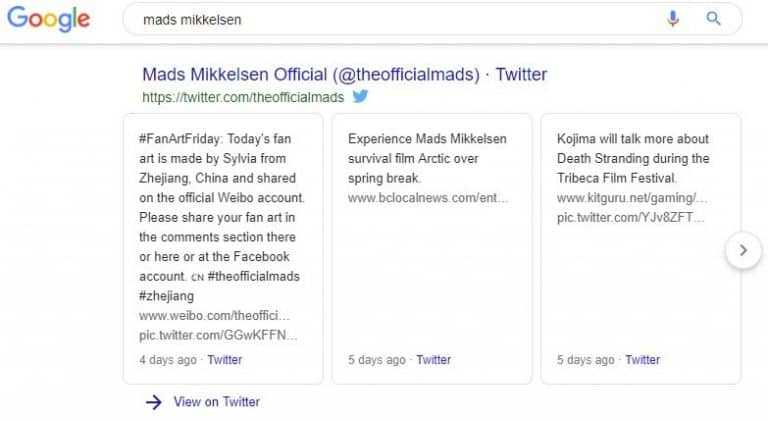 A carousel of the most-recent Tweets can appear anywhere on the SERP
What are Tweets on Google?
Tweets show up as a carousel of three recent Tweets when a Twitter profile shows up on the SERP.
Why are Tweets important?
On a SERP, carousels of Tweets can be attention-grabbing, and even useful for smaller companies, as it takes up more space at the top of the SERP. It can also help draw a searcher's attention away from negative content.
How do you optimize for Tweets?
Quite simply, Tweet a lot and ensure that other Twitter users engage with what you're posting. Techniques can include interacting with other Twitter accounts, incorporating emojis, and Tweeting consistently.
Conclusion
So as you can see there are loads of SERP features which can help you boost your traffic. Remember, AccuRanker can help you identify which SERP features are available for your keywords, and then track your rankings.
To see how we can help be sure to sign up for AccuRanker's free 14-day trial, no credit card details needed.