Using Link Building for Long-Term SEO Success
Last updated on Monday, April 8, 2019
Everybody's talking about the importance of links.
Even SEO veterans point to it. Earning relevant backlinks is one of the most important Ranking Signals in 2019. A study by Brian Dean and BuzzSumo found that getting links requires a promotion of content. This is important, as many think their articles will naturally garner links over time.
SEO checklists show marketers focus more attention on on-page SEO over link acquisition. Not every marketer has the time to conduct keyword research for all content. But SEO is competitive, and it's difficult to rank without referring domains.
So, why aren't more marketers allocating time to acquiring links? The reason is simple: they don't have a clear direction to achieve their goal.
Many businesses lack a plan that combines both content marketing and link building. If a site doesn't rank well on Google, it's often because content isn't promoted enough.
I'm not suggesting redirecting attention away from content production to promotion.
This is because you can't pitch poorly crafted pieces to bloggers for outreach. Bad posts will reduce the average time that visitors spend on your site, harming the rank. So, you need a good balance.
Pro tip: Good copy flows, and is easy to digest. Bad copy is hard to read and drives your readers away.
Where to start with link building?
In Russia, we have a phrase: "a fish rots from the head down." It's an idiom that roughly translates to "trouble starts from the top."
By establishing the right goals and KPIs, you'll be able to see progress. Everything becomes a little easier as long as you have a process for acquiring links. Don't let marketers publish content if you won't use it to pitch for links. It's important to get links to each piece of content that's published – it's easier said than done, I know, but we've all been there!
We used to promote our content across Social Media Marketing (SMM) and email channels. Sometimes we would even post them on communities like Growth Hacker, Reddit, or Quora. And here's what we got — Rand Fishkin's "spike of hope" — a bunch of traffic, and after that, nothing.

I bet you can relate to this!
Some time ago, we changed our approach towards content production and promotion. We cut content production by stopping guest posts so that we could devote more time to link-building. Over the next six months, we rebuilt our internal processes. We established relationships with bloggers who could help acquire links to our site.
Yes, as I'm sure you've figured out by now, blogger outreach is one of my favorite go-to strategies for link building!
Smart goals are the key to success, and here's how you can set them:
The key to crafting proper goals is to understand your current competitive landscape. I call these 'smart goals' as they make content teams effective and improve the chances of SEO success.
Here are the steps you need to size up your competition and create compelling content:
Put together a list of keywords that your old content focused on. You can tack on keywords that you're interested in ranking for but not yet associated with. I won't elaborate on keyword research, but highly recommend reading this in-depth guide.

Next, gather a list of sites that are currently ranking in the top 10, using the list of keywords that you have made. AccuRanker's SERP checker tool lets you collect a list of pages that appear in any country supported by Google, with any searchable keyword.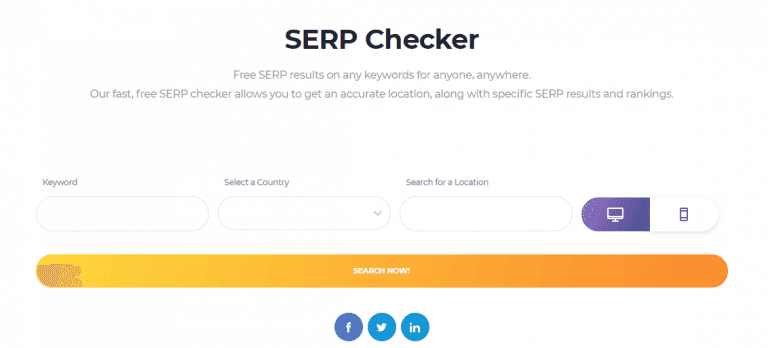 Tip: To speed up this process, you can use AccuRanker's API. That way, you won't have to copy-&-paste.
You now have a list of pages that are ranking well on Google with your target keyword(s). So it's time to figure out how many referring domains each page on your list has. I would suggest going to Ahrefs because it has a bulk link checker that will speed up the process for you. The screenshot below shows the number of links for the top 3 ranking URLs for the term "link building". To be frank, that's a really competitive search query, and the chances of outranking those pages are low.

I've also made a cheat sheet of the most popular backlink checker tools, in case you want to use an alternative.
Finally, test your current resources. Start by prioritizing posts that focus on keywords with low competition. After you've followed these steps, you should have a solid plan mapping out how many links each post needs.
Communicating your goals to your team
In business, sometimes the hard part isn't setting goals but communicating them to your team. If everyone's not on the same page, your goals won't even make it through the first stage. Educate colleagues and explain why links are an essential part of content marketing. If your team already has a background in link building, then all you need to do is connect the dots for them. Give the SEO and content marketing teams one goal: content pieces must rank well on Google in tandem.
If your content marketers aren't experienced in link building, below are some ways to get started. In general, it's easier to start with those who are already familiar with your brand. With this in mind, I would recommend:
Reviewing your current clients to see whether any of them might be a good match. You're looking for those businesses that run blogs or do guest blogging on a regular basis;
Check your current followers across social media marketing channels. There's a good chance that a bunch of them are marketers who are also working on promoting their content;
Finally, look into closed groups on Facebook that are relevant to your niche. The main benefit of Facebook groups is that they let you browse member lists without being a friend.
Tracking the results: is your traffic growing or not?
Your efforts won't be up and running without position tracking campaigns. You can set these up in AccuRanker. These allow you to see the growth of positions and traffic based on predefined keywords. It also shows how links acquired by you are affecting your site's URL visibility on Google.
What's even bigger is that you can see how the SEO 'Share of Voice' of your site is growing as well. SEO Share of Voice shows which websites rank most frequently for a given set of keywords.
You'll see growth in your Share of Voice once you've reached the top ranks on Google. This is thanks to your link-building efforts, and AccuRanker factors this into the calculations.

Now that we have established ways to kick start the link-building process, let's wrap it up.
Getting content to rank well on Google is hard, and it's important to stick to the right game plan. There are so many ways to make your content better, but this counts for little if you don't build links. By link building and utilizing all the right tools, you can raise your content to new heights.
Article by:
Alexandra Tachalova
Digital Marketing Consultant and Founder of Digital Olympus