Click-Through Rate (CTR): What it is and how we calculate it
Last updated on Thursday, June 2, 2022
Click-through rate (CTR) is the percentage of people who come across your content in the SERPs (impressions) and then click through to view the content (clicks).
Having a high CTR is essential if you want to see success with any SEO campaign because the more clicks you get, the more organic traffic your website will see.
In this article, you'll learn:
How we calculate CTR at AccuRanker
Factors that affect CTR
How to improve your CTR
How is the click-through rate calculated?
If we always knew the number of impressions and clicks for all results on the SERP, calculating CTR would be easy! CTR is, in this case, simply calculated as the total number of clicks a link gets divided by the total number of impressions. The result is multiplied by 100 to get the number as a percentage.
The formula looks like this:
CTR = (Number of clicks / Impressions) x 100%
So, for example, if your post had 2000 search engine impressions and 250 people clicked on it, the CTR would be calculated like this:
CTR = (250 / 2000) x 100% = 12.5%
How click-through rate is calculated with AccuRanker
Since data for impressions and clicks are not always available - even in Google Search Console - the manual approach described above is not always feasible. This is especially true if you are also interested in your competitors' CTRs and the CTR for ranks you do not own! That is why we at AccuRanker have taken CTR calculation to the next level by introducing our proprietary Al model to give you CTR estimates for each of your and your competitors' keyword ranks.
Technically, it looks something like this:
We have trained a machine learning model on millions of SERPs and associated click-through rates for each result. The machine learning model takes both general features from the SERP and features for the individual ranks and outputs a CTR for each rank on the SERP.

In total, the model uses more than 80 different input features to determine the click-through rate. This data-driven approach makes it possible to predict click-through rates with unprecedented accuracy.
How can I use CTR with AccuRanker?
The new CTR field is introduced in several places in the AccuRanker user interface, everywhere from the Keyword Table to the Organic Site Explorer. For instance, in AccuRanker's Keyword Discovery, you can view keywords you are not tracking, which you currently rank for. You can see the average monthly search volume for each keyword, your ranking position in the SERPs, and much more, now including the CTR! We even take it one step further by also telling you the max CTR for a given keyword if they occupied the best spot in the SERPs, most often (but not always!) rank 1.

You can even segment keywords you rank for by CTR and max CTR using the filter function!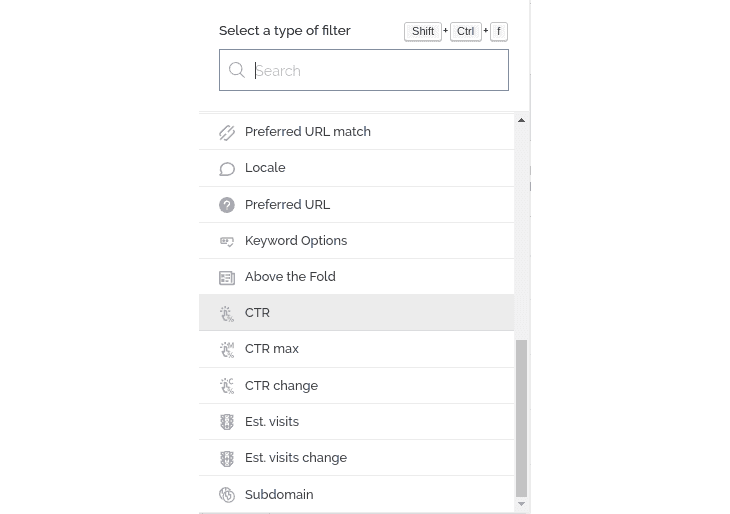 Tip: With this data, you can create a saved segment of keywords/content you want to monitor.

Making a case for Enterprise and SEO Agencies
If you are an SEO agency or an in-house SEO in an enterprise, backing up your decisions to your client or boss with data is essential. Whoever you are reporting to will want the assurance that your recommendations are effective.
AccuRanker's dynamic CTR function will help you predict your traffic more accurately and make it easier to prove why it's essential to pursue a specific keyword or take a specific campaign action.
For instance, If you are working for a website ranking in position 3 for the keyword "men shoes black." Let's say the search volume for this keyword is 220k per month, and you are getting just 10 percent of the traffic – 22,000 monthly organic visits.
If you know the CTR for position 1 on the SERP for this keyword is, on average, 40% – 88,000 monthly organic visits, you can approach your client or boss with this data to show why you want to try to improve your ranking position for that keyword. It will be much easier to make your case when you have data to back it up.
Factors that affect CTR
1. SERP Layout
I mentioned earlier that we use over 80 different input features from the SERP to determine the click-through rate.
Some of the features the model uses include:
The pixel position of each result. Pixel Position measures your ranking in pixels. And the more pixels the top search results occupy, the further down other results will be pushed on the SERPs.

What is the length of the keyword? Long-tail keywords tend to have a higher click-through rate.

Whether the keywords contain some special phrases. For instance, branded search queries usually have a higher CTR at top positions than non-branded ones. This is because the users are trying to find a specific website by adding the brand name.

Whether the result title and the keyword are similar. Searchers are more likely to click on a result when the title is similar to the keyword they searched for.

Whether the page has google maps, image packs, ads, or other SERP features.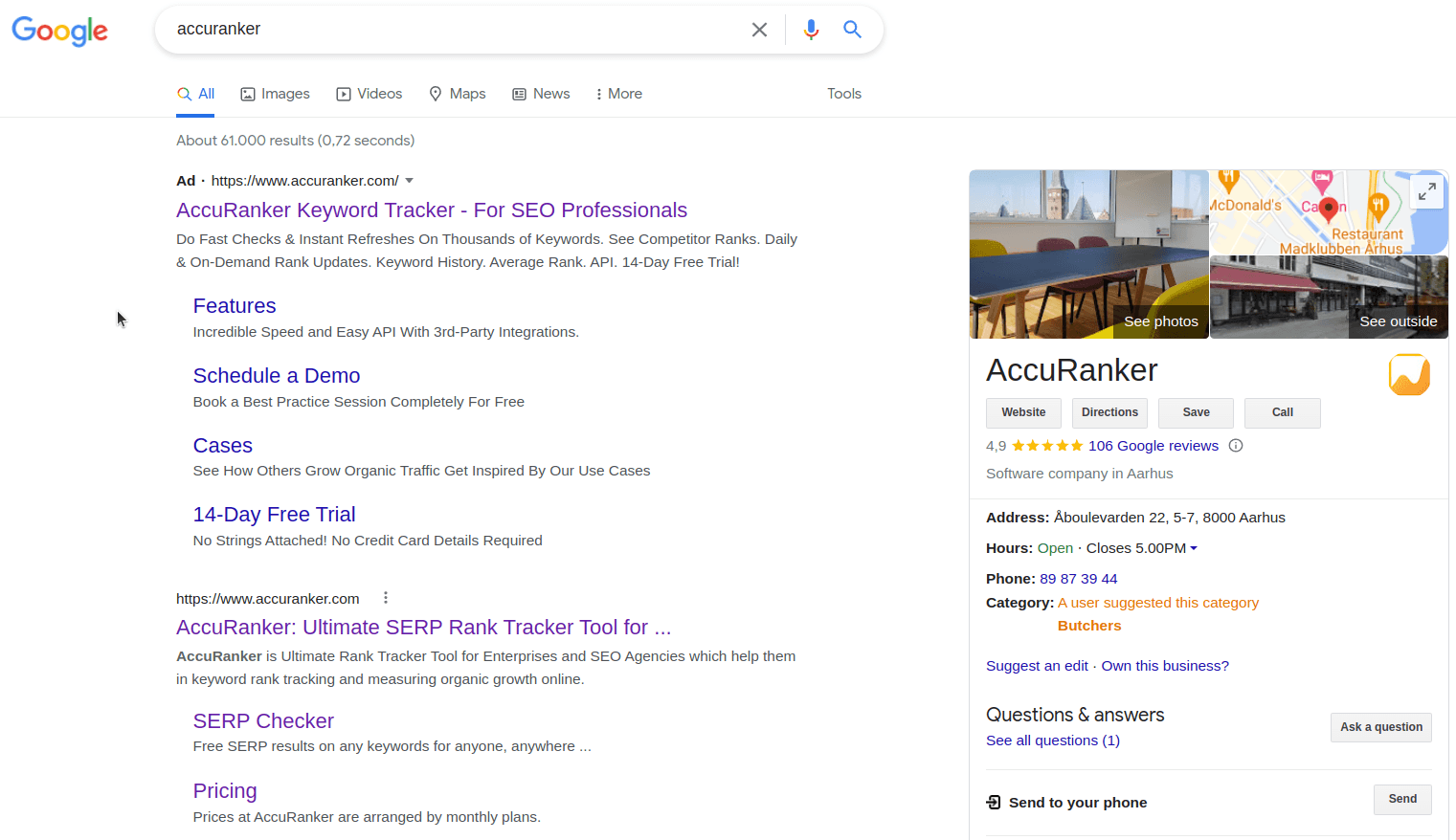 Note: The impact of these features on the click-through rate is interdependent. For instance, the total amount of space the individual results occupy on the SERP would impact the model differently from mobile compared to desktop results.
With AccuRanker, you can also see which SERP features each keyword you rank for has.
2. Google Ads
Ranking number one in the SERPs will not guarantee a high click-through rate. For instance, if there is high AdWords competition and Google Shopping for that keyword, the click-through rate can be below 5% for rank 1.
For instance, when I search for "men shoes", Google Shopping ads are the first results I see.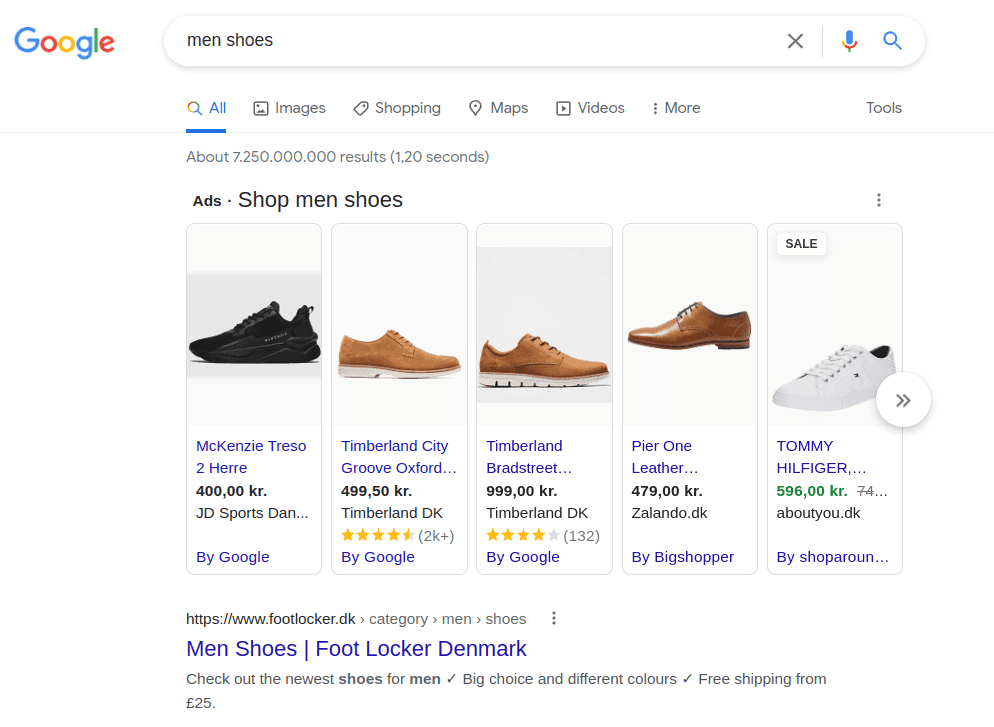 This means that whatever website that is ranking number one for the keyword might not get a lot of clicks because it will be competing with ads.
3. Snippet Optimization
Featured snippets and knowledge panels on the SERP also negatively affect CTR. This is because the user might not need to click on the link to get the information they are searching for.
AccuRanker's machine learning model takes all of this (and much more) into account when giving click-through rate estimates for all ranks for both mobile and desktop.
How to improve your click-through rate
Here are some effective ways you can increase your organic CTR:
1. Implement structured data
Implementing structured data on your website will help search engine algorithms better understand your content by changing it into code that the algorithm can easily process. This will allow the algorithm to display interactive search results called rich snippets.
And since people engage more with interactive content, your posts will see more organic CTR. Other advantages of rich snippets are that they appear at the top of the SERPs, give more information about the content, and are more visually appealing than regular snippets.
You can use it to implement structured data. Common schema types include article, video, FAQ, local business, organization, product & offer, review, and events.
2. Use long-tail keywords
Using long-tail keywords in your title tags and headings is an effective way to boost your CTR. Long-tail keywords match the searcher's intent and, as a result, get more clicks. There is also less competition for long-tail keywords, so the chances of content ranking on the first page of the SERP are higher.
3. Write optimized meta descriptions
Meta descriptions are snippets of text that appear below your title tags in the result pages. A meta description will inform users what the page's content is about and when it is properly optimized, it will compel them to click. Here are some ways you can optimize your meta description:
You have up to 155 characters to pass your message across, so make it specific and relevant.

Use an active voice and make it actionable. Your meta description is an invitation to the user to click on your post. You need to show what they will get from clicking on your link.

Including a call-to-action like 'learn more" can also help drive clicks.

Show specifications where possible. You can include things like technical specs, price, or SKU in your meta descriptions. If visitors are looking for that specific information, they will most likely click on it.
4. Write creative title tags
Your title tag is the first thing users will see in the SERPs, so you need to make sure it catches their attention. Take your time to make your titles compelling while relevant to your target audience. Other tips to improve your titles include:
Add brackets in your titles. A study by HubSpot shows that adding headlines in titles increases CTR by 40%.
Another study by Backlinko found that adding questions to your title tag increases CTR by 14.1%. The study also showed that adding power words, numbers, and keywords to your title tags will significantly boost organic CTR.
5. Localize your content
As of the 4th quarter of 2021, mobile devices accounted for 63 percent of organic search visits. And since most mobile devices have location turned on, Google uses this to provide localized search results for searchers. So by creating localized content, you will be able to reach high-intent customers who are already looking for what you are selling or offering.
You can localize your posts by adding your location in your content or meta description. You can also list your content on Google My Business (GMB). This will increase your chances of showing up at the top of the SERPs for local search queries.
6. Improve your website speed
A click will only count when a visitor lands on your website. If your website takes too long to load, visitors will quickly bounce off. It is crucial to reduce your page load times as studies show that if your pages take more than 5 seconds to load, your bounce rate can increase by up to 38%
Additionally, your site speed is essential with Google using web core vitals and page experience as ranking factors. You need to rank high in the first place to get significant clicks.
Wrapping up
Your organic CTR is essential if you want your content to perform well in the SERPs. Failing to optimize your content for clicks will mean that you are losing out on potential traffic. The tips in this article will help you get started.
And if you haven't already started calculating CTR, make sure to check out AccuRanker. It is the ultimate SERP rank tracker tool to help you start increasing your organic traffic today. Start your 14 days free trial – no credit card needed.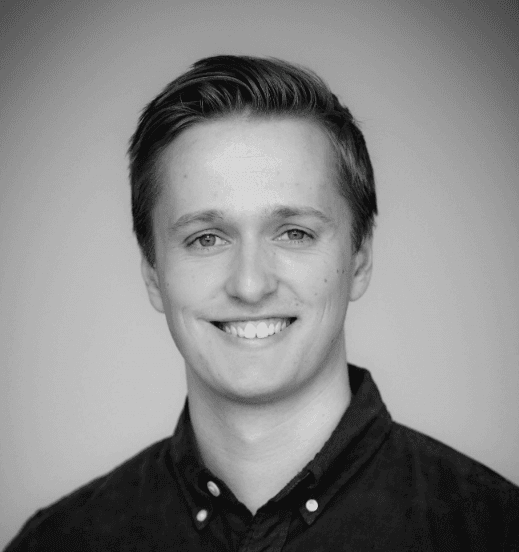 Article by:
Peter Emil Tybirk
Senior Software Engineer at AccuRanker